Shopping on Etsy is one of my new addictions. I am constantly on there finding cute, unique items for the whole family. A couple weeks ago, I stumbled upon 
Family Times Designs
. The site offers tons of cute items for your kiddos. 
Family Time Designs
 offers a variety of lunch box love notes… something for all ages. Here is part of a set which is designed for the younger ones….having more pictures and less words.
My girls (2 & 4), not being able to read many words yet, were so excited about these little notes. The bright colorful pictures are perfect for bringing a smile to your child's face 🙂 I also love that this set includes colorful blank notes, so you can personalize for special, unique occasions.
Family Time Designs also offers a variety of lunch box love notes for the older kids…. including jokes, questions and trivia. Most sets includes 60 notes for only $6.00! What a deal! 
They also have great items such as ABC Cookbooks, Role Playing Restaurant Kit for Kids, Hershey Miniature Lunch Box Love Notes Wrappers Printables and more!
Check out the other fun items they have at Family Time Design!
Family Time Design
was nice enough to offer one of my readers a set of Lunch Box Love Notes! Here is what you will receive if you win the giveaway.
Lunch Box Love Notes for Kids VERSION 4

You will receive 60 lunch notes printed on cardstock.
14 cards are square with graphics and sayings (approximately 2.5″)
10 cards are square with decorate borders so that you may write your own message or drawing (approximately 2.5″)
18 cards will be circles (approximately 1.75″)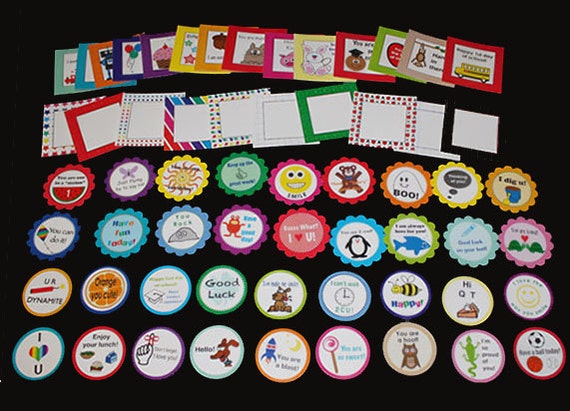 Here is the total set.
How fun right?!? 
GIVEAWAY ENDED
How to enter 

the

 

Family Time Designs 

Lunch Box Love Notes Giveaway:
1. Leave a comment here letting me know what your favorite lunch was as a kid 🙂 
EXAMPLE
: As a kid, I loved fried b
ologna
 sandwiches 🙂 True story. hehehe
Only one entry per person.
I must have a way to contact you.
 If you are leaving a comment as anonymous, you must also leave your name & an email so I can reach you. Some of you who do have a blogger account have your email address set to private, so check to make sure you have a visible email.
Anyone can enter!!! So spread the word 🙂
Entries will be accepted 
NOW
, through Friday, 12/09/11 at 11:59pm CST. A winner will be selected at random and announced on Saturday morning (12/10/11). I will email the winner, who must contact me at familyfreshmeals@gmail.com, no later than Tuesday, 12/13/11 at 6:00pm CST.