Dip with fresh fruit, or dive in with a spoon…..the choice is yours.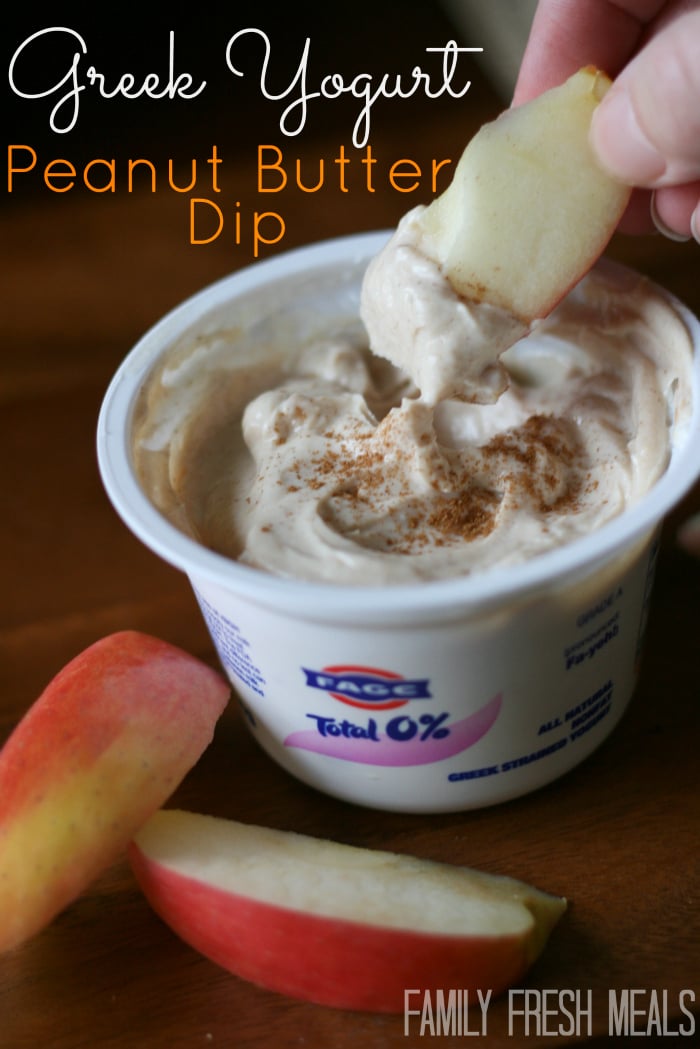 You'll love this healthy Greek Yogurt Dip!
If you thought my Cookie Dough Greek Yogurt was good, you are going to LOVE this one! This yummy treat is healthy and is packed with a ton of satisfying protein. This is such a great snack during the midday. When the hunger hits before dinner, and you are craving something sweet. The kids love it too! Shhhhh don't tell them it's healthy! hahaha.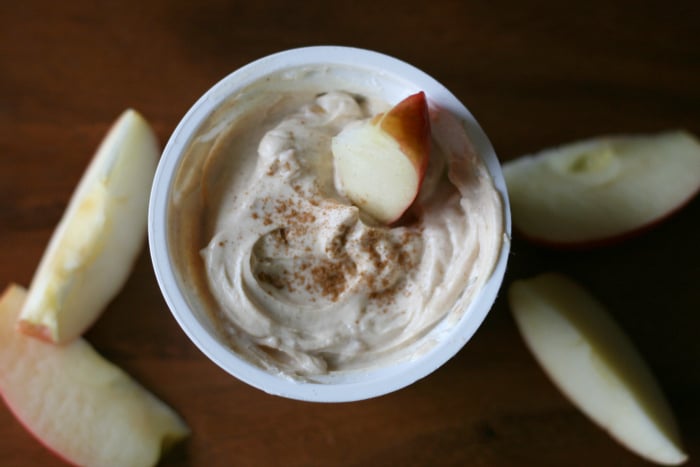 I can't take the credit for coming up with this beauty. Do you remember those, now famous Irene's Power Muffins? Well, that fantastic Irene posted this recipe on her Getufit Facebook page, and I knew I had to give it a try.
Greek Yogurt Peanut Butter Dip is now a go-to treat for the girls and I. Our favorite dippers have been apples, bananas, pretzels and animal crackers.
NOTE: If you use PB2 powder instead of peanut butter and reduce the honey, this is a Zero Point Weight Watchers Dip!
Greek Yogurt Peanut Butter Dip
6 0z container of plain Greek yogurt
1 tbsp honey
1 tbsp peanut butter
1 tsp vanilla extract
1/4 tsp cinnamon
Directions
Mix all ingredients together and enjoy with fresh fruit, pretzels or animal crackers (or a spoon!). Cover and refrigerate leftovers and use them within 2 days.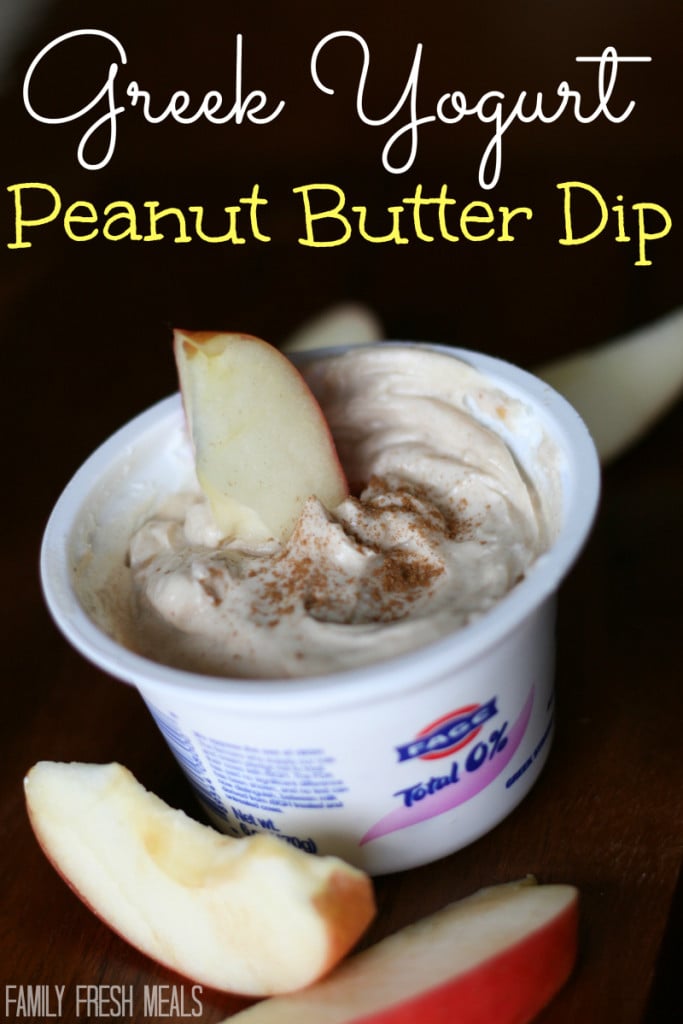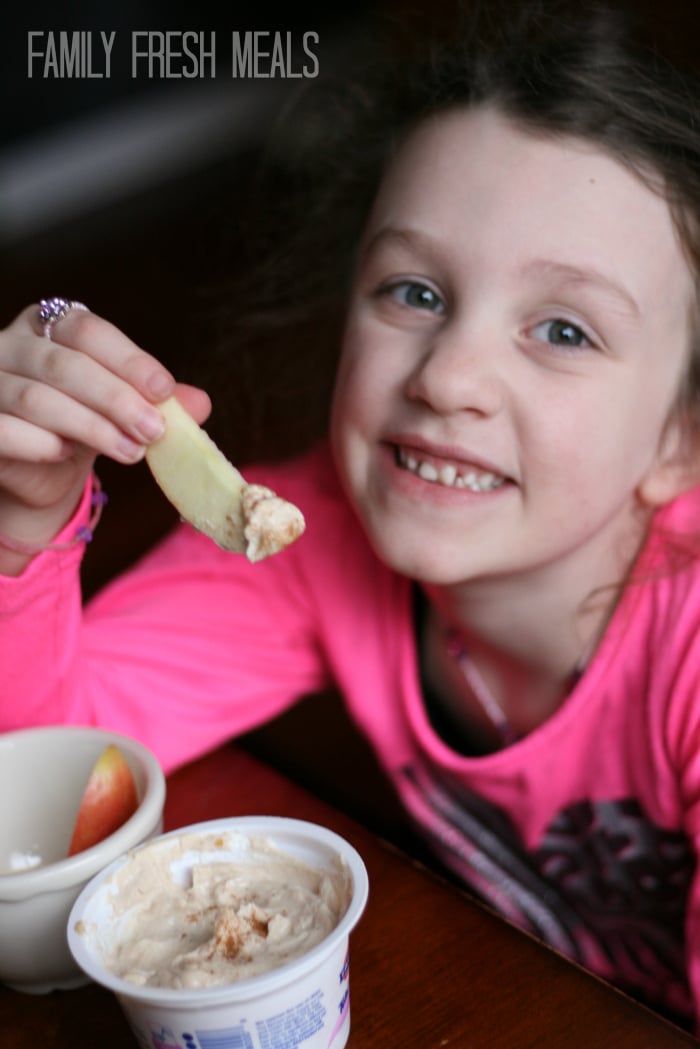 Do you love Family Fresh Meals? Never miss out on a FUN new meal or idea and SIGN UP to have my posts sent right to your inbox! It's EASY PEASY! Just CLICK HERE and enter your email!
XO
Corey, Darryl, Big D & Little D
Looking for more free recipes? Subscribe to my newsletter and follow along on Facebook, Twitter, Pinterest and Instagram for all of the latest updates.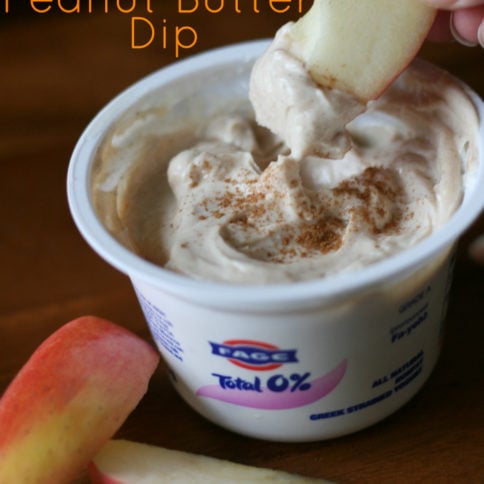 Greek Yogurt Peanut Butter Dip
Did you love my Cookie Dough Greek Yogurt? Then you're going to LOVE this! Greek Yogurt Peanut Butter Dip is healthy & is packed with a ton of protein.
Prep Time: 2 minutes
Cook Time: 0 minutes
Serves:1
Hover over "serves" value to reveal recipe scaler
Ingredients
6 oz container of plain Greek yogurt
1 tbsp honey
1 tbsp peanut butter
1 tsp vanilla extract
1/4 tsp cinnamon
Instructions
Mix all ingredients together and enjoy with fresh fruit (or a spoon!)
Nutrition Information:
Calories: 272kcal (14%)Carbohydrates: 28g (9%)Protein: 21g (42%)Fat: 9g (14%)Saturated Fat: 2g (10%)Cholesterol: 9mg (3%)Sodium: 136mg (6%)Potassium: 344mg (10%)Fiber: 1g (4%)Sugar: 25g (28%)Calcium: 187mg (19%)Iron: 0.3mg (2%)