Tropical Coconut Shrimp Bites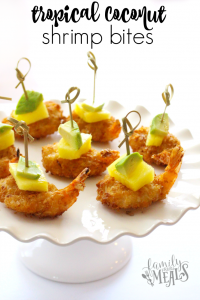 1 (10oz) package of frozen SeaPak Jumbo Coconut Shrimp
1 avocado, cut into bite-sized pieces
½ cup fresh pineapple chunks,cut into bite-sized pieces
¼ cup mayo
2 Tablespoons Asian sweet chili sauce
1 Tablespoon orange marmalade
2 Tablespoons sriracha
Bake SeaPak Jumbo Coconut Shrimp according to package.
While those are baking, mixing together chili sauce, orange marmalade and sriracha sauce. Place in refrigerator until ready to serve.
Once shrimp are done cooking, place a piece of pineapple and avocado on top of shrimp, and secure with a cocktail toothpick.
Serve with sauce on the side for dipping or drizzle over shrimp bites before serving.
Recipe by
Family Fresh Meals
at https://www.familyfreshmeals.com/2015/12/tropical-coconut-shrimp-bites.html