Lightened-Up Chicken Cordon Bleu Casserole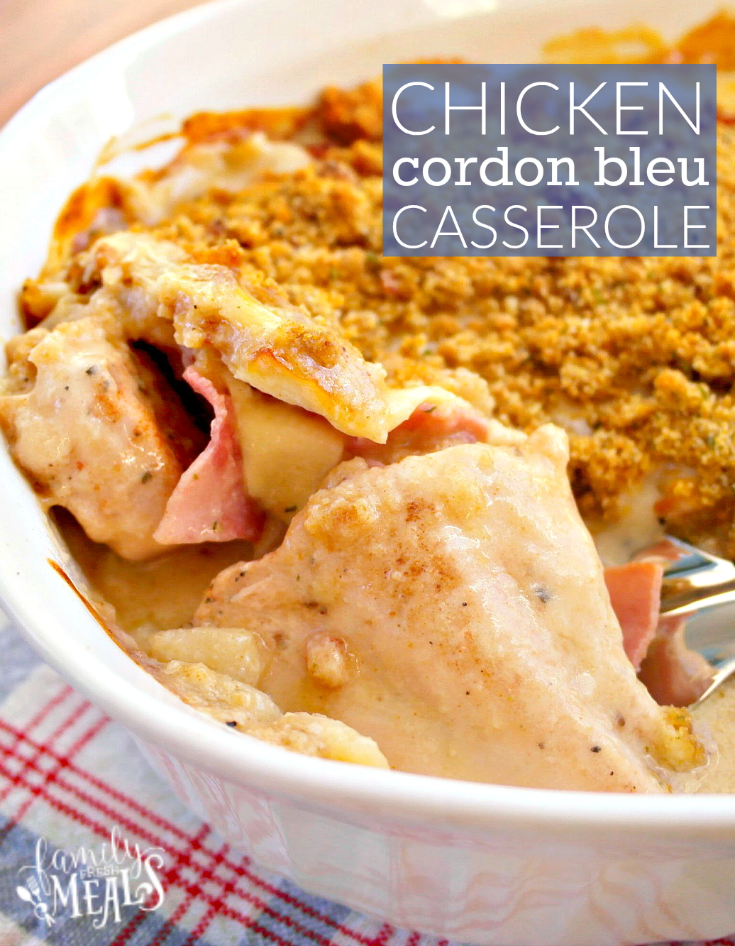 1lb boneless, skinless chicken breast
1 can fat free cream of chicken soup
½ cup milk
6 slices deli ham, divided
6 slices swiss cheese
1 Tablespoon olive oil
1 cup bread crumbs
Chicken seasoning:
2 teaspoons paprika
1 teaspoon garlic powder
1 teaspoon salt
1 teaspoon black pepper
Sauce seasoning:
1 teaspoon paprika
1 teaspoon onion powder
1 teaspoon garlic powder
1 teaspoon Italian blend seasoning
Pinch of salt & pepper
Preheat the oven to 350 Slice the chicken breast, season on both sides with the paprika, garlic, salt & pepper. Heat a small amount of olive oil in a skillet over medium heat. I like to brown the chicken to give it an extra layer of flavor. Brown for about 1 minute on each side.
remove from heat and place in the bottom of a casserole dish.
In a small sauce pot over medium low heat, add the cream soup, milk and sauce seasonings. Mix until
fully combined and warmed. Remove from heat.
Pour half of the sauce over the chicken. Layer the half of the ham, then half of the cheese. Add the remaining sauce, finish with the last of the ham and cheese.
Mix the olive oil, bread crumbs and reserved ham together. Sprinkle evenly over the casserole.
Bake for 30 minutes or until golden brown and sauce is bubbling at the edges.
Recipe by
Family Fresh Meals
at https://www.familyfreshmeals.com/2016/01/lightened-up-chicken-cordon-bleu-casserole.html