Mardi Gras Snack Mix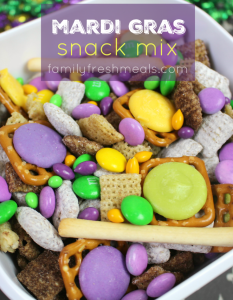 Recipe type:
Mardi Gras Snack Mix
4 cups Chocolate Rice Chex
5 cups Muddy Buddies (use store bought or recipe below)
½ cup purple and green M&M's
16 pretzel squares
8 Wilton purple chocolate melts
8 Wilton lime green chocolate melts
Chocolate sunflower seeds -purple green and yellow
Mini BreadSticks (like the kind that comes with Nutella)
Line a baking sheet with waxed paper. Set aside. Place 8 pretzel squares on a microwave safe plate and microwave for 20 seconds to warm the pretzels. Place the 8 purple melts in the middle of each warm pretzel and microwave for an additional 20-30 seconds until the chocolate melt is soft.
Let cool on the baking sheet for at least 5 minutes. Repeat steps 2-4 using the green chocolate melts.
In a large mixing bowl, add the chocolate Chex cereal, muddy buddies recipe below), purple and green pretzels and Nutella sticks. Toss to mix. Sprinkle the M&M's and sunflower seeds on top.