Buttermilk Ranch Fried Chicken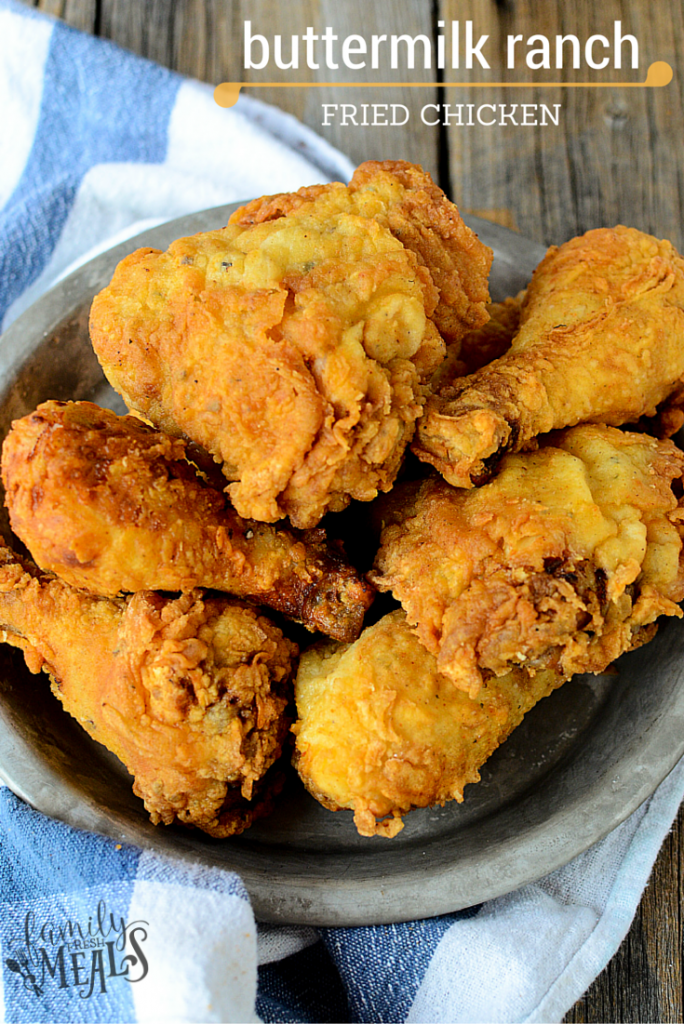 1 quart buttermilk
8-10 chicken pieces (drum sticks, breast, thighs)
3 eggs
⅓ cup water
4 cups all-purpose flour
1 teaspoon kosher salt
2 teaspoons pepper
2 teaspoon paprika
1 packed of dry ranch dressing mix (1 oz) or 3 TB of my DIY Ranch mix
Peanut Oil, for frying
extra salt and pepper for taste
Place chicken in a large bowl, and cover with buttermilk. Cover and chill for at least two hours, or overnight. If you are rushed on time, this step can be skipped, but it makes for the crispiest, juiciest chicken.
In a large bowl, add eggs, and water. Whisk until well combined. In a large gallon freezer bag or large bowl, mix flour, salt, pepper, paprika, and 1 packed of dry ranch dressing mix. Mix together.
Remove chicken from buttermilk and sprinkle lightly with salt and pepper. Working in batches, place chicken pieces in freezer bag or bowl and evenly coat each piece with flour mixture.
As your remove chicken from flour mixture, make sure to shake off any excess flour. Dip each piece in the egg mixture, and return to flour mixture for a second time. Fully coats each piece of chicken for a second time.
Allow chicken to rest for 10 -15 minutes. This helps the flour stick to the chicken. Heat oil in a deep pan to 350 degrees. Working in batches, drop each piece of chicken into the hot oil.
Fry for 15-18 minutes, or until golden brown, turning occasional. To keep chicken warm while frying in batches, I like to place my fried chicken in an oven warmed to 225 degrees.
Recipe by
Family Fresh Meals
at https://www.familyfreshmeals.com/2016/07/buttermilk-ranch-fried-chicken.html