Halloween Ghost Cupcakes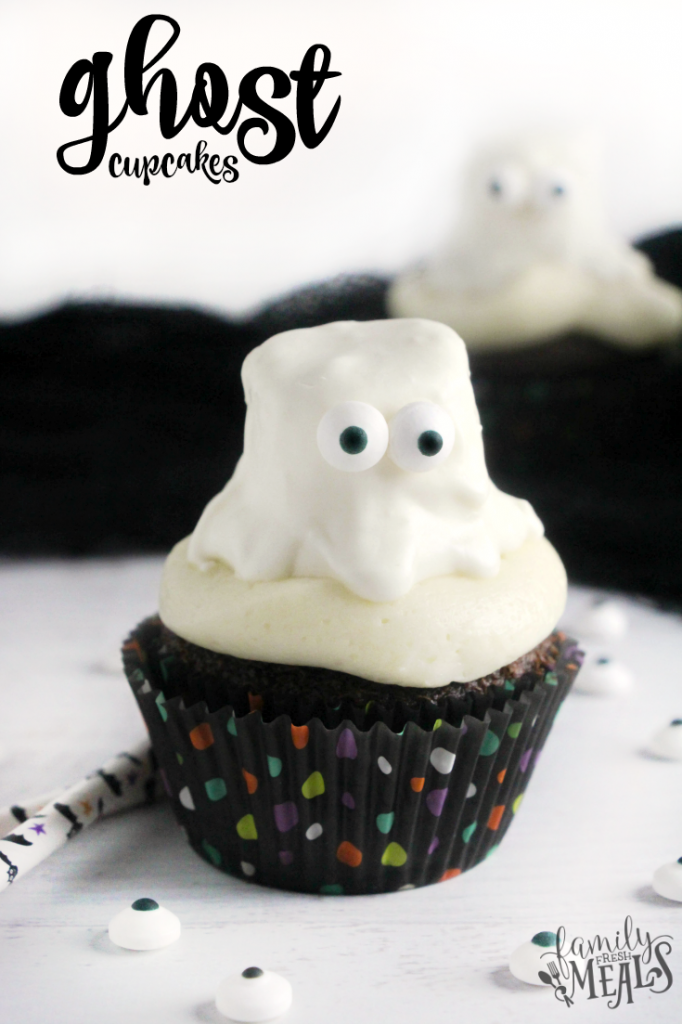 INGREDIENTS - Cupcakes:
1⅓ cups all-purpose flour
¼ teaspoon baking soda
2 teaspoons baking powder
¾ cup unsweetened cocoa powder
⅛ teaspoon salt
3 tablespoons butter, softened
1½ cups white sugar
2 eggs
¾ teaspoon vanilla extract
1 cup milk
INGREDIENTS - Vanilla Buttercream:
1 cup butter, softened
3-4 cups icing sugar
2 teaspoons vanilla extract
pinch salt
2-3 tablespoons milk or heavy cream
INGREDIENTS - Ghosts:
1 cup white candy melts
1 Tablespoon shortening or vegetable oil
24 large marshmallows
48 candy eyes
Directions for Cupcakes
Preheat oven to 375 degrees F. Line a muffin pan with themed cupcake liners.
In a large bowl, sift together the flour, baking powder, baking soda, cocoa and salt. Set aside. In a large bowl, cream together the butter and sugar until light and fluffy, about 2 minutes. Add the eggs one at a time, beating well with each addition, then stir in the vanilla.
Add the flour mixture alternately with the milk; beat well. Fill the muffin cups ¾ full. Bake for 15 to 18 minutes, until a toothpick inserted into the cake comes out clean.
For the frosting and ghosts:
Place softened butter into a bowl and beat in 2 cups of icing sugar. Add 2 Tablespoons heavy cream and vanilla. Add remaining icing sugar ½ cup at a time until you reach your desired consistency.
Spoon the frosting into a piping bag with no tip or a circular tip. Swirl the frosting onto the cooled cupcakes.
Melt the candy melts with the shortening for 25 seconds, stir, and reheat if necessary. Place a large marshmallow in the center of each cupcake and spoon 1-2 Tablespoons of the candy melts overtop. Use the back of a spoon to help the candy melts move if needed.
Repeat with the other ghost cupcakes. After each ghost has dried for about 5 minutes, attempt to attach the eyes - if the candy melts are still too soft, give it another couple minutes before re-attempting.