Gingerbread Rice Krispie Treats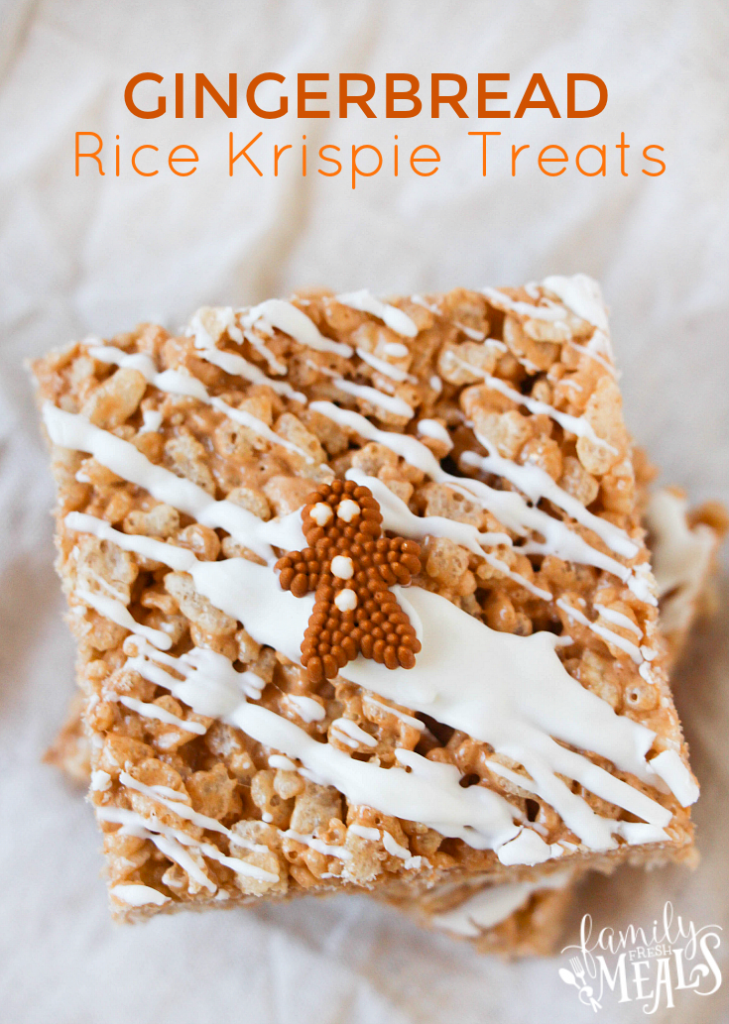 1-10 oz bag gingerbread marshmallows*
6 cups Rice Krispie cereal
6 Tablespoons butter
2oz white almond bark
Gingerbread candies, optional
*NOTE: if gingerbread marshmallows are not available to you, use regular marshmallows and add 1 teaspoon molasses, ½ teaspoon nutmeg, ½ teaspoon ginger and 1 teaspoon cinnamon to regular marshmallows AFTER melting.
DIRECTIONS:
Oil or line a 9x9" square baking pan. Place your marshmallows and butter in a large, microwave-safe bowl.
Heat for 30 seconds, then stir, and reheat as necessary. Add in the Rice Krispies and stir well, until coated. Fold the mixture out into the baking pan.
Press down to make them even. I like to use parchment paper or wax paper for this to prevent sticking to hands.
Refrigerate 1 hour to set.
Once the Rice Krispies have set, heat the almond bark in a small microwave-safe bowl for 30 seconds, then stir, and reheat if necessary.
Drizzle the white almond bark over the squares. Add any sprinkles or decorations while the almond bark is still wet. Once the almond bark is set, about 5 minutes, cut into squares and serve.
Recipe by
Family Fresh Meals
at https://www.familyfreshmeals.com/2016/12/gingerbread-rice-krispie-treats.html