Four Cheese Baked Macaroni and Cheese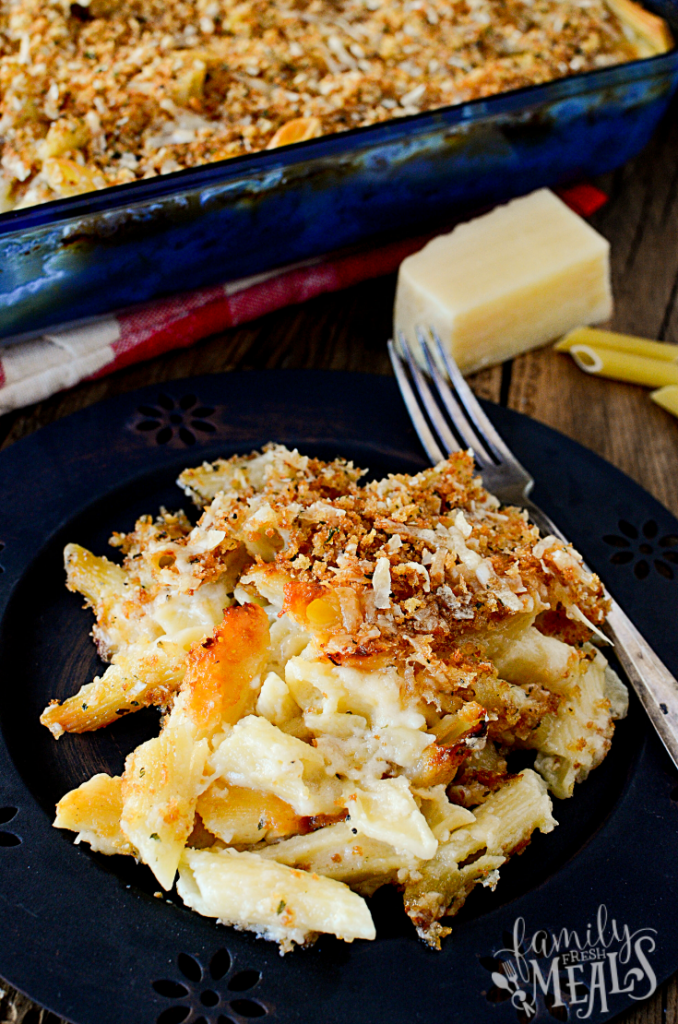 1 lb pasta
¾ stick of butter
2 Tablespoon all purpose flour
2 cups milk
1 cup heavy cream
½ teaspoon salt
½teaspoon ground black pepper
2 cloves of garlic, minced
4 oz Havarti cheese, shredded
¼ cup Parmesan
8 oz cheddar cheese, shredded
8 oz extra sharp cheddar cheese, shredded
TOPPING:
3 Tablespoons Parmesan Cheese
1 cup Panko bread crumbs
1 teaspoon dried parsley
1 Tablespoon Olive oil
Preheat oven to 375°F. Set aside a 2qt baking dish. Cook pasta according to package instructions and set aside.
Now let's make the topping. In a bowl, combine panko bread crumbs, 3 Tablespoons Parmesan Cheese, parsley and olive oil. Stir to combine and set aside.
In a medium pan, melt butter, whisking in flour. Slowly whisk in milk and cream, followed by seasonings and garlic. When liquid is warm, add half of the cheese. Whisk occasionally until fully melted. Add remaining cheese, continuing to whisk occasionally until fully melted.
Add pasta to un-greased baking dish. Pour cheese sauce over pasta. Top off with Panko breadcrumb mixture. Bake for 20-25 minutes or until breadcrumbs are lightly browned and cheese is bubbly. Serve immediately.
Recipe by
Family Fresh Meals
at https://www.familyfreshmeals.com/2016/12/four-cheese-baked-macaroni-and-cheese.html