Roasted Chicken Sheet Pan Dinner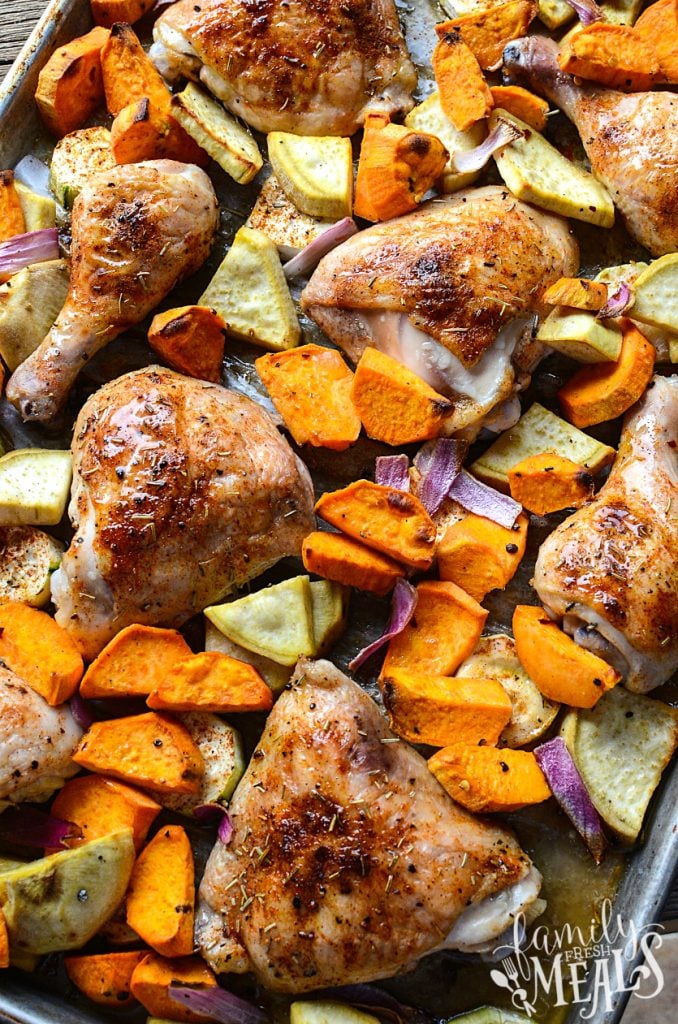 INGREDIENTS:
4 Chicken drumsticks
4 Chicken thighs
1 Yam, (large), chopped
3 Sweet potatoes, (medium), chopped
½ Red onion, sliced
Chicken Rub:
1 teaspoon of each: Seasoned salt, pepper, garlic powder, dried rosemary, ginger powder, sweet paprika, and low sodium chicken bouillon.
½ teaspoon Allspice
¼ teaspoon of cinnamon
For the Vegetable Seasonings:
1 Tablespoon brown sugar
1 teaspoon salt
1 teaspoon pepper
¼ teaspoon chili flakes
¼ teaspoon cinnamon
3 Tablespoons of olive oil.
Preheat the oven to 350 degrees F. Mix together ingredients for chicken rub.
On a parchment lined baking pan, place all pieces of chicken, skin side up. Season both sides of the chicken with rub.
Next, mix together ingredients for vegetable seasoning. Please veggies in a large bowl, and pour seasoning over veggies. Mix until evenly coated.
Arrange the vegetables around the chicken pieces, laying them in one flat layer as much as possible.
Roast in the oven for approximately 40 – 45 minutes or until all chicken is cooked through. Remove from oven and let rest for 5 minutes before serving.
Recipe by
Family Fresh Meals
at https://www.familyfreshmeals.com/2017/03/roasted-chicken-sheet-pan-dinner.html