Strawberry Cheesecake Cupcakes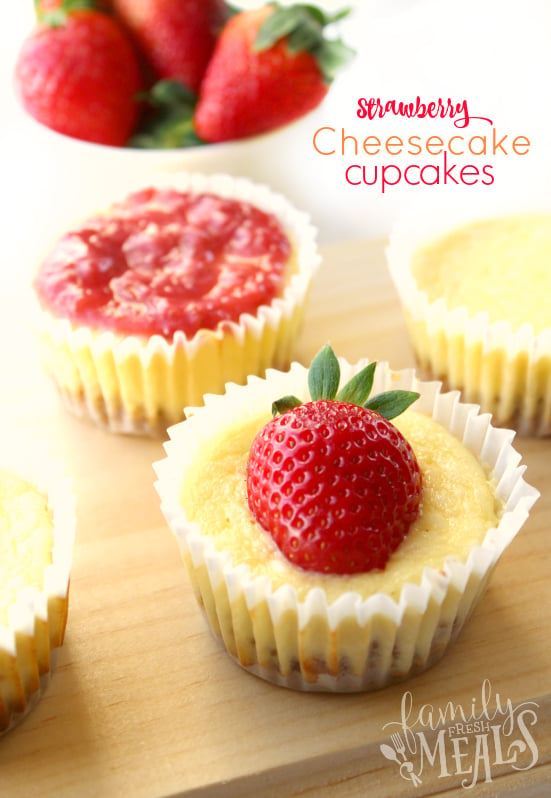 Cheesecake Ingredients:
1 cup graham cracker crumbs
4 tablespoons unsalted butter, melted
2 tablespoons sugar
16 ounces cream cheese, softened
½ cup sour cream
¼ cup granulated sugar
2 eggs
1 teaspoon vanilla extract
Strawberry Sauce Ingredients:
1 cup strawberries, - cut in half
½ teaspoon lemon juice
2 teaspoons sugar
Preheat oven to 325 degrees F and line a muffin pan with paper liners. Combine graham cracker, butter and 2 TB sugar in a small bowl. Texture should be similar to wet sand. Divide crust mixture evenly into the bottoms of muffin tins. Bake for 5-6 minutes or until golden brown, allowing to cool completely when finished.
Assemble the cheesecake filling. Beat cream cheese in a stand mixer with the beater attachment. Add in sour cream, ¼ cup sugar, eggs and vanilla. Mix until well combined. Pour cheesecake mixture into muffin tin. It will be about 2-3 tablespoons per muffin tin, filling almost completely.
Bake for 20 minutes or until the cheesecakes are set. They will still jiggle a tiny bit, but that is ok. They will continue to cook and harden up more as they cool. Allow them to cool completely in the muffin tin. Once cooled, put them in the refrigerator to chill. Serve cold, topped with fresh strawberries or my homemade sauce below. Not a fan of toppings, these cupcakes taste great on their own!
Homemade Strawberry Sauce:
Add strawberries, lemon juice and sugar to a small saucepan. Simmer on low for 15 minutes, mashing up strawberries with the back of a wooden spoon. Remove from heat and allow to cool.
Using a food processor or blender mix until creamy and thick. Place back in the fridge and serve cold.
Recipe by
Family Fresh Meals
at https://www.familyfreshmeals.com/2017/03/strawberry-cheesecake-cupcakes.html