Easy Muffin Tin Breakfast Bundles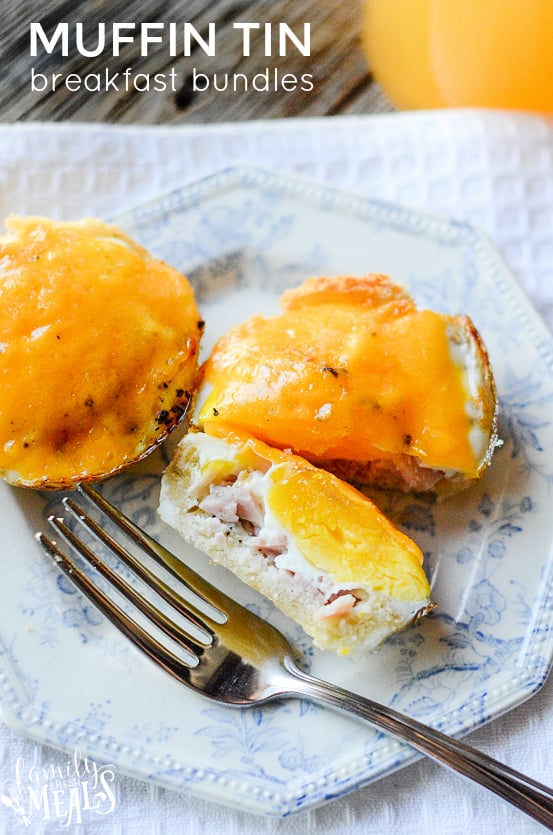 6 slices white/whole wheat bread
6 Eggs
6 oz. Deli ham or any type of leftover ham, chopped
3 oz. Cheddar Cheese
3 teaspoons butter
1teaspoon garlic powder
salt and pepper
Preheat oven to 350 degrees F. Measure your muffin tin cups and find a corresponding diameter cookie cutter. A 3" – 3 ½" cookie cutter will do it.
Cut a circle of bread out of the center of each slice a bread with the cookie cutter.
With a rolling pin, roll the bread circle flat. Butter each bread medallion and season with salt, pepper and garlic powder.
Fit each bread circle into each cupcake cup that has been greased.
Bake the bread "crusts" in the oven for approximately 6 – 8 minutes or until they take on a golden color. Remove the cupcake pan and place a ½ ounce of deli ham in the bottom of each crust.
Carefully break one egg into each crust. Season with salt and pepper. Cover each egg with a ½ ounce slice of cheese
Return to the oven for approximately 25 minutes or until the egg has cooked and the cheese is melted.
Recipe by
Family Fresh Meals
at https://www.familyfreshmeals.com/2017/03/easy-muffin-tin-breakfast-bundles.html