Teriyaki Chicken Sheet Pan Dinner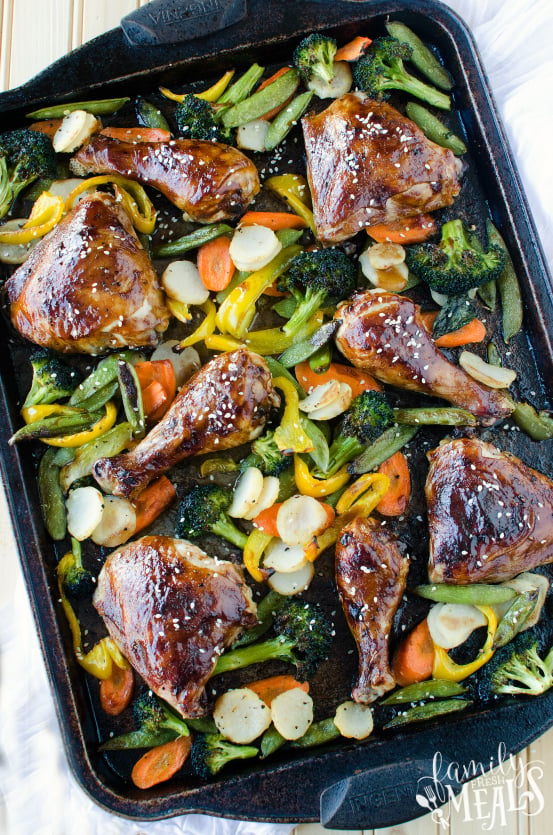 4 chicken thighs
4 chicken legs
2 carrots, peeled and sliced on the diagonal, approx. ½ " thick
1 cup broccoli
1 cup pea pods
1 red pepper sliced
1 can water chestnuts (optional)
1 cup Teriyaki sauce, your favorite
½ tsp sesame oil
1 tbsp. olive oil
1 tsp garlic powder
1 tsp ginger, ground
as desired salt and pepper
as desired sesame seeds for garnish
Preheat oven to 350 degrees F. Rinse off chicken. Remove skin if you prefer, or leave as is. Season with salt, pepper, garlic and ginger.
In a large bowl, combine all the vegetables and drizzle in sesame oil, olive oil and salt and pepper. Toss the vegetables to ensure even coverage of oils and seasonings.
On a large sheet pan, arrange chicken pieces and then set out the vegetables. Try to keep everything on the same level. With a basting brush, liberally baste the chicken pieces with the teriyaki sauce.
Bake for approximately 15 minutes and then liberally baste again. Repeat this process until the chicken is cooked thoroughly (180 degrees). This will take usually 35 – 40 minutes or so depending on your oven.
Note: if you find the sauce is not caramelizing as much as you prefer, then at the last 5 minutes of cooking, remove the vegetables and place the chicken on the broil setting for 1 – 2 minutes. Watch it closely as the sugars in the sauce will burn quickly.
Garnish with sesame seeds and enjoy!
Recipe by
Family Fresh Meals
at https://www.familyfreshmeals.com/2017/04/teriyaki-chicken-sheet-pan-dinner.html