Easy Shrimp Pad Thai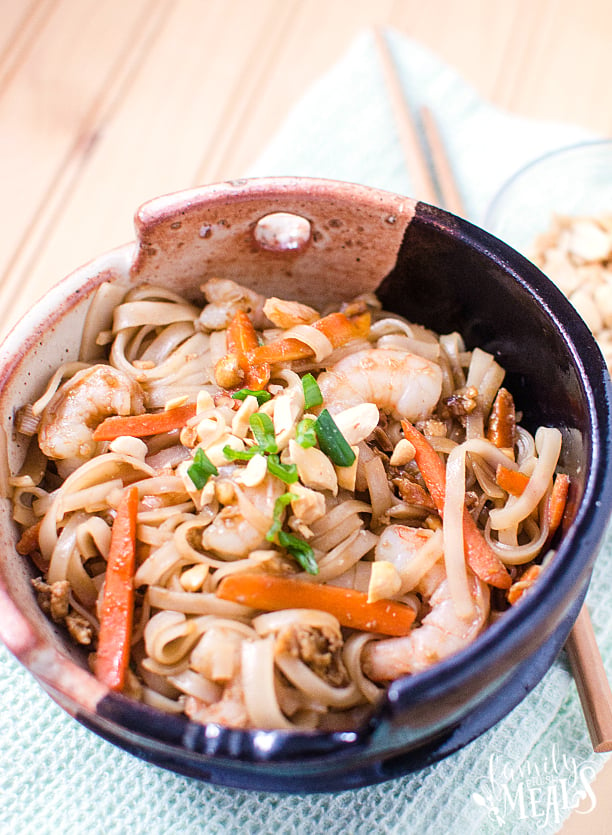 4 oz uncooked rice noodles
2 tsp sesame oil, divided
¼ cup brown sugar
2 tbsp. soy sauce
2 tbsp. water
as desired sriracha sauce (optional)
¼ cup chopped peanuts
¼ lb shrimp, cleaned and shell free
¼ cup carrots, shredded
1 green onion, sliced
1 egg, whisked
2-3 cloves of garlic, minced
as desired sesame seeds
Cook noodles according to package directions and set aside.
In a bowl, combine soy sauce, brown sugar, sesame oil, water, hot sauce and water
In a sauté pan, begin to sauté the garlic in a bit of oil. Add the peanuts, green onions
and carrots.
Add the egg, and begin to sauté everything together, breaking up and cooking the
egg.
Add the sauce to the egg mixture. Mix well
Add the noodles and then add the shrimp. Toss with tongs, mixing everything
together and cooking until the shrimp are cooked through.
Garnish with lime juice, more peanuts and green onion.