Lemon Grilled Chicken Kabobs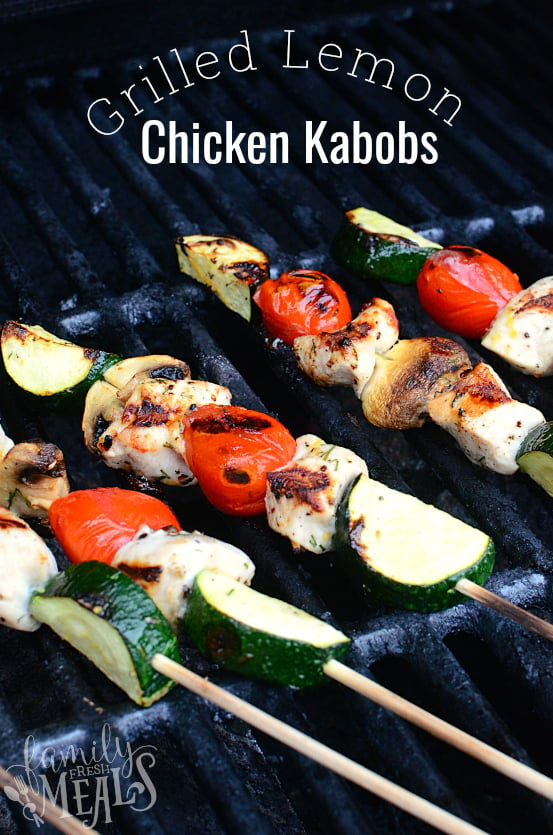 2 chicken breast, cut into approximately 16 small chunks
1 zucchini, cut into half coins
8 mushrooms, cleaned and cut in half
10 cherry tomatoes
1 lemon, zested and juiced
4 Tablespoons olive oil
2 teaspoons garlic, minced
1 Tablespoons dill, fresh
½ teaspoon salt
¼ teaspoon pepper
NOTE: If using wooden skewers, begin by soaking them in a sink of water 30 minutes before cooking.
In a small bowl, combine the olive oil, lemon juice, lemon zest, garlic, fresh dill, and salt and pepper.
Season the chicken with salt and pepper to taste. Next add HALF the lemon marinade to the bowl and mix to coat the chicken well. Set aside.
Combine the zucchini, mushrooms and cherry tomatoes in a bowl. Add the remaining lemon marinade and coat to mix.
Take one skewer, and put approximately 2 pieces of zucchini, 1 tomato, 1 mushroom and 2 pieces of chicken on the skewer. (These amount will vary, depending on how small or large you cut up your ingredients. I count on two pieces of chicken per skewer)
Preheat the grill to approximately 350 degrees. Lay the skewers on the grill. Grill them for approximately 4 minutes on each side. Remove and let rest for 2 – 3 minutes.
Recipe by
Family Fresh Meals
at https://www.familyfreshmeals.com/2017/06/lemon-grilled-chicken-kabobs.html