Peanut Butter Cup Smore Bites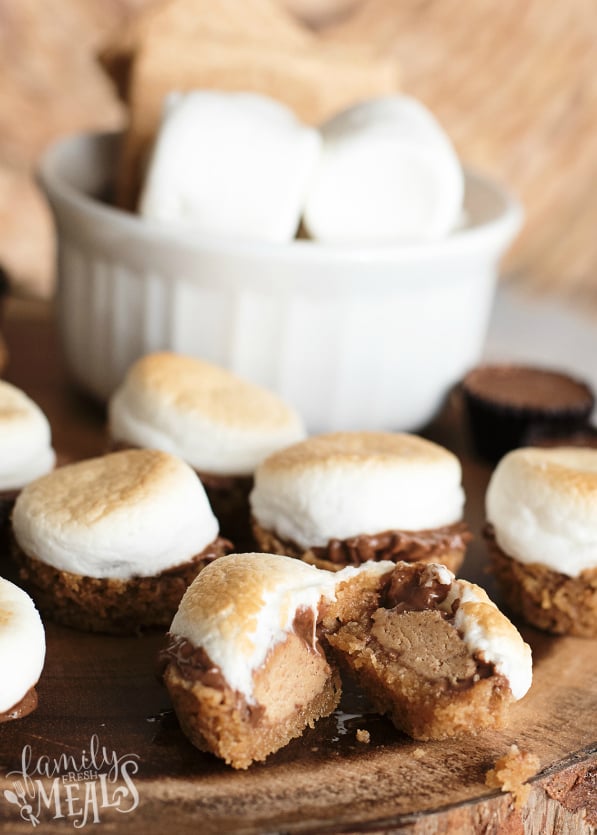 7 graham cracker sheets
¼ cup powdered sugar
5 tablespoons butter, melted
24 miniature peanut butter cups
12 large marshmallows
Preheat the oven to 350°F. Grease a 24 cup mini muffin pan, making sure it is well coated. Throw the graham cracker sheets into a food processor until finely grounded, leave no chunks behind.
In a medium sized bowl, combine the graham cracker crumbs, sugar and melted butter, mixing until well combined.
Divide the mixture into a 24-cup miniature muffin pan, about a tablespoon in each well. Using your thumb, press the graham cracker mixture into the pan, creating a well. You could also use a second mini muffin pan, press it onto your smores pan and make instant wells. Bake for 5 minutes. Set aside.
Unwrapping the mini peanut butter cups and cutting your 12 marshmallows in half, creating 24 marshmallows for your bites. Place a mini peanut butter cup into each crust, pressing down slightly. Then, take a marshmallow and place it on top of each piece of candy, sticky side down.
If you want a broiled top: Place into the oven, using the broiler for 1-3 minutes. Watch closely!  If you want a regular smores without the browning, place back into the oven at 350 degrees for just a few minutes. Once removed from the oven, place onto a cooling rack to completely cool.
Recipe by
Family Fresh Meals
at https://www.familyfreshmeals.com/2017/08/peanut-butter-cup-smore-bites.html