Caramelized Onion and Mushroom Pizza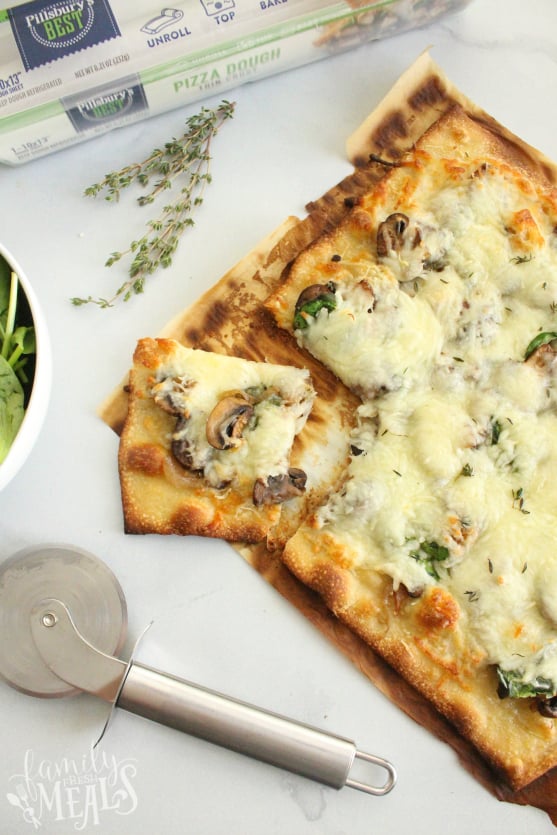 1 package Pillsbury's Best™ refrigerated thin crust pizza dough
1 tablespoon olive oil
1 tablespoon butter
1 cup thinly sliced onion SAVE $
¼ teaspoon salt
1 package (8 oz) sliced mushrooms
2 cloves garlic, chopped
1 cup baby spinach leaves, slightly packed
1½ cups shredded mozzarella cheese (6 oz)
½ cup shredded Parmesan cheese
1 teaspoon chopped fresh thyme leaves
Heat oven to 425°F. Place oven rack in low position. Unroll dough with oven-safe parchment paper onto ungreased large cookie sheet (dough bakes on paper). Brush with olive oil. Bake 7 minutes. Remove from oven.
Meanwhile, melt butter in 10-inch nonstick skillet over medium heat. Add onion and salt; cook 3 to 5 minutes, stirring occasionally, until onion softens. Add mushrooms; cook 5 to 7 minutes or until softened and beginning to brown. Stir in garlic; remove from heat.
Spread mushroom mixture evenly over dough. Top with spinach, mozzarella cheese and Parmesan cheese.
Bake 7 to 11 minutes longer or until cheese is melted and crust is golden brown. Sprinkle with thyme.
Recipe by
Family Fresh Meals
at https://www.familyfreshmeals.com/2017/10/caramelized-onion-and-mushroom-pizza.html