Glazed Pumpkin Monkey Bread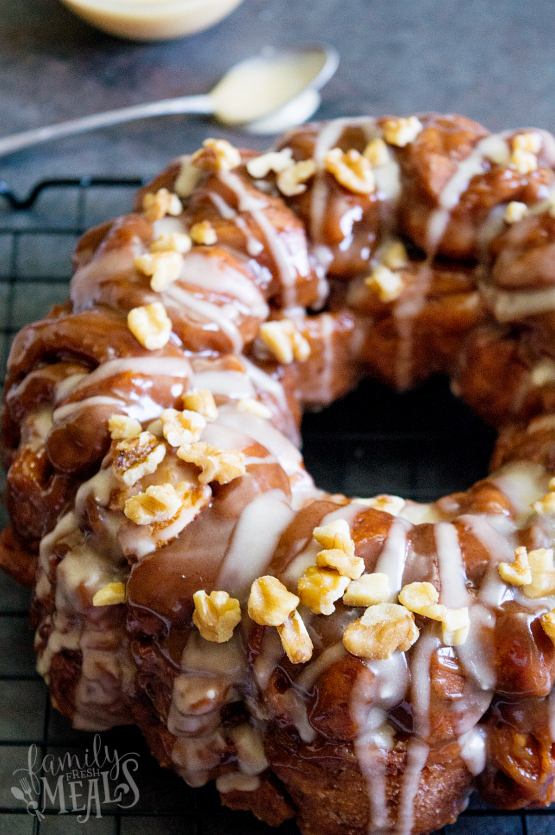 Monkey Bread Ingredients:
2 16oz cans of Pillsbury Pumpkin Spice Biscuits, quartered
½ cup of white sugar
2 teaspoons of ground cinnamon
½ cup of walnuts, more for topping
1 cup of light brown sugar
¾ cup of salted butter, melted
3 tablespoons of pure maple syrup
Maple Glaze Ingredients:
¼ cup of unsalted butter
½ cup of pure maple syrup
1 ½ cups of confectioners sugar
1 teaspoon of maple extract, if desired
Preheat oven to 350 degrees Fahrenheit. Spray a bundt pan with non stick cooking spray. In a large bag or bowl, add white sugar and cinnamon, mix together.
Lay out biscuits and cut each one into fourths.
Toss a few biscuits and shake or stir to coat. Tap off excess sugar. Line biscuits evenly to coat bottom of bundt pan, repeat the process until half of the biscuits have been coated and added into the bundt pan. Toss in the walnuts. Continue process with biscuits, layering over the walnuts until all biscuits have been added. In a small pot over medium, melt butter and sugar together. Once melted, turn off heat, add in syrup stir gently and pour over the monkey bread.
Bake monkey bread for 35-40 minutes or until dough has cooked through.
Remove monkey bread and allow it to cool in pan for 10 minutes only before inverting it into a serving dish.
Once monkey bread has been inverted start on maple glaze. To make the glaze, place a small pot over low heat, melt butter and maple syrup together, about 2-3 minutes while whisking occasionally. Once butter and syrup have melted together, remove pan from heat and slowly whisk in confectioners sugar until desired thickness has been achieved. Monkey bread should now be closer to room temperature, slowly pour glaze over the monkey bread and serve.
Note:
There may be excess glaze left, it's perfect for dunking the monkey bread from the bottom into.
Recipe by
Family Fresh Meals
at https://www.familyfreshmeals.com/2017/10/glazed-pumpkin-spice-monkey-bread.html