Andes Sugar Cookies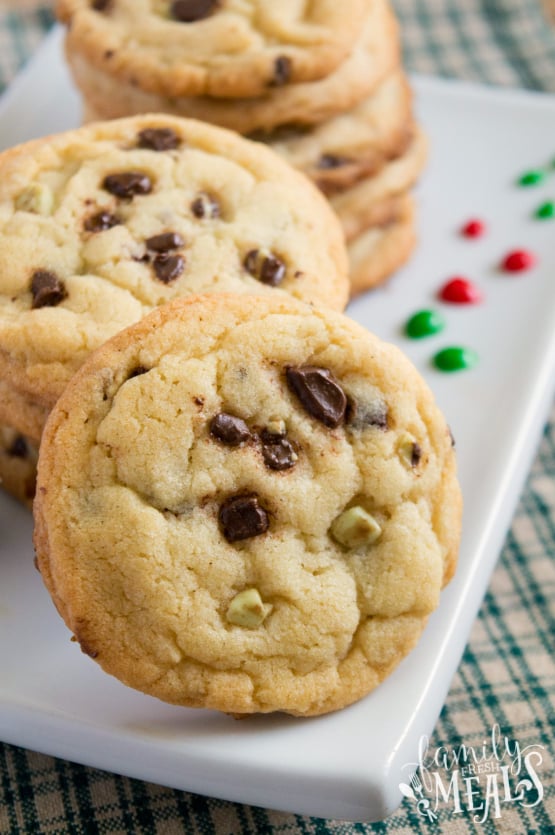 Ingredients:
2 ¾ cup of flour
1 teaspoon of baking soda
½ teaspoon of baking powder
½ teaspoon of salt
1 cup of butter, softened
1 ½ cups of sugar
1 egg, room temperature
2 teaspoons of vanilla extract
1 cup of Andes chips, plus more to topping
Directions:
Preheat oven to 375 degrees F.
In a small bowl whisk flour, baking soda, baking powder, and salt. Set aside.
In a large bowl, cream butter and sugar, about 4 minutes using a hand mixer.
Add egg and vanilla to butter mixture and mix together. Slowly add in flour mixture, reserving 2 tablespoons of flour mixture. Do not over mix.
Toss Andes chips with the 2 tablespoons of flour. Reserve about ¼ cup of chips. Stir the rest of the chips into dough until well combined.
To a well greased pan, add 2 tablespoons of cookie dough for jumbo cookies, or 1 ½ teaspoons for regular sized cookies. Top with additional Andes chips.
Bake jumbo cookies for 13-15 minutes or until edges become slightly golden brown. Bake regular cookies for 8-10 minutes. Allow to cool fully before serving.