Crockpot Chicken Parmesan Soup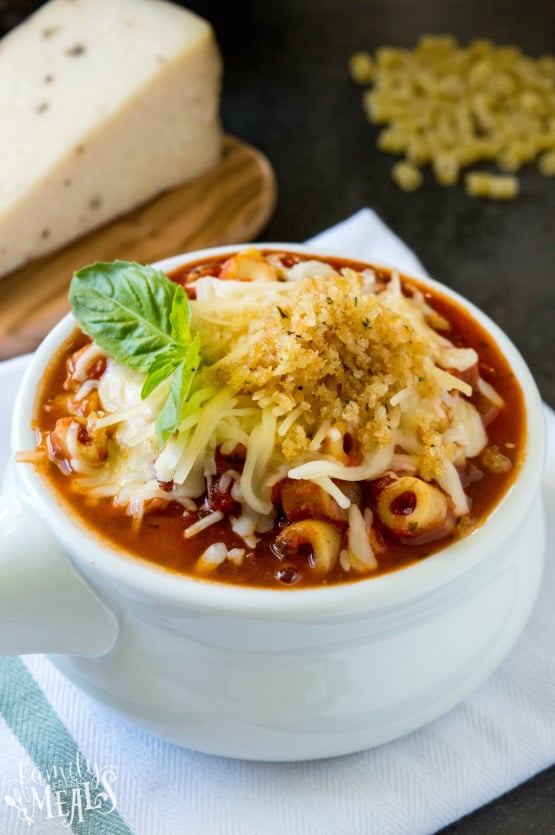 16 oz boneless skinless chicken breasts, cut into bite-sized pieces
1 teaspoon salt
¼ teaspoon pepper
½ cup onion, chopped
3 cloves garlic, minced
1 can (28 oz) crushed tomatoes
1 Tablespoon dried basil
1 Tablespoon dried parsley
¼ teaspoon crushed red pepper (optional)
4 cups of chicken broth
½ cup uncooked ditalini pasta
Topping:
¼ cup butter
1 cup Italian style panko bread crumbs
½ cup Parmesan cheese, shredded
½ cup mozzarella
Fresh chopped basil
In 4 - 5-quart crockpot, place chicken at the bottom. Season with salt and pepper. Add in onion, garlic, chicken, crushed tomatoes, dried basil, dried parsley, crushed red pepper, broth, salt and pepper.
Cover and cook on LOW heat setting 6 hours or on HIGH setting 3 to 4 hours or until chicken is cooked through.
Thirty minutes before serving, stir in uncooked pasta into crockpot. Cover and cook on High heat setting about 30 minutes or until pasta is tender.
Meanwhile, in a skillet, melt butter over medium heat. Add bread crumbs to the skillet and cook 3 to 4 minutes, stirring frequently, until golden brown.
Sere soup topped with toasted bread crumb, shredded cheeses and top with with chopped basil.
Recipe by
Family Fresh Meals
at https://www.familyfreshmeals.com/2018/02/crockpot-chicken-parmesan-soup.html