Mint Chocolate Brownies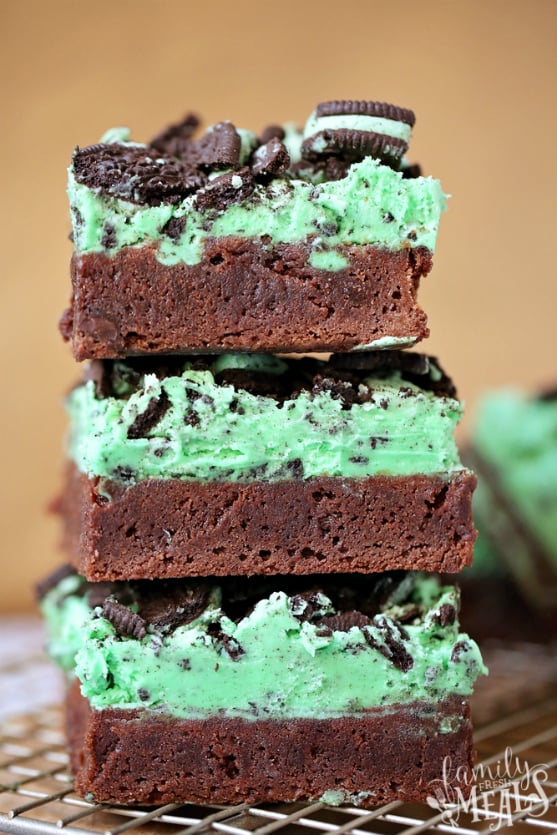 1 box brownie mix
2 eggs
⅓ cup vegetable oil
¼ cup water
Optional: ½ cup chocolate chips (for extra creamy fudginess)
1 stick butter
½ cup marshmallow fluff
1 cup powdered sugar
½ tsp mint extract
Green gel food coloring
1 sleeve chopped mint OREO cookies
*Substitute melted white chocolate for the marshmallow fluff if you aren't a marshmallow fan.
Blend brownie mix, eggs, vegetable oil, and water with a hand mixer until smooth. Stir in chocolate chips. Pour into a greased 8x8 square pan, and bake at 350 F for 20 minutes.
While cooking, blend softened butter, marshmallow fluff, powdered sugar, mint, and gel coloring with a hand mixer until soft and fluffy.  Chop OREO cookies into small pieces, and take 1 hand full of them and blend into your icing mixture.
Once brownies are cooked, set aside to cool completely.  Once cooled, spread icing over brownies in a thick, even layer, and then sprinkle OREOs over the top. Push in a little so they stick.
Refrigerate or let set at room temperature for 1 hour, cut into equal squares and serve!