Crockpot Cheesy Grits and Shrimp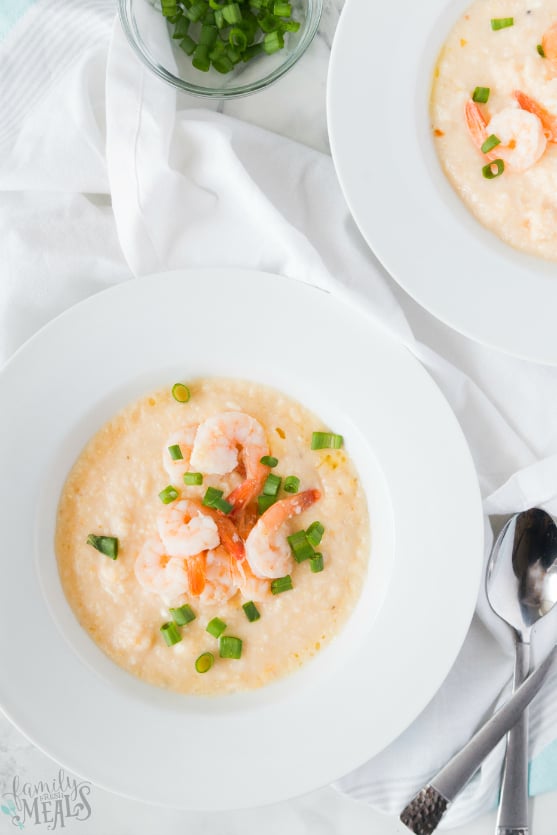 INGREDIENTS:
5⅓ cups chicken broth
1⅓ cups quick cooking grits
½ Tablespoon garlic powder
½ Tablespoon onion powder
½ teaspoon salt
1.5 cups sharp cheddar cheese, shredded
4 oz cream cheese, cut into tabs
½ cup grated parmesan
1 teaspoon hot sauce, I like Franks
½ cup half and half (you can use fat free)
2 pounds raw shrimp, pealed and deveined
2 Tablespoons butter, melted
2 cloves minced garlic
optional ½ teaspoon hot sauce
Salt and Pepper to Taste
Toppins:
parmesan cheese and diced chives.
Place chicken broth and grits into your crockpot.
Next add in garlic powered, onion powder, shredded cheese, cream cheese, parmesan cheese and hot sauce. Mix until combined. Cover and cook on LOW for 3 hours.
Once cooking is done, stir in ½ cup of half and half. You may add more broth at this time if you think the grits need more liquid.
In a separate bowl, toss shrimp in melted butter, garlic, optional hot sauce and salt/pepper. Add shrimp to the top of the grits. Cover and cook for an addition 30-45 mins until shrimp are done cooking. Serve grits, topped with shrimp and top with some diced chives.
Recipe by
Family Fresh Meals
at https://www.familyfreshmeals.com/2018/03/crockpot-cheesy-grits-and-shrimp.html