Soft and Chewy Caramel Filled Snickerdoodle Cookies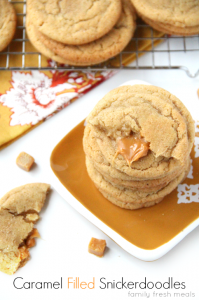 Cookies:
1¼ cup flour
1 teaspoon cream of tartar
¼ teaspoon salt
½ teaspoon cinnamon
½ teaspoon baking soda
½ cup butter, softened
½ cup granulated sugar
½ cup brown sugar, packed
1 large egg
1 teaspoon vanilla extract
8-10 Caramels (such as Kraft Individual wrapped caramels)
Cinnamon sugar topping:
¼ cup granulated sugar
½ teaspoon cinnamon
In a large mixing bowl, combine your flour, cream of tartar, baking soda, cinnamon and salt together. Set aside.
Using a stand mixer ( with paddle attachment) or a large mixing bowl and handheld mixer, beat the butter and sugar until light and fluffy .
Next mix in an egg and vanilla.
Now add the flour mixture slowly, about ½ a cup at a time. Mix until well combined.
Wrap with plastic wrap and chill dough at least 30 minutes or up to 2 days. (if you are rushed on time, you can also put in the freezer for 10 minutes)
Place the cinnamon and sugar for the topping in a small bowl and stir until well combined.
Cut caramels in to small ¼ inch pieces. Scoop heaping tablespoon-sized amounts of cookie dough and roll in to 1.5-2 inch balls. Flatten each ball and place a couple caramel pices in the middle of the ball. Reseal the ball and roll back in to a ball.
Roll each ball in cinnamon sugar mixture until well covered.
NOTE: You can also do 1 inch balls to make more, smaller cookies. But we like our cookies BIG! (see cooking times at the bottom for different sized cookies)
Place cookies on cookie sheet and bake at 350 degrees for 10-12 minutes for LARGE cookies and 9-11 for SMALL cookies.
Recipe by
Family Fresh Meals
at https://www.familyfreshmeals.com/2014/12/soft-chewy-caramel-filled-snickerdoodle-cookies.html