Buffalo chicken in a new, elegant form.

Over the years, I've created just about every variant on the Buffalo wing you can think of. Buffalo chicken sandwiches, Buffalo chicken pasta salad, Buffalo chicken wraps…I've done it all.
But the original Buffalo chicken wing still has something special going for it: its size. A platter of Buffalo chicken wings makes a great party appetizer. A big bowl of Buffalo chicken pasta salad, not so much.
Unfortunately, Buffalo chicken wings are also very messy to make and eat. That spicy sauce gets all over everything, so by the time you've finished that tray of wings, you've also gone through a whole pack of paper napkins. Not to mention you still have all those bones to dispose of.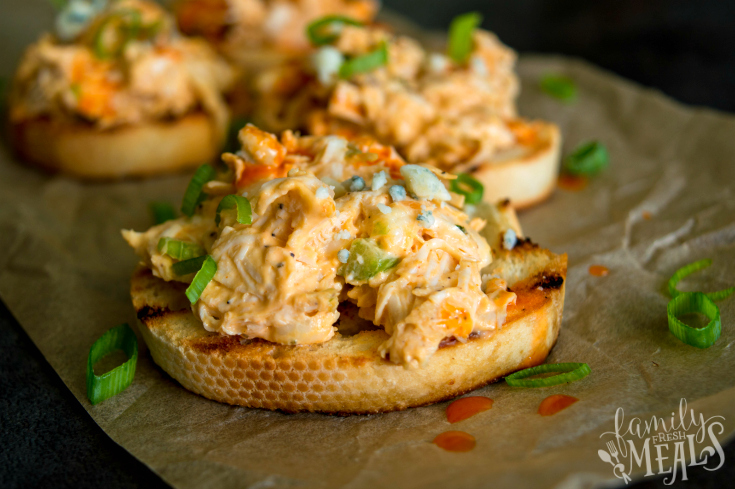 These Buffalo Chicken Bites are the perfect compromise. They've got the zesty flavor of a Buffalo wing in a perfect bite-sized form, but they're also neat and self-contained. Just pick them up and bite right in – no napkins needed.
These babies are so neat and so festive, you could pass around a tray of them at a fancy black-tie party and no one would bat an eye. Try that with regular Buffalo wings, and those black ties won't stay black for long.
Buffalo Chicken Bites
Ingredients:
1 ½ pounds of boneless chicken tenders or breast
2 teaspoons of garlic powder, divided
1 teaspoon of salt, more to taste
½ teaspoon of black pepper, more to taste
1/3 cup of buffalo sauce
2 teaspoons of ranch seasoning
4 ounces of cream cheese, softened
¼ cup of ranch dressing
2 tablespoons of sour cream
¼ cup of shredded mozzarella cheese
1 celery stalk, finely chopped
1 baguette loaf, cut into 1 inch slices
Garnish options:
Additional buffalo sauce
Chopped Green Onions
Crumbled Blue Cheese
Directions:
1. Preheat oven to 375 degrees Fahrenheit. Season chicken with 1 teaspoon of garlic powder, 1 teaspoon of slat, and ½ teaspoon of black pepper. Place into the oven for 15-20 or until chicken has cooked through.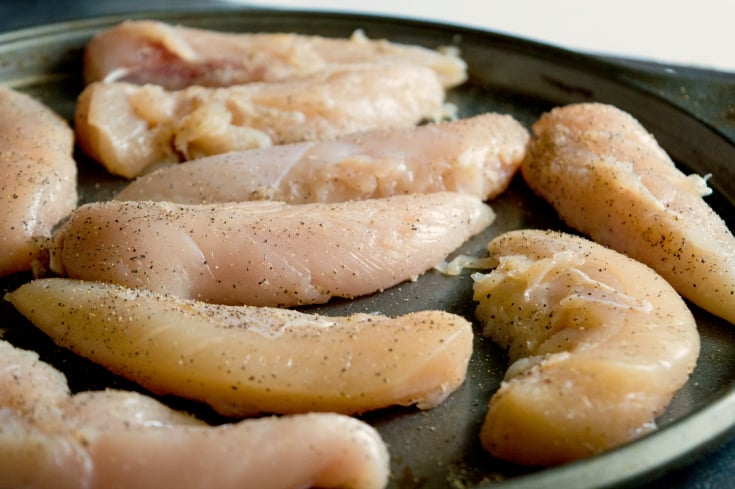 2. Put chicken to the side and allow it to cool slightly. Once chicken has cooled, give it a rough chop.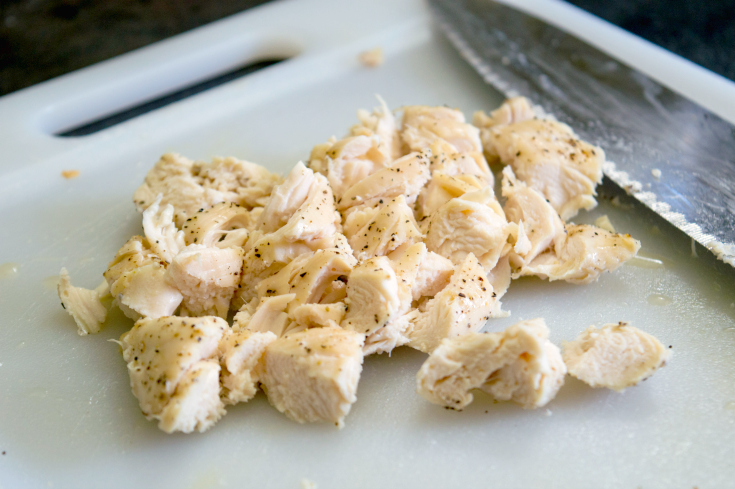 3. In a large bowl, add in all of the ingredients (except for the baguette), mix it until well combined. Season with salt and pepper to taste.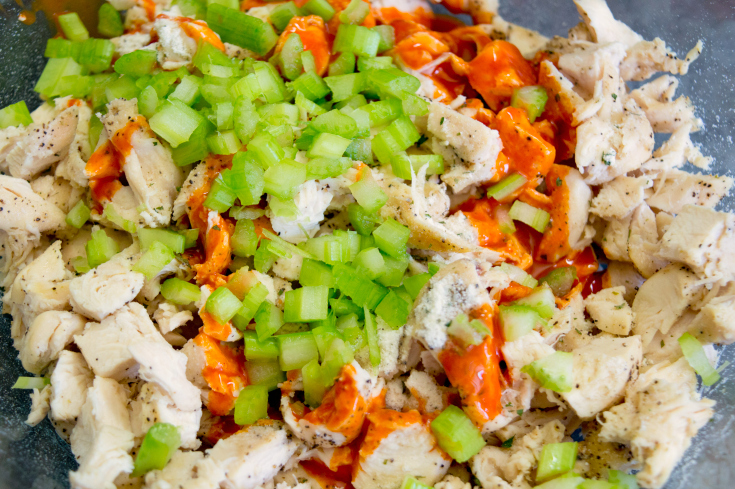 4. Over medium high heat, add baguette to a grill or stove top grill pan, grease pan if necessary. Grill baguette on both sides until it has slight grill marks. Add about 1-2 tablespoons of buffalo mixture to each baguette slice. Garnish with additional buffalo sauce, blue cheese crumbles, and chopped green onions -if desired.
Makes about 12-15 "bites".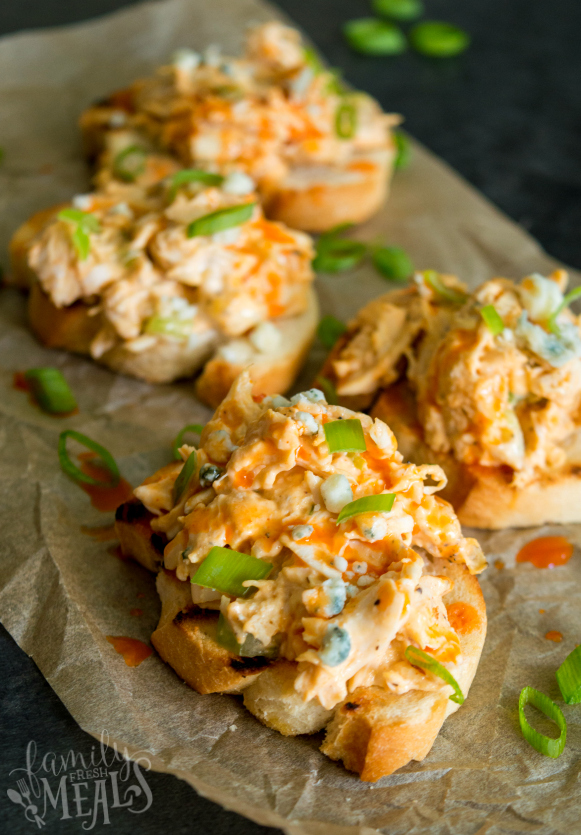 Do you love Family Fresh Meals? Never miss out on FUN new meals or Easy Lunchbox Ideas for the Family and SIGN UP to have my posts sent right to your inbox! It's EASY PEASY! Just CLICK HERE and enter your email!
XO
Corey, Darryl, Big D & Little D

Looking for more free recipes? Subscribe to my newsletter and follow along on Facebook, Twitter, Pinterest and Instagram for all of the latest updates.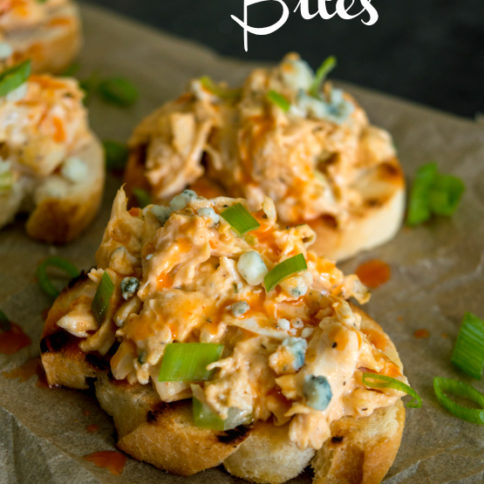 Buffalo Chicken Bites
These Buffalo Chicken Bites are the perfect bite. They've got the zesty flavor of a Buffalo wing in a perfect bite-sized form!
Prep Time: 15 minutes
Cook Time: 20 minutes
Total Time: 35 minutes
Serves:12
Hover over "serves" value to reveal recipe scaler
Ingredients
1 ½ pounds of boneless chicken tenders or breast
2 teaspoons of garlic powder divided
1 teaspoon of salt more to taste
½ teaspoon of black pepper more to taste
1/3 cup of buffalo sauce
2 teaspoons of ranch seasoning
4 ounces of cream cheese softened
¼ cup of ranch dressing
2 tablespoons of sour cream
¼ cup of shredded mozzarella cheese
1 celery stalk finely chopped
1 baguette loaf cut into 1 inch slices
Garnish options:


Additional buffalo sauce
Chopped Green Onions
Crumbled Blue Cheese
Instructions
Preheat oven to 375 degrees Fahrenheit. Season chicken with 1 teaspoon of garlic powder, 1 teaspoon of slat, and ½ teaspoon of black pepper. Place into the oven for 15-20 or until chicken has cooked through.

Put chicken to the side and allow it to cool slightly. Once chicken has cooled, give it a rough chop.

In a large bowl, add in all of the ingredients (except for the baguette), mix it until well combined. Season with salt and pepper to taste.

Over medium high heat, add baguette to a grill or stove top grill pan, grease pan if necessary. Grill baguette on both sides until it has slight grill marks. Add about 1-2 tablespoons of buffalo mixture to each baguette slice. Garnish with additional buffalo sauce, blue cheese crumbles, and chopped green onions -if desired.

Serves about 12-15 bites
Nutrition Information:
Calories: 177kcal (9%)Carbohydrates: 12g (4%)Protein: 15g (30%)Fat: 6g (9%)Saturated Fat: 2g (10%)Cholesterol: 45mg (15%)Sodium: 782mg (33%)Potassium: 269mg (8%)Vitamin A: 85IU (2%)Vitamin C: 0.8mg (1%)Calcium: 56mg (6%)Iron: 0.9mg (5%)