Muddy Buddies + Butterfingers = lethal weapon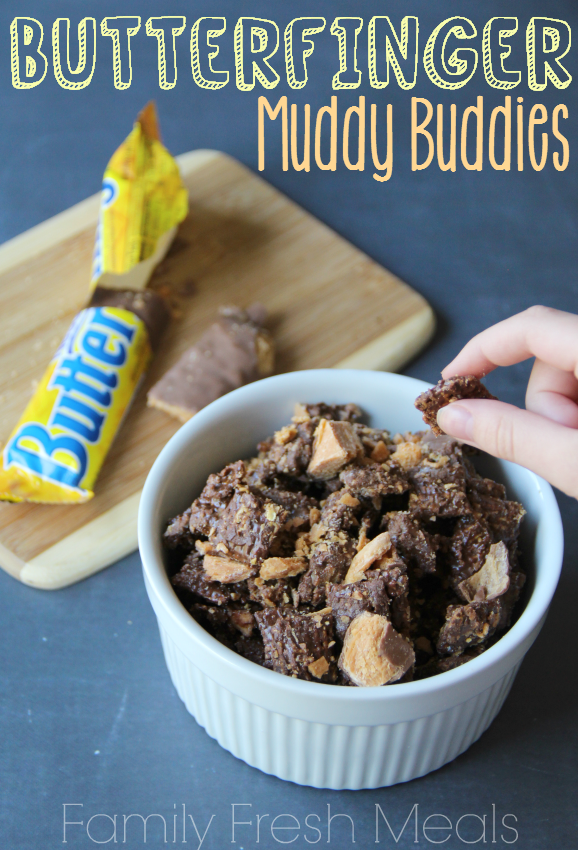 Muddy Buddies (aka Puppy Chow) is one of my favorite treats. Crunchy, sweet and bite-sized. What's not to love? When you add Butterfinger to the mix, you have a lethal weapon.
I only make this special treat once and awhile, because my family and I….. ok, who am I kidding, I end up eating the WHOLE batch in one sitting! HA!
NOTE: Keep this recipe in mind during the Thanksgiving / Halloween season. Trick-or-Treat bags will be FULL of bite-sized Butterfinger bars, which work out perfect for this recipe!
Butterfinger Muddy Buddies Recipe
Ingredients:
1/4 cup  of butter
1 (12 oz) bag chocolate chips
1 & 1/2 cup of crushed Butterfinger bars (about 5 reg bars or about 14-16 mini bars)
1/2  cup of peanut butter (I used smooth)
8 cups of Chex rice cereal
1/2  cup of powdered sugar
Directions:
1. Place your Butterfinger candy bars in a ziplock bag. Have your best kitchen assistant crush the candy bars by hitting with a wooden spoon or rolling pin. Set aside.

2. Melt butter, chocolate chips and peanut butter in a sauce pan over a low heat.
3. Put the Chex cereal into a large covered bowl and pour the chocolate mixture and crushed Butterfingers over the cereal Fold the chocolate mixture into the cereal, trying to coat all cereal.
4. Spread out on a 1-2 cookie sheets and sift or sprinkle powdered sugar evenly over cereal. Cool until chocolate is set and enjoy!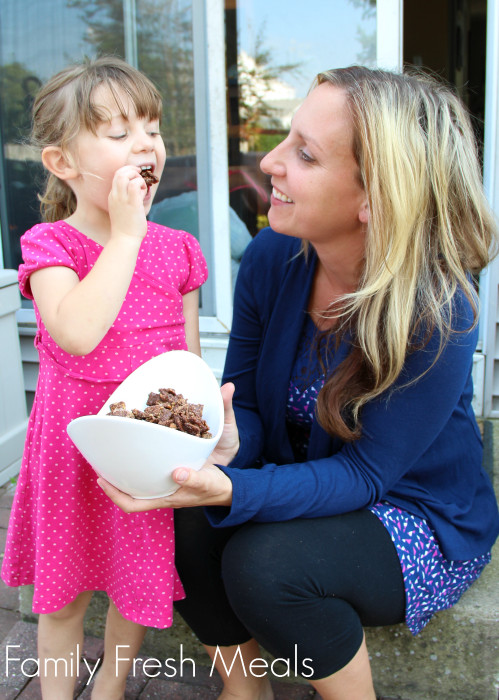 Do you love Family Fresh Meals? Never miss out on FUN new meals or easy lunchbox ideas for the family and SIGN UP to have my posts sent right to your inbox! It's EASY PEASY! Just CLICK HERE and enter your email!
XO
Corey, Darryl, Big D & Little D