A smoothie bowl for every taste.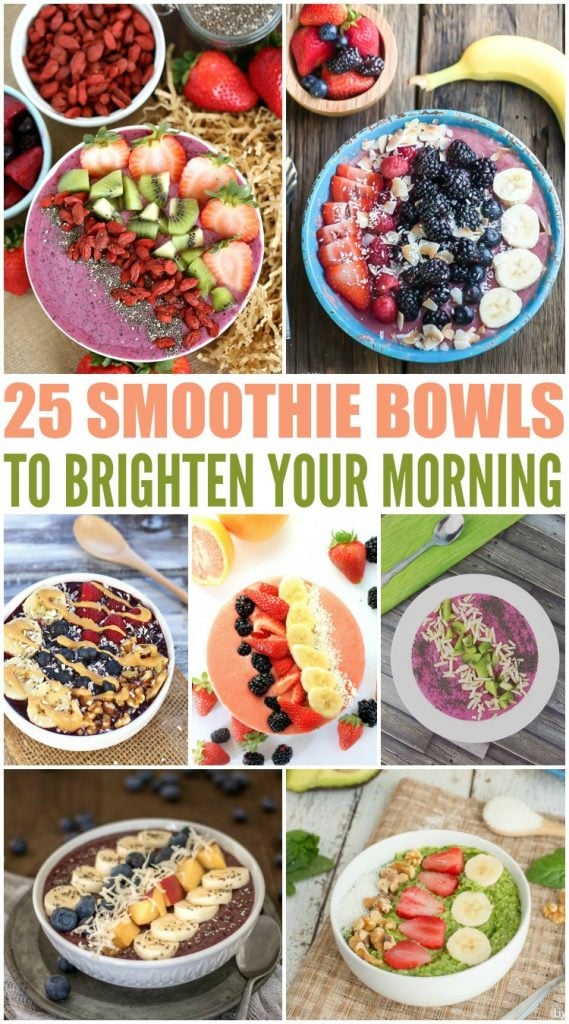 It's been a little over a year since I first discovered the magic of smoothie bowls. Just like regular smoothies you serve in a glass, they're both healthy and delicious—full of good stuff like fresh fruit, yogurt, and sometimes even greens. But since they don't have to be sipped through a straw, you can load them up with even more good stuff on top, like chunks of fruit, grains, and nuts.
The very best thing about smoothie bowls is the variety. Once you get started, you can come up with a smoothie bowl for just about any combination of flavors. And of course, I want to try ALL of them.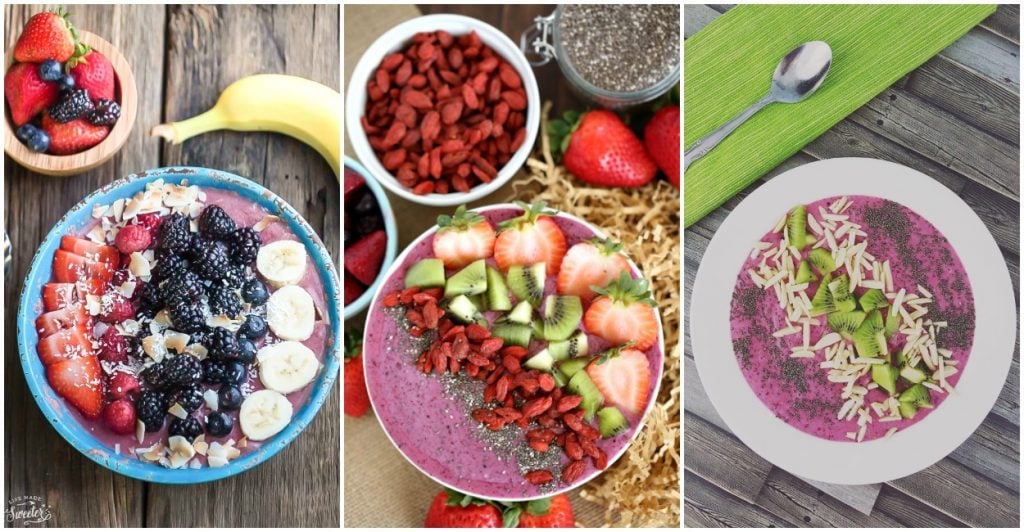 Here are some of the very best smoothie bowl recipes I've found so far. Naturally, the list has lots of fruity smoothies, with combos like mixed berry, mango peach, or lemon strawberry. But there are green smoothies, too, loaded with healthy green veggies, and a couple with avocado. And there are a few super-indulgent dessert smoothies, with flavors like chocolate, peanut butter, and espresso.
Basically, there's a smoothie bowl here for every taste. So grab your blender, and get smooth!
25 Smoothie Bowls To Brighten Your Morning
Blueberry Green Tea Acai Smoothie Bowl
Grapefruit Breakfast Smoothie Bowl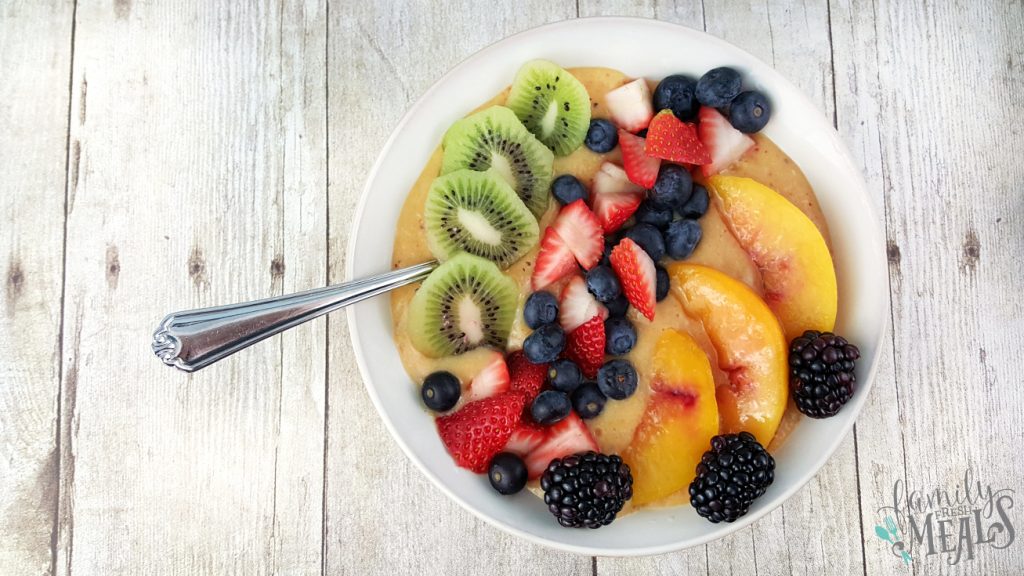 Blueberry Smoothie Bowl
Blueberry Raspberry Smoothie Bowl
Blueberry Oat Coconut Smoothie Bowl
Peanut Butter Cup Smoothie Bowl
Lemon Strawberry Smoothie Bowl
Very Berry Kiwi Smoothie Bowls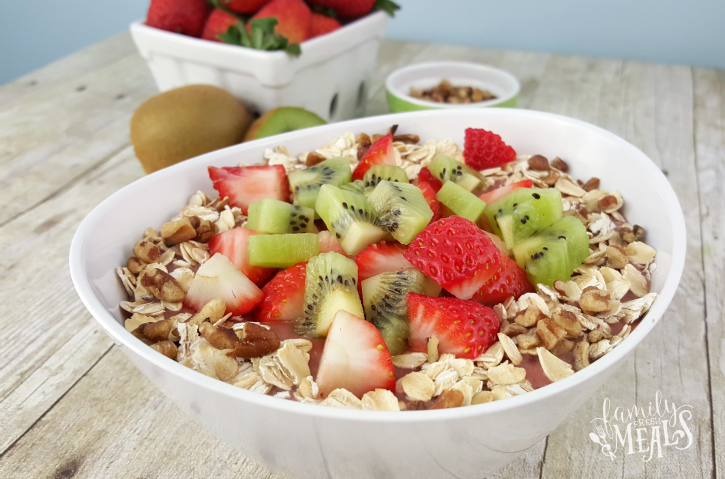 Avocado Berry Smoothie Bowl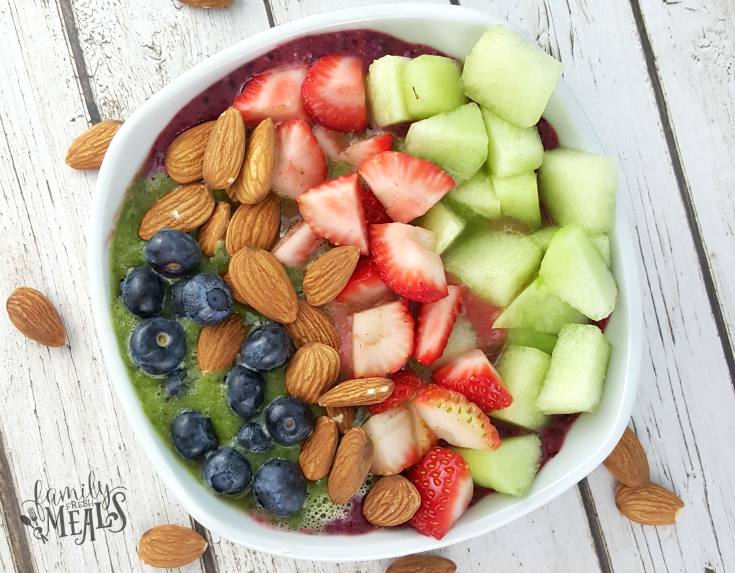 Clementine Green Smoothie Bowl
Blackberry Avocado Smoothie Bowl
Strawberry Pineapple Smoothie Bowl
Do you love Family Fresh Meals? Never miss out on FUN new meals or Easy Lunchbox Ideas for the Family and SIGN UP to have my posts sent right to your inbox! It's EASY PEASY! Just CLICK HERE and enter your email!
XO
Corey, Darryl, Big D & Little D

25 Smoothie Bowls To Brighten Your Morning
Corey: Corey Valley
Serves: 2
Ingredients
BERRY SMOOTHIE INGREDIENTS:
1 cup vanilla yogurt
½ cup raspberries
½ cup blackberries
½ cup strawberries
GREEN SMOOTHIE INGREDIENTS:
1 banana
1 cup vanilla yogurt
1 cup fresh spinach
½ cup blueberries
TOPPING IDEAS:
honeydew melon, strawberries, blueberries, almonds
Instructions
DIRECTIONS:
Prepare the puree by combining the ingredients in a blender. Pulse until smooth. If you use fresh fruit, you will want to add a handful of ice to the blender. Pour into a bowl.
Rinse the blender, then puree the green smoothie ingredients. Gentle pour the green smoothie mixture on top of the berry smoothie.
Top with honeydew melon, strawberries, blueberries, almonds