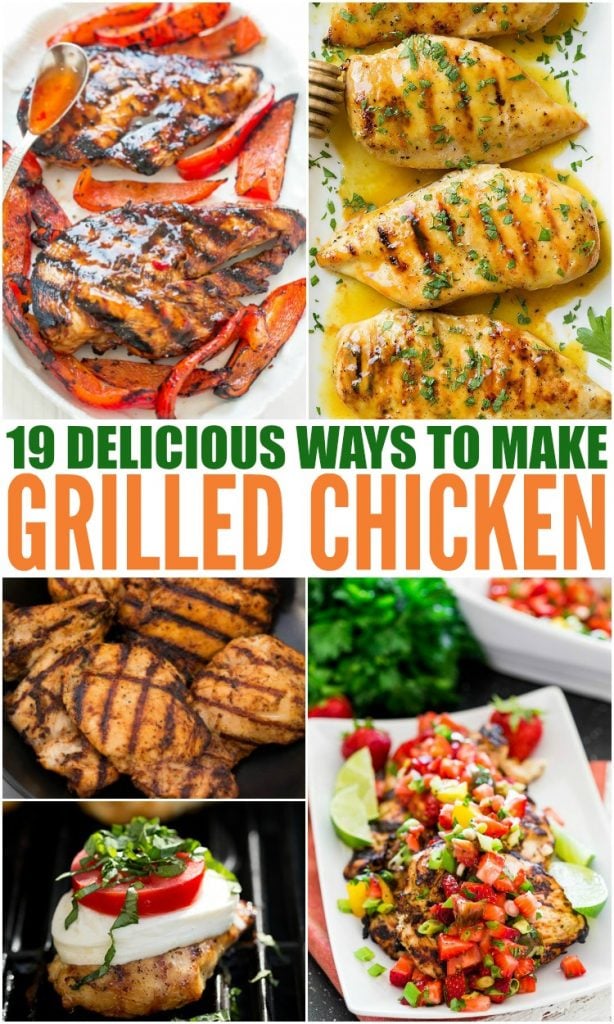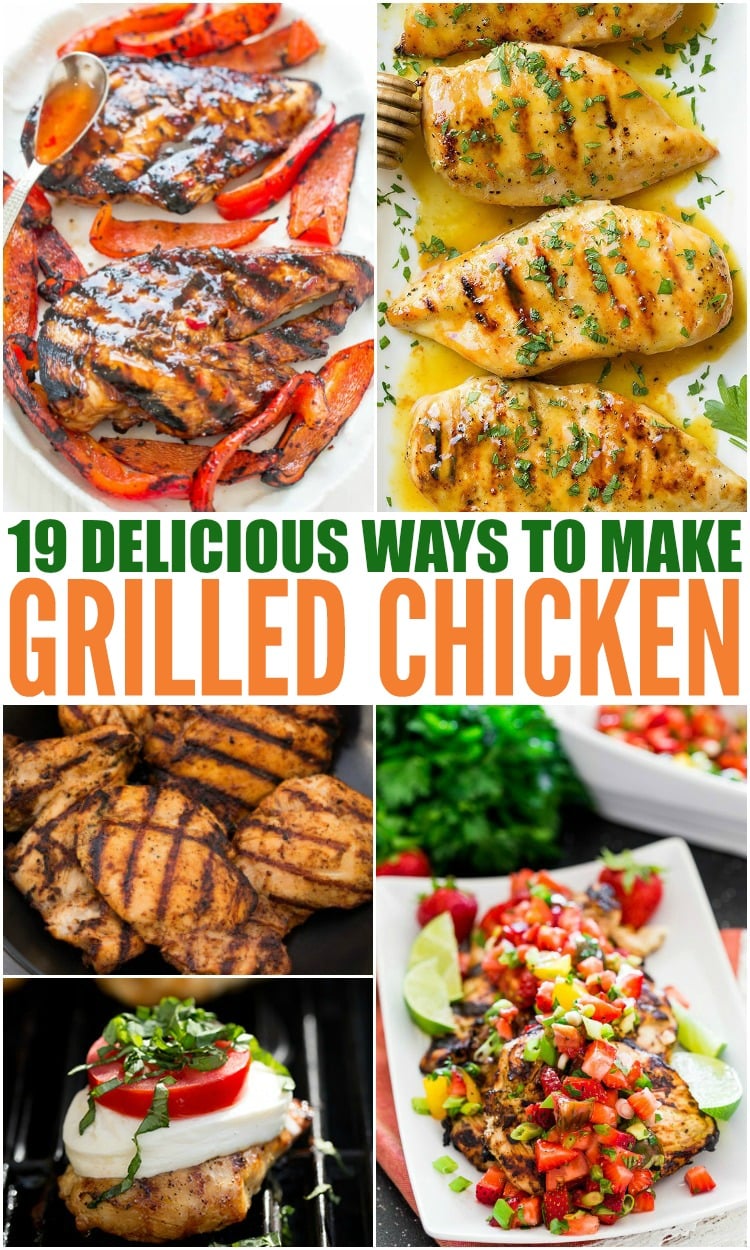 During the summer I like to cook as many meals as possible out on the grill. It keeps the inside of my house cooler when it is hot outside and grilled food just tastes so darn good.
My go to used to be burgers and hot dogs, but you can only cook those two things so many ways before the entire family starts complaining that they are sick of them. So now I stock up on chicken when it is on sale and use it as often as possible. To keep things different and make sure no one gets sick of just chicken I try to change up the recipe each time I cook it.
Below you will find some of my favs, and some I can't wait to try this summer.
Delicious Grilled Chicken Recipes
I like to serve Spicy Lime Chicken over rice for a super filling meal.
If you are looking for a great marinade before slapping the on the grill, try this No Fuss Chicken.
Dice your grilled chicken into cubes and put them inside these Street Tacos for Taco Tuesday.
These Grilled Lemon Chicken Kabobs are bursting with fresh summer flavor!!
Top this Cilantro Lime Grilled Chicken with strawberry salsa for a delicious, healthy dinner.
Looking for an easy dinner? Then make this Grilled Chicken With Honey Mustard Glaze.
Grilled Rosemary Chicken Kebabs are great as an appetizer and perfect for outdoor summer grilling.
When Whisky and Maple combine you get out of this world Maple Whiskey Grilled Chicken.
This Paleo Grilled Citrus Herb Chicken combines marinated citrus herb chicken with colorful asparagus, broccolini and zucchini!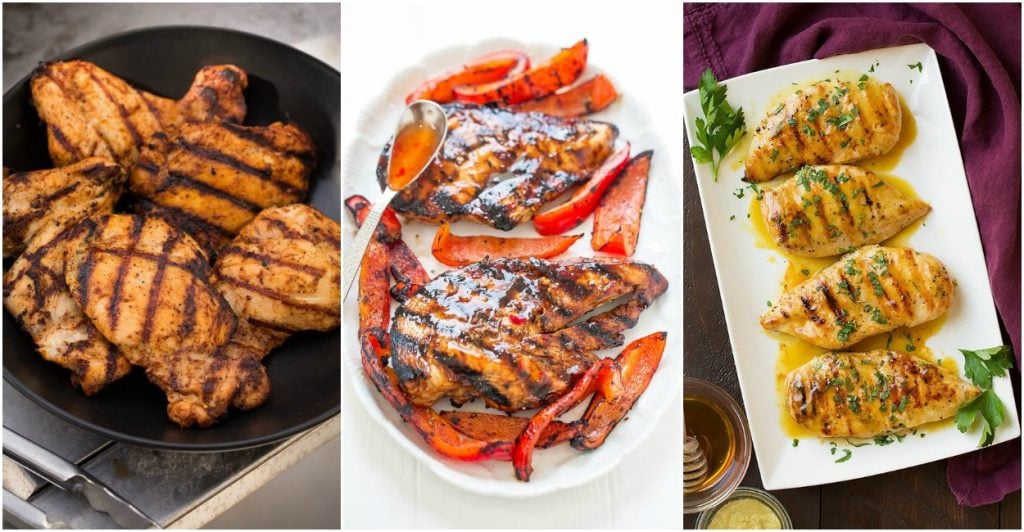 Craving heat and spice? Try Sweet Chili Grilled Chicken.
This Grilled Chicken With Peanut Sauce is best served with a cooling sesame cucumber salad.
Smothered with a sweet and spicy sauce, these Grilled Pineapple Chicken Skewers will be a family favorite.
Caprese is one of my favorite summer snacks. And this Caprese Grilled Chicken looks amazing.
Mango Lime Grilled Chicken is marinaded in a sweet & spicy mango lime sauce that caramelizes perfectly on a hot grill.
What happens when you combine your favorite soda with chicken and toss it on the grill? You get Coca-Cola Chicken.
Looking for tons of flavor? Use this 24 Hour Chicken Marinade and then grill before your guests get there.
16- The lime marinade makes this Fiesta Lime Grilled Chicken perfect for inside fajitas or tacos.
Chicken wings are super affordable, and Chargrilled Chicken Wings your entire family will love.
Grilled Jerk Chicken Skewers are a real crowd pleaser bursting with flavor!
Do you love Family Fresh Meals? Never miss out on  FUN new meals or Easy Lunchbox Ideas for the Family and SIGN UP to have my posts sent right to your inbox! It's EASY PEASY! Just CLICK HERE and enter your email!
XO
Corey, Darryl, Big D & Little D

Delicious Grilled Chicken Recipes
Ingredients
5 oz jasmine rice
12 oz chicken tenders
1 lime
4.75 oz edamame Coupons
1 oz sliced scallions
.4 oz cilantro
2 teaspoons soy sauce
.35 oz minced ginger
.3 oz minced garlic
2 teaspoons honey
.3 oz sriracha
Instructions
In a small saucepan, over high heat, bring 1 and ¼ cups water and ¼ teaspoon salt to a boil. Stir in rice and return to a boil. Stir in rice and return to a boil. Reduce heat to low, cover and simmer 15 minutes. Turn off heat and let sit, covered for 5 minutes. Fluff with a fork.
Zest lime. Cut lime in half. Chop cilantro (reserve a pinch for garnish). Now let's make the sauce! While rice is cooking, start the sauce. In a medium mixing bowl, whisk together the soy sauce, ginger, garlic, honey srirach, juice from half the lime, a quarter of the zest, a quarter of the cilantro, 2 teaspoons canola oil, ½ teaspoon salt and ¼ teaspoon pepper. (Reserve 2 teaspoons of mixture)
Coat chicken: Add the chicken to the bowl with the sauce. Turning to coat. Let sit for 5 minutes.
Cook Chicken: Heat a lightly oiled grill or grill pan to medium high heat. Add the chicken and cook, turning once, until done (about 3-4 minutes per side).
Finish Rice: Fluff rice with a fork and fold in edamame, zest, scallions, cilantro and juice from remaining lime half. Salt and pepper taste.
To serve, serve chicken over rice and drizzle with reserved sauce. Garnish with