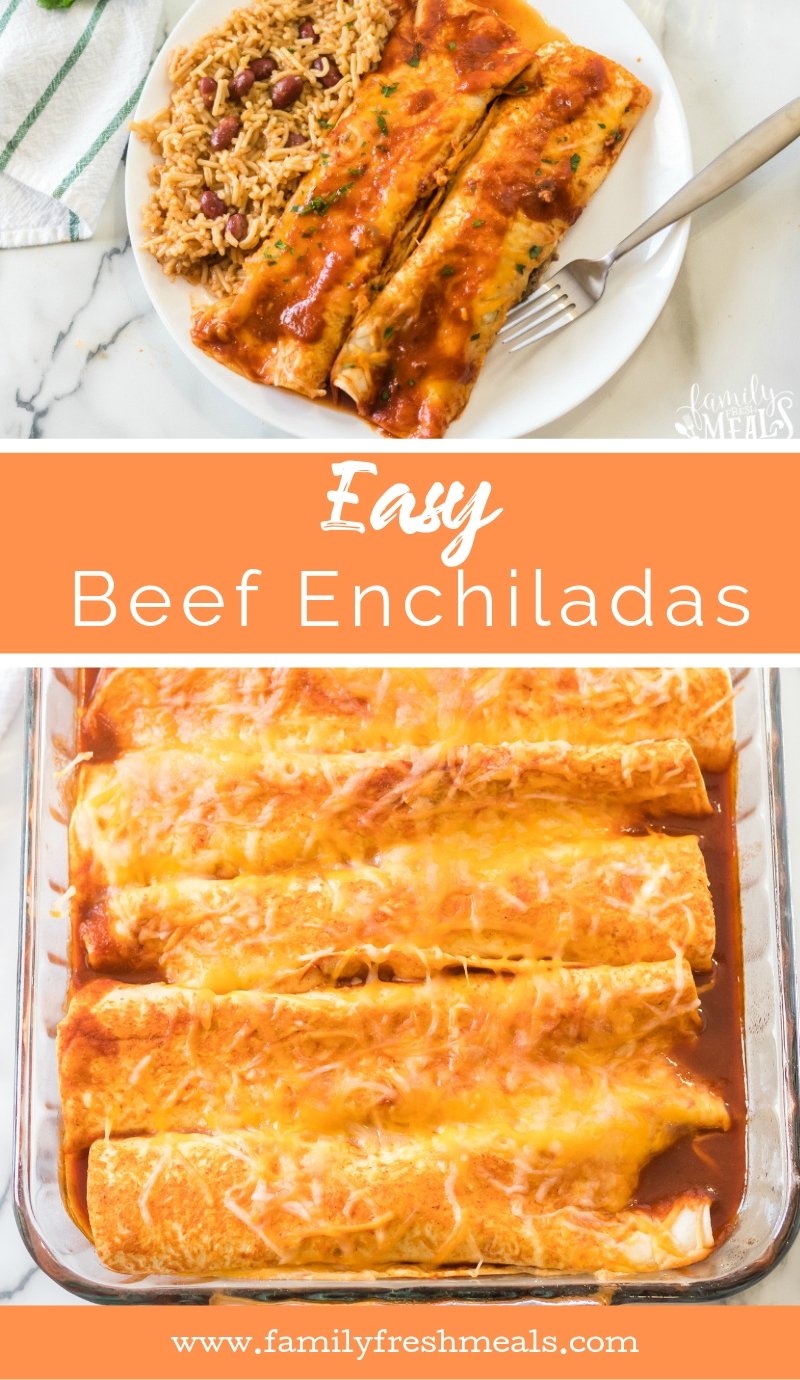 Make this Mexican restaurant favorite in your own kitchen.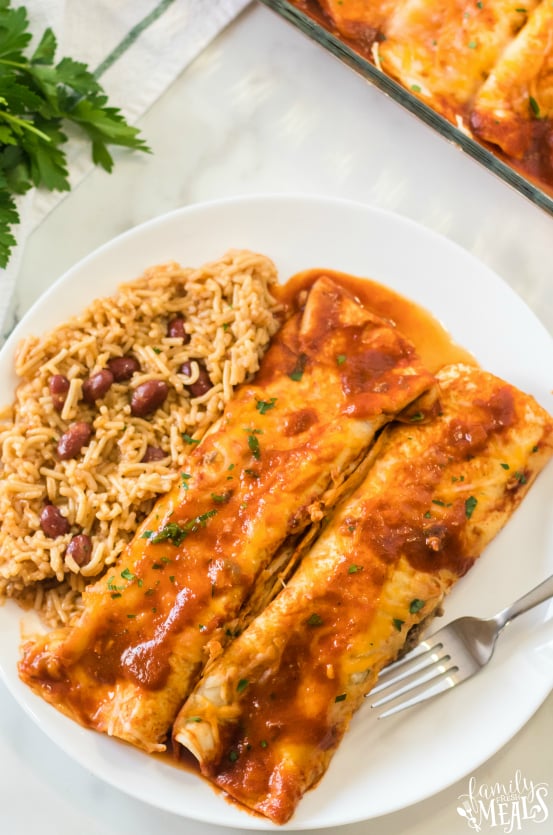 A nice thing about Mexican cooking is that most of your favorite Mexican dishes are pretty easy to make at home. Taco salad? No sweat – it's just veggies, beans, and cheese, with chips on the side. Fajitas? All you need is meat, grilled veggies, tortillas, and toppings. Queso dip? Just melt everything together in the Crockpot – piece of cake.
The one Mexican dish that can be a little intimidating is enchiladas. These are a lot more complicated, with multiple steps to make them: cooking the beef, making the sauce, rolling up the meat in tortillas, topping them all with sauce and cheese, and then baking them.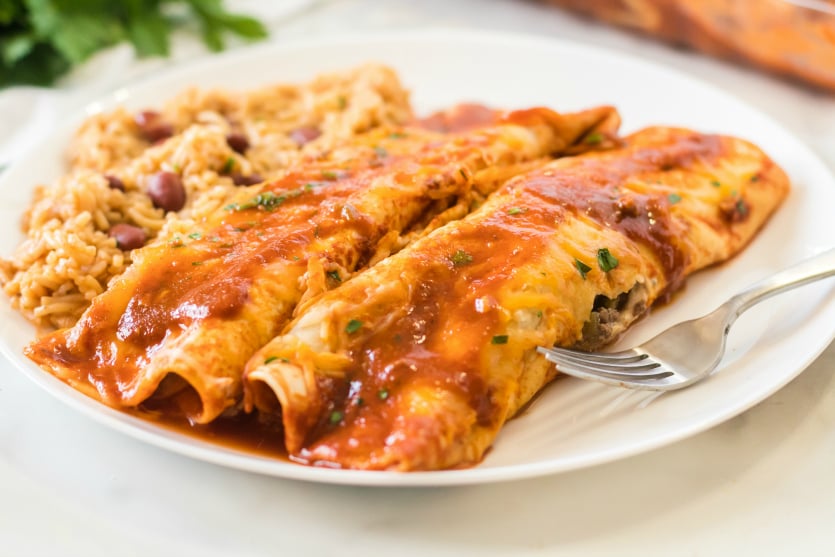 Well, it's time to stop being scared. My Easy Beef Enchiladas aren't as simple as some Mexican meals, but they're as simple as it's possible to make them. For one thing, they use canned enchilada sauce, so you can skip that whole step in the recipe. And I walk you through all the other steps, which are really pretty easy if you take them one by one.
Go ahead and give it a try. Once you've mastered homemade enchiladas in your own kitchen, you'll know you can handle just about anything.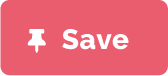 Easy Beef Enchiladas
Ingredients:
1 pound lean ground beef
½ cup onion, diced
1 4 oz can green chilies (optional)
3 cups Mexican blend cheese, divided
1 28 oz can red enchilada sauce
8 soft taco size tortillas (you can use corn or wheat depending on preference)
Cilantro, chopped
Directions:
Preheat to oven to 350 F degrees and spray 9×13 pan with cooking spray. In a medium skillet cook ground beef, onion and chilies until the ground beef is no longer pink. Drain if needed.
Pour ½ cup of enchilada sauce evenly in the bottom of you baking dish.
Fill tortilla with beef mixture and top with cheese (you will use approximately ⅓ cup beef mixture and ¼ cup cheese in each) Reserve 1 cup of cheese.
Roll meat and cheese up in tortilla and place it seam side down in your baking dish. Repeat with 7 remaining tortillas
Pour remaining enchilada sauce evenly over the enchiladas.
Top with remaining 1 cup of cheese.
Bake 20 minutes, until sauce is bubbly and cheese has melted. Top with fresh topped cilantro.
Pack any leftovers you have for lunch the next day!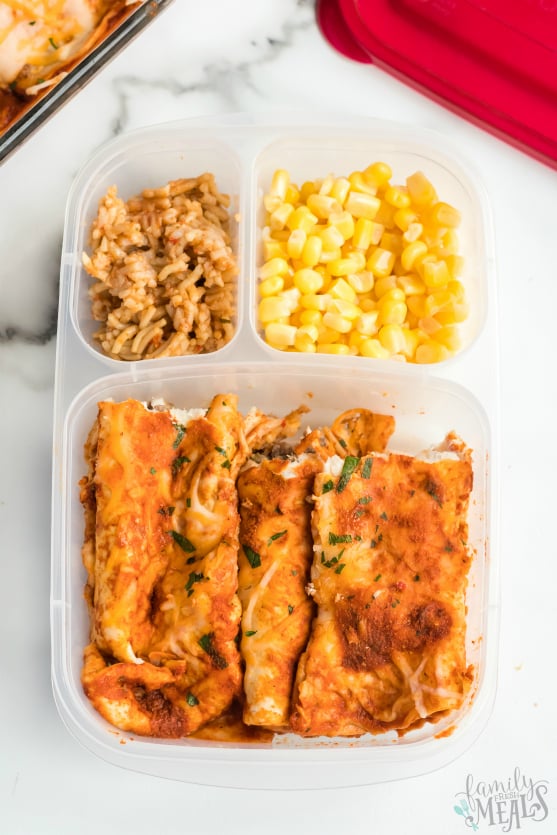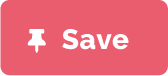 Looking for more free recipes? Subscribe to my newsletter and follow along on Facebook, Twitter, Pinterest and Instagram for all of the latest updates.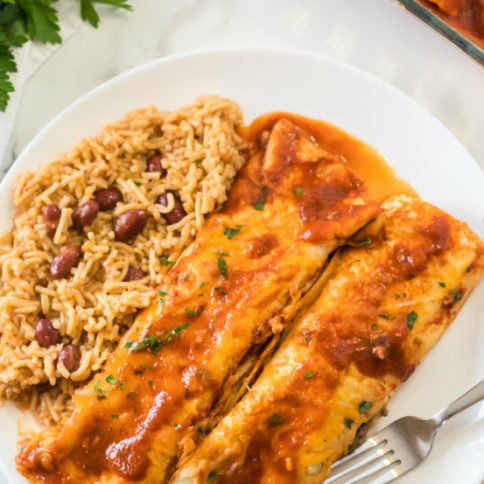 Easy Beef Enchiladas
My Easy Beef Enchiladas aren't as simple as some Mexican meals, but they're as simple as it's possible to make them. You'll want this recipe every week!
Prep Time: 20 minutes
Cook Time: 20 minutes
Total Time: 40 minutes
Serves:8
Hover over "serves" value to reveal recipe scaler
Ingredients
1 pound lean ground beef
½ cup onion diced
4 oz can green chilies optional
3 cups Mexican blend cheese divided
28 oz can red enchilada sauce
8 soft taco size tortillas you can use corn or wheat depending on preference
Cilantro chopped
Instructions
Preheat to 350 and spray 9x13 pan with cooking spray.

In a medium skillet cook ground beef, onion and chilies until the ground beef is no longer pink. Drain if needed.

Pour ½ cup of enchilada sauce evenly in the bottom of you baking dish

Fill tortilla with beef mixture and top with cheese (you will use approximately ⅓ cup beef mixture and ¼ cup cheese in each)

Reserve 1 cup of cheese.

Roll meat and cheese up in tortilla and place it seam side down in your baking dish.

Repeat with 7 remaining tortillas

Pour remaining enchilada sauce evenly over the enchiladas

Top with remaining 1 cup of cheese

Bake 20 minutes, until sauce is bubbly and cheese has melted

Top with fresh topped cilantro
Nutrition Information:
Calories: 365kcal (18%)Carbohydrates: 26g (9%)Protein: 26g (52%)Fat: 16g (25%)Saturated Fat: 8g (40%)Cholesterol: 75mg (25%)Sodium: 1443mg (60%)Potassium: 292mg (8%)Fiber: 3g (12%)Sugar: 9g (10%)Vitamin A: 940IU (19%)Vitamin C: 4.5mg (5%)Calcium: 316mg (32%)Iron: 3.2mg (18%)