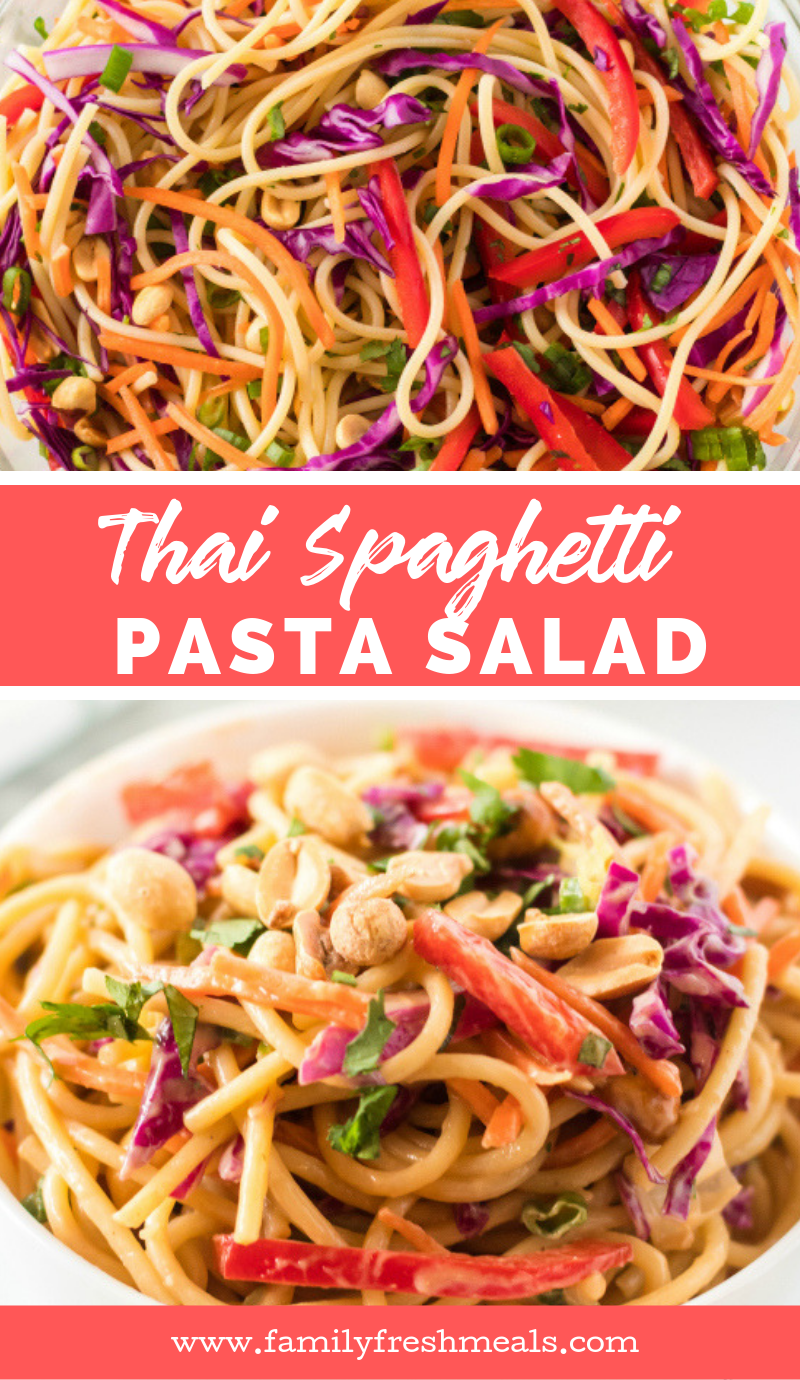 Who says pasta salad has to be Italian?

A fun new spaghetti pasta salad recipe to try!
As the weather keeps warming up, I'm getting more into lighter, springtime fare. Like, for instance, pasta salads. On a balmy evening, a nice cool salad is much more refreshing than a hot casserole.
But there's one problem with pasta salad recipes: A lot of them are, well, kind of similar. They just follow the same basic plan: mix together some kind of pasta, some kind of veggies, and some kind of dressing – usually Italian. And there are only so many different ways you can do that.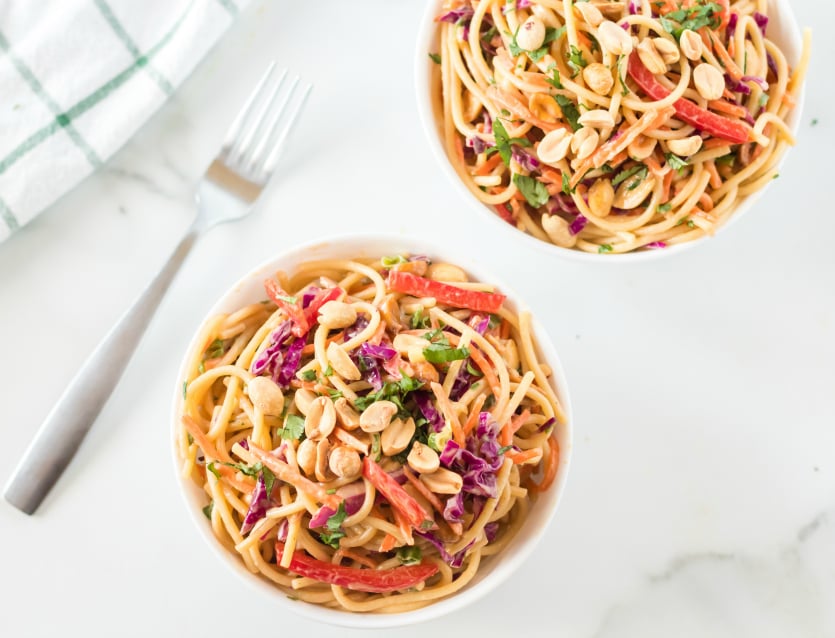 The key to keeping pasta salad interesting is to realize that it doesn't actually have to be Italian. In fact, you can use pretty much any kind of flavors in a pasta salad, from any part of the world.
Here's an example: Thai Spaghetti Pasta Salad. It's got the same basic combination of veggies and pasta, but with a distinctly Thai twist. The veggies include shredded carrots, cabbage, and scallions, just like you'd find in a Thai salad. The dressing includes touches of peanut butter, sesame oil, and soy sauce. And it's all topped with chopped peanuts and cilantro.
Thai Spaghetti Pasta Salad. Because in pasta salad, as in life, variety is the spice.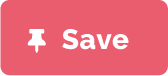 Thai Spaghetti Pasta Salad
Place cooked spaghetti, green onions, peanuts, shredded carrots, cabbage and bell peppers into a large mixing bowl.
Mix dressing ingredients together until smooth.
Toss salad ingredients together with dressing. Refrigerate for at least 30 mins. Garnish with peanuts and cilantro.
Don't forget to pack up those leftovers for lunch! You can find container here: Lunchbox Containers (affiliate link)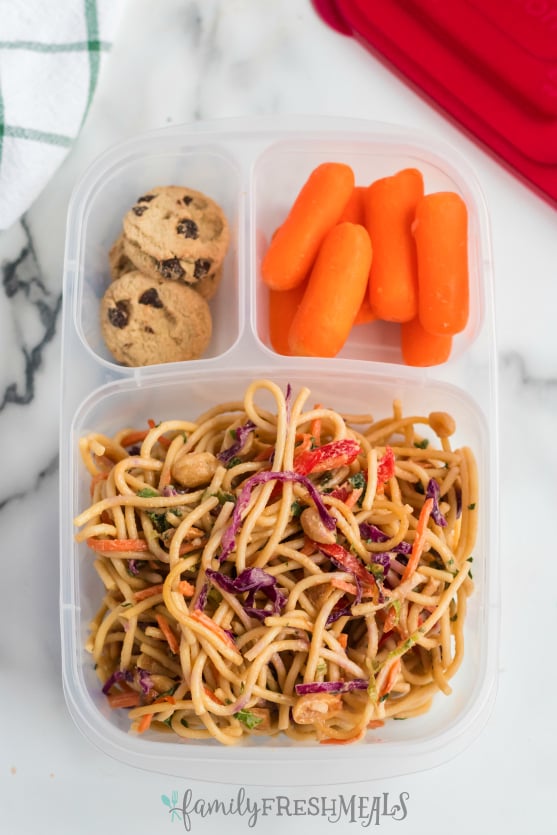 Do you need more pasta salad recipes? I have a a bunch here!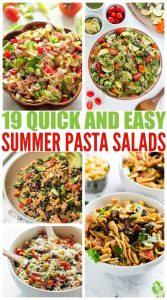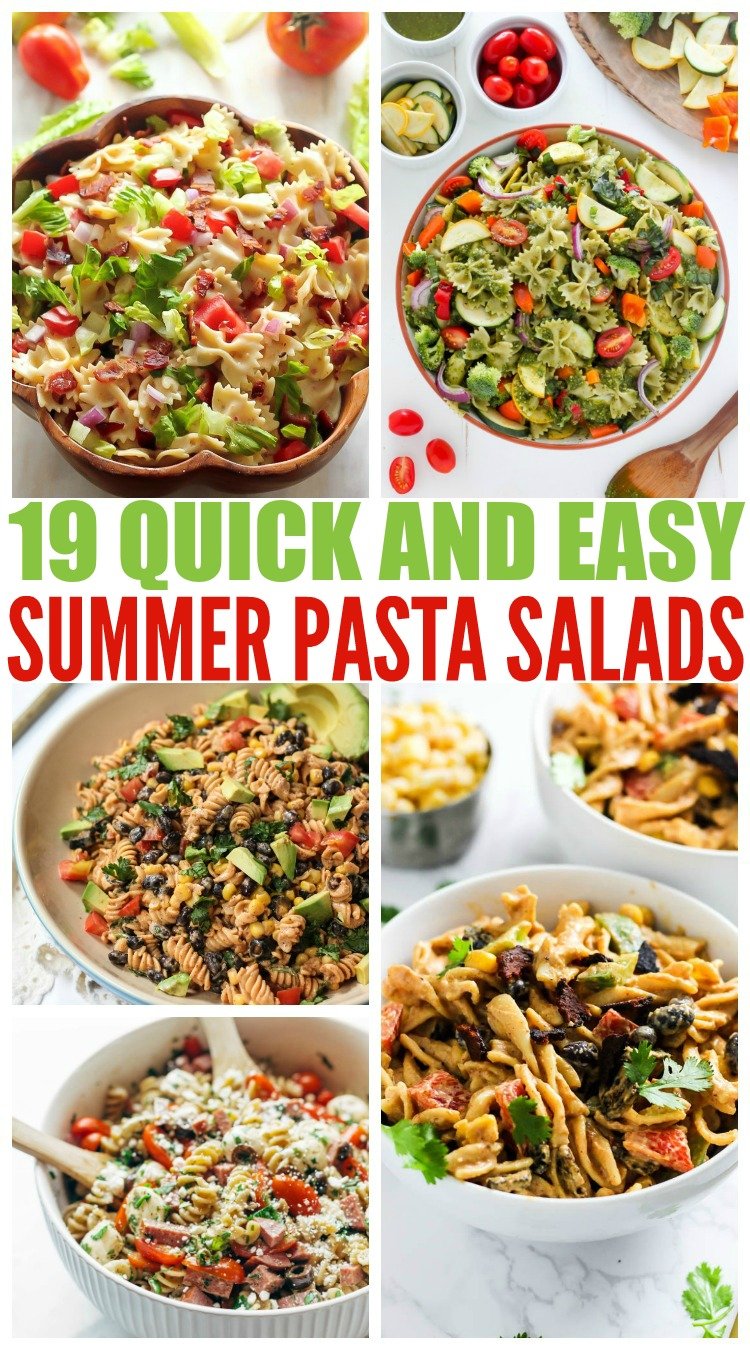 Looking for more free recipes? Subscribe to my newsletter and follow along on Facebook, Twitter, Pinterest and Instagram for all of the latest updates.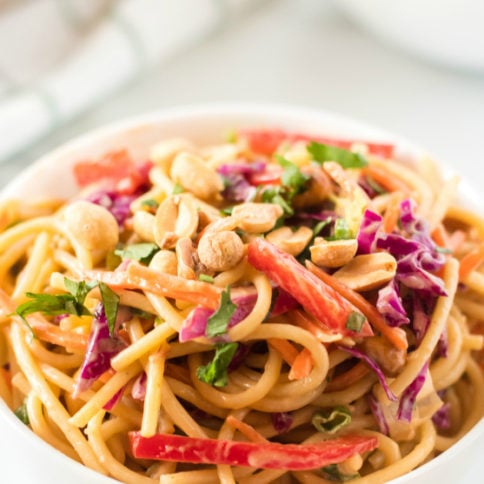 Thai Spaghetti Pasta Salad
This Thai Spaghetti Pasta Salad recipe starts with spaghetti noodles and is full of fresh veggies, then tossed with a creamy, peanut based Thai dressing.
Prep Time: 10 minutes
Refrigerate: 30 minutes
Serves:8
Hover over "serves" value to reveal recipe scaler
Ingredients
8 ounces of spaghetti cooked to al dente
1 cup shredded red cabbage
1 cup shredded carrots
1/3 cup very thinly sliced red peppers
1/3 cup thinly sliced green onions
1/2 cup roasted peanuts plus more for garnish
1 handful cilantro leaves chopped, plus more for garnish
Dressing
1/4 cup white wine vinegar
1 Tbsp sugar
2 Tbsp vegetable oil
1/2 Tbsp sesame oil
1/2 Tbsp soy sauce
3 Tbsp smooth peanut butter
1 clove garlic minced
salt to taste
Instructions
Place cooked spaghetti, green onions, peanuts, shredded carrots, cabbage and bell peppers into a large mixing bowl.

Mix dressing ingredients together until smooth.

Toss salad ingredients together with dressing. Refrigerate Garnish with peanuts and cilantro
Video
Nutrition Information:
Calories: 252kcal (13%)Carbohydrates: 30g (10%)Protein: 9g (18%)Fat: 12g (18%)Saturated Fat: 4g (20%)Sodium: 156mg (7%)Potassium: 282mg (8%)Fiber: 3g (12%)Sugar: 4g (4%)Vitamin A: 3035IU (61%)Vitamin C: 16.1mg (20%)Calcium: 31mg (3%)Iron: 1mg (6%)