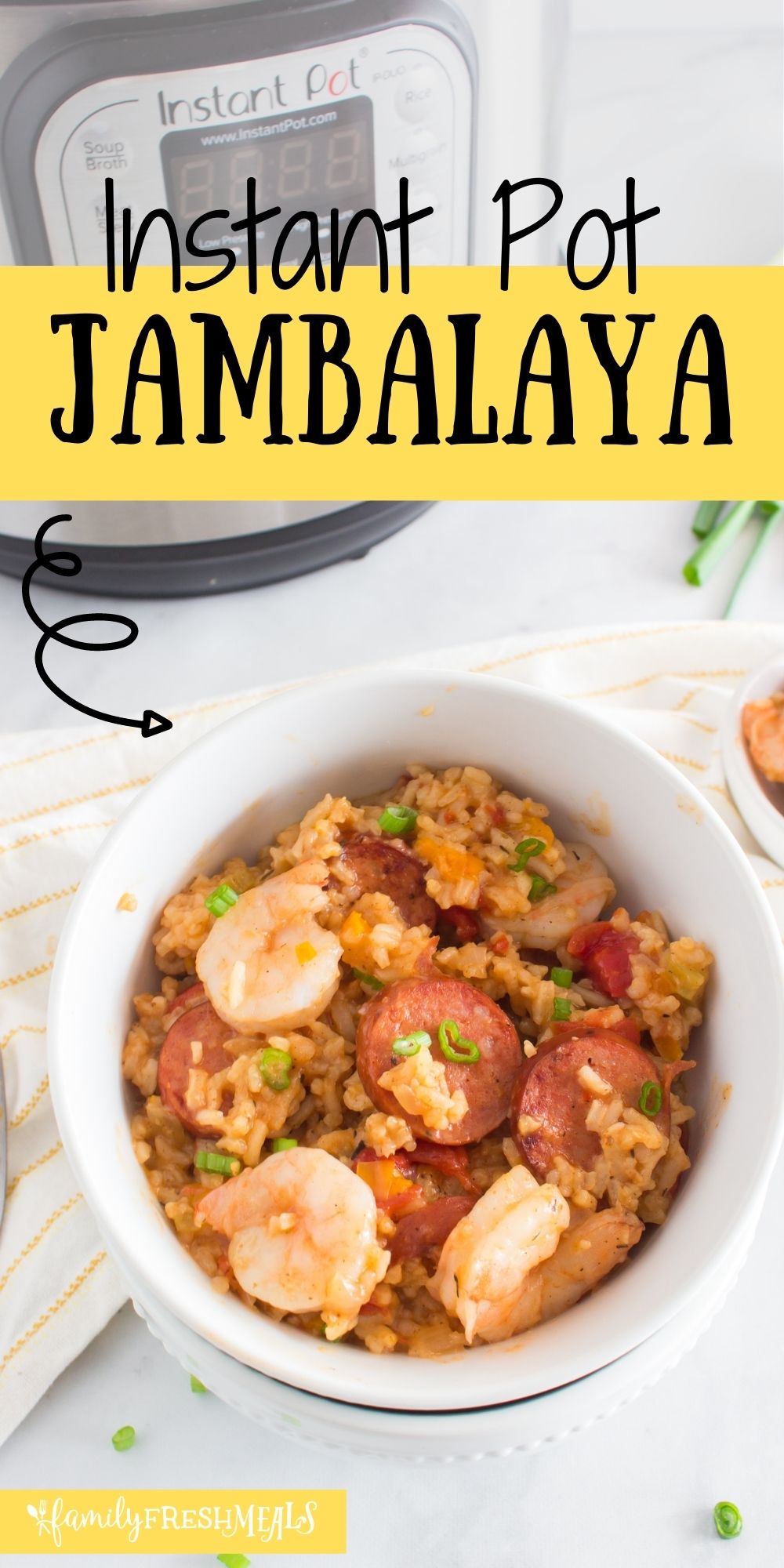 Son of a gun, we'll have big fun!
Bonjour, everyone! Who's in the mood for a little Cajun cookin'? Jambalaya is a classic Louisiana stew that's a blend of French, Spanish, and West African cuisines. The name sounds a bit like "jumble," and that's sort of what it is – a big, jumbled mixture of sausage, seafood, rice, veggies, and plenty of spice. Everything just cozies right up to everything else in the pot and mingles into one fabulous flavor fusion.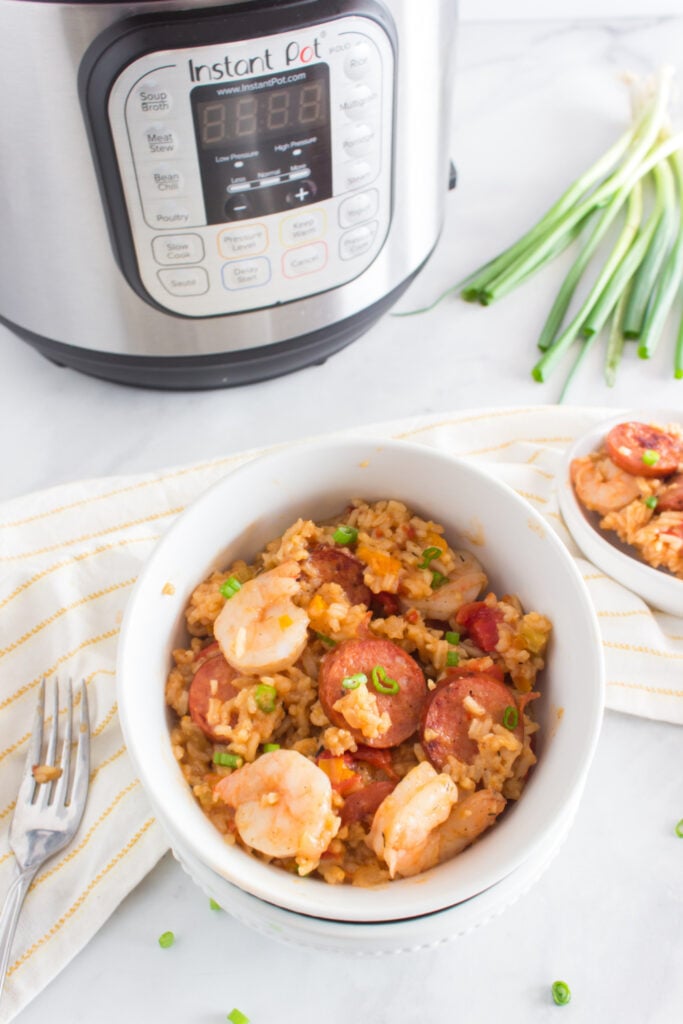 There are two to make jambalaya: Cajun and Creole. Both versions start with the "holy trinity" of onion, celery, and bell pepper (plus optional garlic) that's at the heart of both cuisines. But a Creole "red jambalaya," like this one, adds tomatoes to the mix, bringing in an additional sweet and acidic element to the flavor. And on top of all those hearty flavors, it's got smoky Andouille sausage, delicate shrimp, zesty Cajun seasoning, and just a hint of thyme.
This sounds like a lot of flavors, and honestly, it is. But with the Instant Pot, it only takes about half an hour to blend them all together into the exquisite jumble that made Louisiana cooking famous. Just sprinkle a little sliced scallion on top, and laissez les bon temps rouler!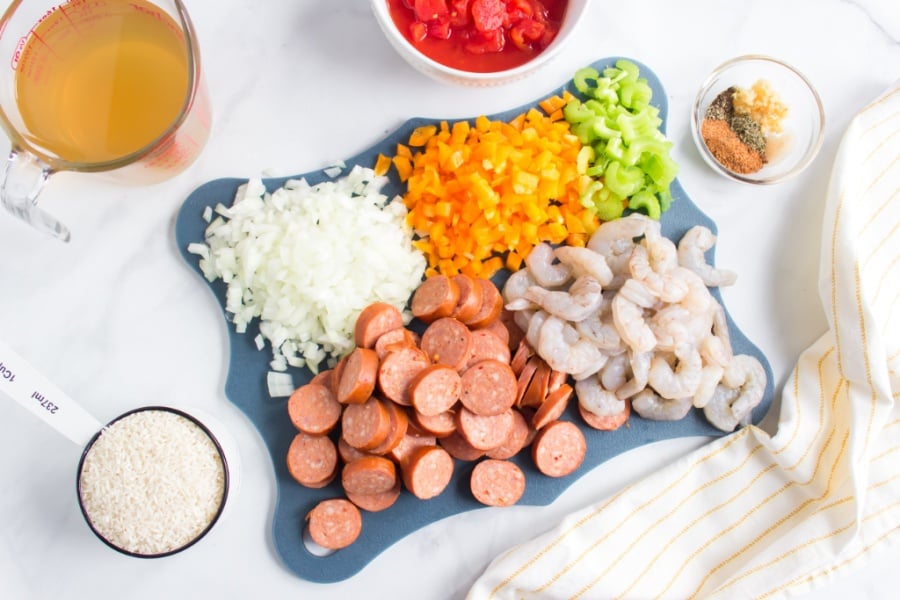 How to Make Instant Pot Jambalaya
Turn your instant pot onto sauté mode and spray olive oil in the pot. Place your sliced sausage into the bottom of the pot and cook them till they are browned on each side. When they are done, transfer to a plate lined with paper towel to remove any excess grease.
Next add the onion, bell pepper, celery, garlic and sauté till they are soft.

Add the seasonings, the tomatoes, chicken broth and stir.
Then add the rice, stir once again and close the lid. Cook at high pressure for 8 minutes and then do a quick release.
Add the sausage and shrimp to the pot and incorporate to the mixture. Turn the instant pot off and then close the lid and allow the shrimp to cook in the residual heat for 8-10 minutes. Garnish with scallions and enjoy!
Does the sausage have to be Andouille?
If you want it to be absolutely authentic, yes. But if you just want it to taste fabulous, any smoked sausage, such as kielbasa, will do just as well.
Why is the sausage cooked separately instead of mingled with the rest of the ingredients?
If you cook it too long, it will get overcooked and rubbery. Browning it by itself and just adding it back in at the end keeps it firm and chewy. But don't worry, the browned fragments of sausage that cling to the pot will linger in the cooking oil and flavor the rest of the dish as it cooks.
What is in Cajun seasoning?
It's a bold, spicy mixture of salt, pepper, and herbs. If you can't find any at the store, mix up your own with 2 parts salt, 2 parts paprika, 2 parts garlic powder, 1 part black pepper, 1 part cayenne, 1 part dried oregano, and 1 part dried thyme. Mix it up thoroughly and store it in your spice cupboard in an airtight container.
Got Instant Pot Jambalaya leftovers?
You can store your jambalaya in the refrigerator for 2-3 days.
Better yet?! Pack you leftovers for lunch the next day! We love using our EasyLunchboxes!
Looking for more Instant Pot Recipe?
Looking for more free recipes? Subscribe to my newsletter and follow along on Facebook, Twitter, Pinterest and Instagram for all of the latest updates.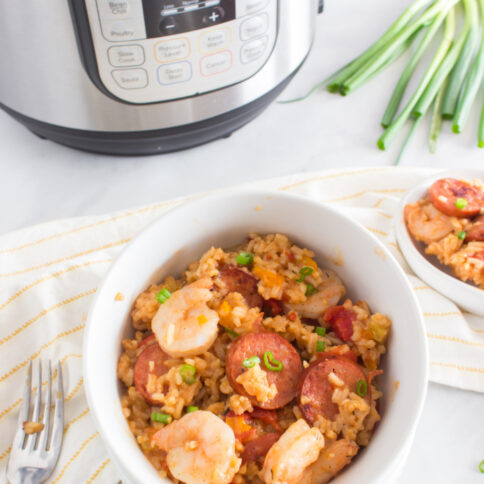 Instant Pot Jambalaya
Who's in the mood for a little Cajun cookin'? This Instant Pot Jambalaya is a classic Louisiana stew made easy in your kitchen!
Prep Time: 10 minutes
Cook Time: 30 minutes
Total Time: 40 minutes
Serves:6
Hover over "serves" value to reveal recipe scaler
Ingredients
12 oz Andouille Sausage cut 1/4 inch thick
olive ( or olive oil spray)
1 medium onion diced
1 medium bell pepper seeded and diced
2 medium celery stalks
3 garlic cloves minced
2 1/2 tsp Cajun seasoning
1/2 tsp thyme
1 cup long grain rice not instant
1- 14.5 can diced tomatoes undrained
2 cups of low sodium chicken stock
Salt to taste
12 oz medium shrimp
3 scallions
Instructions
Turn your instant pot onto sauté mode and spray olive oil in the pot. Place your sliced sausage into the bottom of the pot and cook them till they are browned on each side. When they are done, transfer to a plate lined with paper towel to remove any excess grease.

Next add the onion, bell pepper, celery, garlic and sauté till they are soft.

Add the seasonings, the tomatoes, chicken broth and stir. Then add the rice, stir once again and close the lid. Cook at high pressure for 8 minutes and then do a quick release.

Add the sausage and shrimp to the pot and incorporate to the mixture. Turn the instant pot off and then close the lid and allow the shrimp to cook in the residual heat for 8-10 minutes. Garnish with scallions and enjo
Nutrition Information:
Calories: 570kcal (29%)Carbohydrates: 72g (24%)Protein: 35g (70%)Fat: 19g (29%)Saturated Fat: 6g (30%)Trans Fat: 1gCholesterol: 191mg (64%)Sodium: 2495mg (104%)Potassium: 2409mg (69%)Fiber: 12g (48%)Sugar: 27g (30%)Vitamin A: 1823IU (36%)Vitamin C: 120mg (145%)Calcium: 445mg (45%)Iron: 13mg (72%)