How to make an Elmo Cake!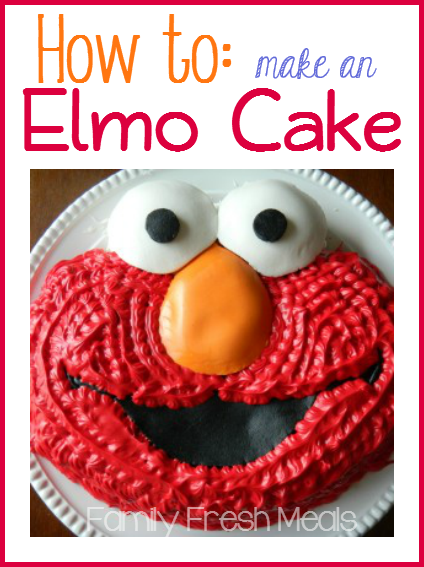 Me: Hey Little D, what is your favorite color?
Little D: ELMO!!
Me: Litte D, what is your favorite song?
Little D: ELMO!!
Me: What is your favorite food?
Little D: ELMO!!
Me: Little D, who do you love more.. me or Elmo?
Little D: ELMO!! hehehe
Elmo cake it is!
How to make an Elmo Cake
1. I was able to score a great deal on an Elmo cake pan. I just followed the direction on my box of cake, and threw it in the pan 🙂 Make sure if you are doing a character cake to spray it with a non-stick spray.
2.  When the cake comes out of the oven, let it cool for quite a bit. After it has cooled, slice off any part that has puffed up. This way, when you pop the cake out, it will lay on a flat surface, making it less likely to crack.
3. Now it is time to cut out your fondant. I have the recipe posted on the 4th Birthday Princess Cake post.
4. Make sure before you place your fondant, you put a thin layer of frosting down.
5. Once all your fondant is in place… it's time to frost!!!
6. I used a star tip and did large "sloppy stars" to give Elmo a furry look.
7. Finally done! hehe. Time to bring the cake out to the birthday girl 🙂
Do you love Family Fresh Meals? Never miss out on  FUN new meals or Easy Lunchbox Ideas for the Family and SIGN UP to have my posts sent right to your inbox! It's EASY PEASY! Just CLICK HERE and enter your email!
XO
Corey, Darryl, Big D & Little D
Happy Birthday Little D!!! Make a wish! ( I am sure it was for Elmo to marry her 🙂 hehe )

 Here is what I used for this How to make an Elmo Cake Recipe!
(Posts may contain affiliate links. If you purchase a product through an affiliate link, your cost will be the same but Family Fresh Meals will automatically receive a small commission. Your support is greatly appreciated.)