These tomato bites are DA BOMB!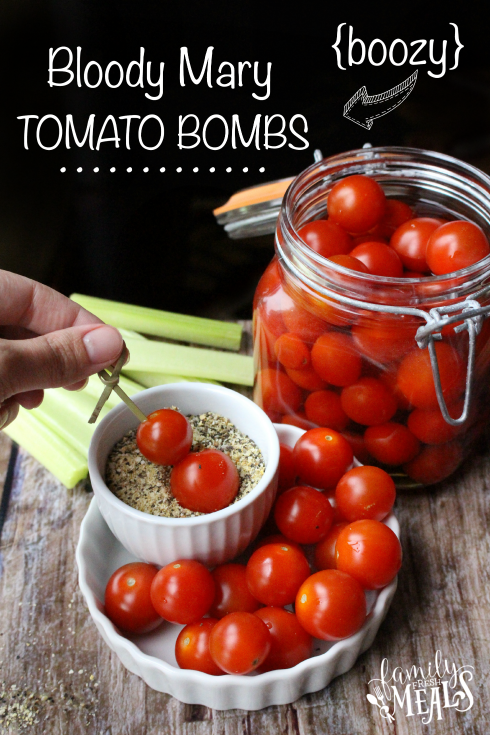 Tomato season is here! Hooray! And if your garden is anything like mine, there's always an abundance of those little cherry tomatoes.
Those little guys are so fresh and yummy, that it seems like a shame to squeeze them into juice. But on the other hand, if you don't juice them, how are you going to make all those tomato-based cocktails, like the classic Bloody Mary?
Here's how: you make Bloody Mary Tomato Bombs. So instead of putting tomato juice in your cocktail, you put the cocktail in the tomato.
All you have to do to the tomatoes themselves is poke some teeny-weeny holes in them with a toothpick —just big enough to let the liquor soak in. Then you let them steep in vodka, spiced up with Worcestershire sauce and Frank's Hot Sauce. Using a flavored vodka, like cucumber or pepper, perks them up even more!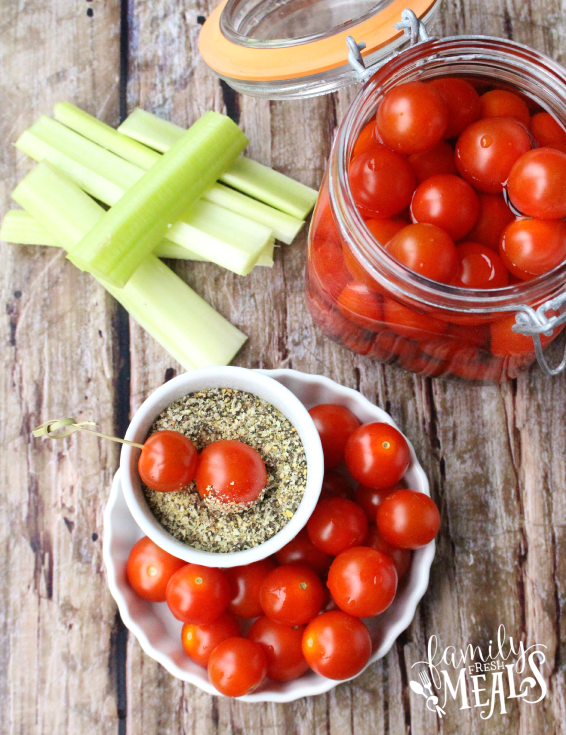 Let them soak up that lovely, spicy mixture, and then serve them with a lemon-pepper-celery dipping salt. Pop one of those in your mouth, and BOOM! All the flavor of a Bloody Mary in one juicy little tomato.
Oh, and if you're still craving the regular, liquid kind of Bloody Mary, save the vodka you soaked the tomatoes in…it will take your Bloodies to the next level.
Boozy Bloody Mary Tomato Bombs
1 pint of cherry tomatoes (grape tomatoes also work well)
1 cup vodka (regular, cucumber or pepper flavored)
1 Tablespoon Worcestershire sauce
1-2 Tablespoons Franks hot sauce
Dipping salt:
2 Tablespoons lemon pepper seasoning salt
2 teaspoons celery salt
Poke a couple small holes into each cherry tomato with a toothpick. Place them in a sealable jar. In a small bowl, mix together vodka, hot sauce, and Worcestershire sauce. Pour over tomatoes and seal. Place in refrigerator and let marinate for at least 2 hours and up to overnight.
When ready to serve, mix together lemon pepper seasoning and celery salt in a small dipping dish. Drain tomatoes and place with dipping salt and toothpicks. (Remember to save that vodka for a killer bloody mary!)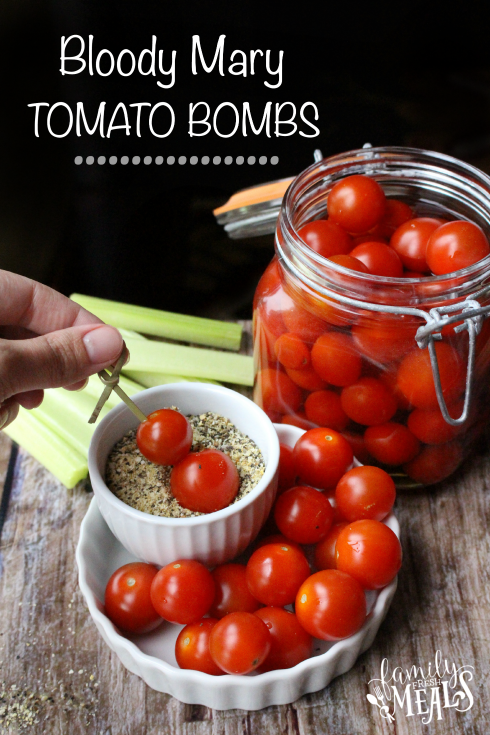 Looking for more free recipes? Subscribe to my newsletter and follow along on Facebook, Twitter, Pinterest and Instagram for all of the latest updates.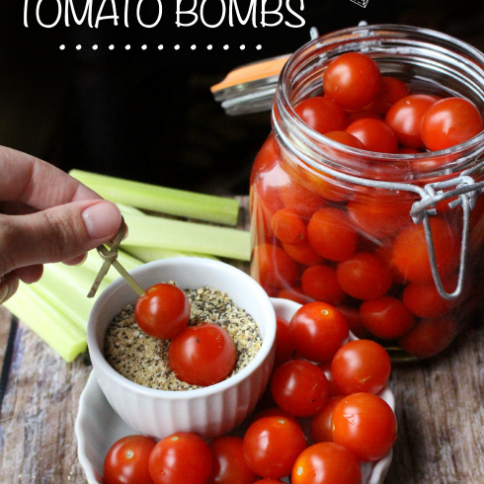 Boozy Bloody Mary Tomato Bombs
Here is the best thing to do with all those extra cherry tomatoes you have growing in your garden. Boozy Bloody Mary Tomato Bombs! So easy to make!
Prep Time: 5 minutes
Cook Time: 2 hours
Total Time: 2 hours 5 minutes
Serves:4
Hover over "serves" value to reveal recipe scaler
Ingredients
1 pint of cherry tomatoes grape tomatoes also work well
1 cup vodka regular, cucumber or pepper flavored
1 Tablespoon Worcestershire sauce
1-2 Tablespoons Franks hot sauce
Dipping salt:
2 Tablespoons lemon pepper seasoning salt
2 teaspoons celery salt
Instructions
Poke a couple small holes into each cherry tomato with a toothpick. Place them in a sealable jar. In a small bowl, mix together vodka, hot sauce, and Worcestershire sauce. Pour over tomatoes and seal. Place in refrigerator and let marinate for at least 2 hours and up to over night.

When ready to serve, mix together lemon pepper seasoning and celery salt in a small dipping dish. Drain tomatoes and place with dipping salt and toothpicks. (Remember to save that vodka for a killer bloody mary!)
Nutrition Information:
Calories: 163kcal (8%)Carbohydrates: 6g (2%)Protein: 1g (2%)Fat: 1g (2%)Saturated Fat: 1g (5%)Sodium: 1333mg (56%)Potassium: 292mg (8%)Fiber: 1g (4%)Sugar: 3g (3%)Vitamin A: 578IU (12%)Vitamin C: 28mg (34%)Calcium: 18mg (2%)Iron: 1mg (6%)