A hearty breakfast for a holiday crowd.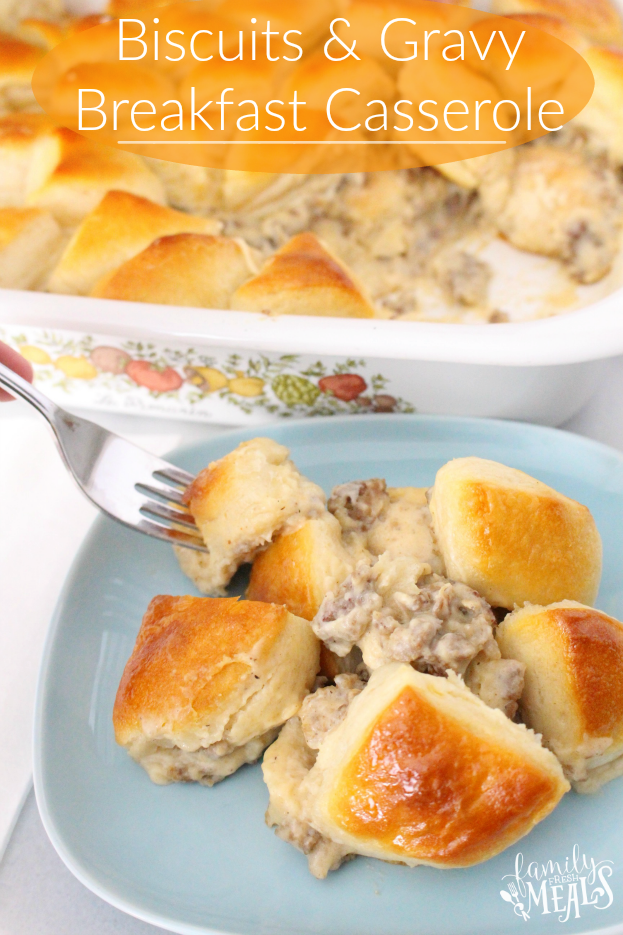 You know what's a great phrase for a satisfying meal? Sticks to your ribs.
Sure, it's kind of goofy. At first, it sounds like the food is supposed to stick to your ribs from the outside, as if you were wearing a vest made out of pancakes or something. But once you realize it's sticking to your ribs from the inside, then it just really captures the whole idea of a meal that will keep you full and satisfied for hours.
My Biscuits and Gravy Breakfast Casserole is a hot breakfast that will really stick to your ribs. Not a dainty little coffee-and-Danish breakfast, which is tasty but melts away by mid-morning. This here is a breakfast that will keep you chugging along right until lunchtime.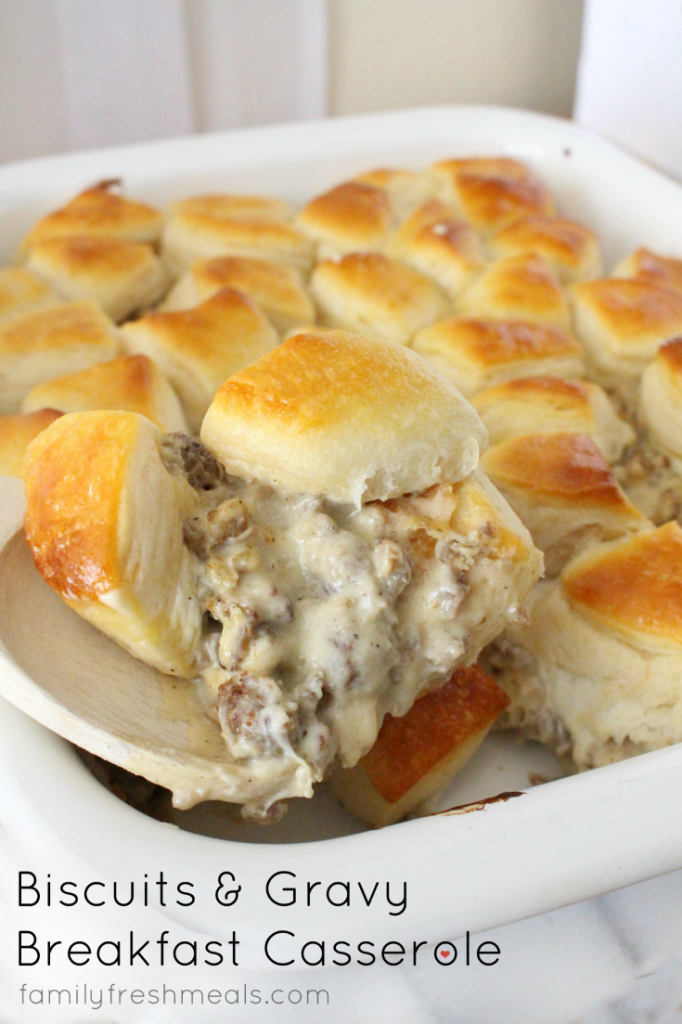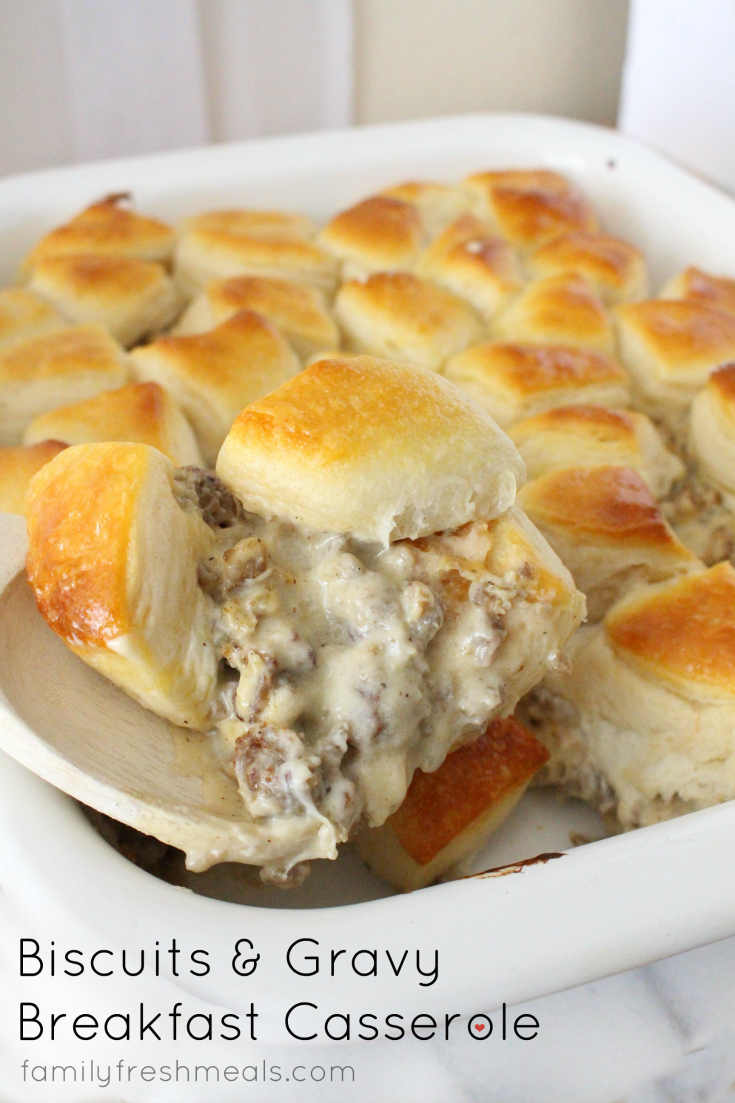 The recipe makes a nice big batch, which is great for feeding a houseful of hungry guests (like, say, family visiting over the holidays, which are just around the corner…. omigosh). But if you don't have that many to feed, it's pretty easy to cut the recipe in half.
And, if you still end up with leftovers, this dish is just as good reheated the next day. It sticks to your ribs…and sticks around for more!
Biscuits and Gravy Breakfast Casserole
(printable recipe at bottom of post)
Ingredients:
2 cans(16oz) large, flaky biscuits
1 pound ground breakfast sausage
4 Tablespoons flour
½ teaspoon salt
½ teaspoon black pepper
½ teaspoon garlic powder
3 cups milk
2 Tablespoon melted butter (for brushing on top of finished product)
Directions:
1. Preheat oven to 400° F. Open cans of biscuits and cut into quarters. Set aside.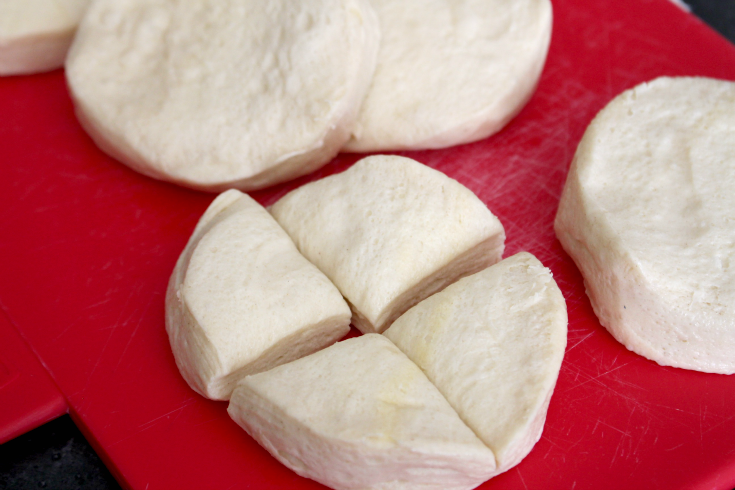 2. Prepare a casserole dish with cooking spray. Either a 9 x 13 or 10 x 12 is recommended. You can use a smaller dish, but you might have some spillage in the oven. Layer half of the quarters in prepared pan.
Bake for 10 minutes.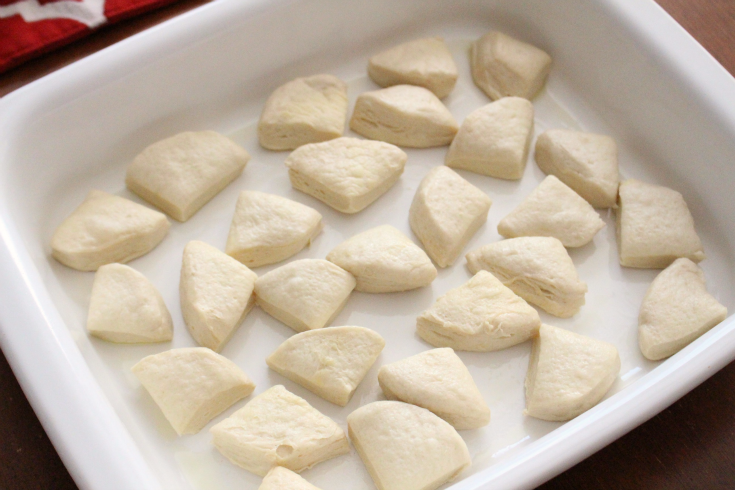 3. Next, brown ground sausage oner a medium/high heat until cook through. Reduce heat to medium.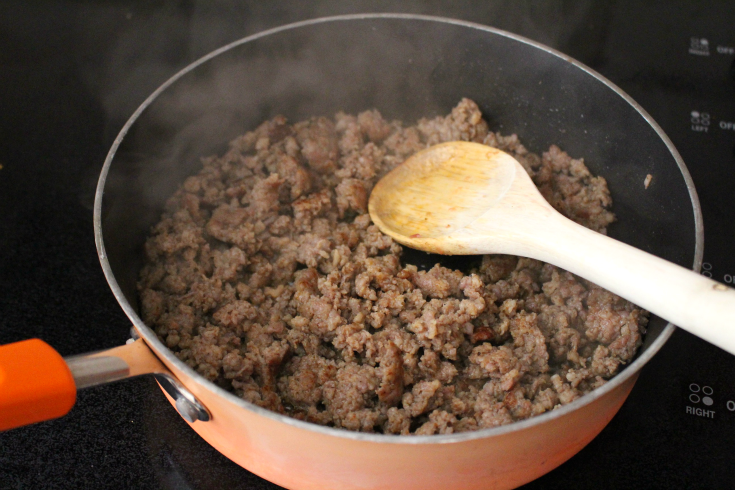 4. In a small bowl mix together flour, salt, pepper and garlic powder. Sprinkle the cooked sausage with flour mixture. Stir flour mixture into sausage until completely absorbed.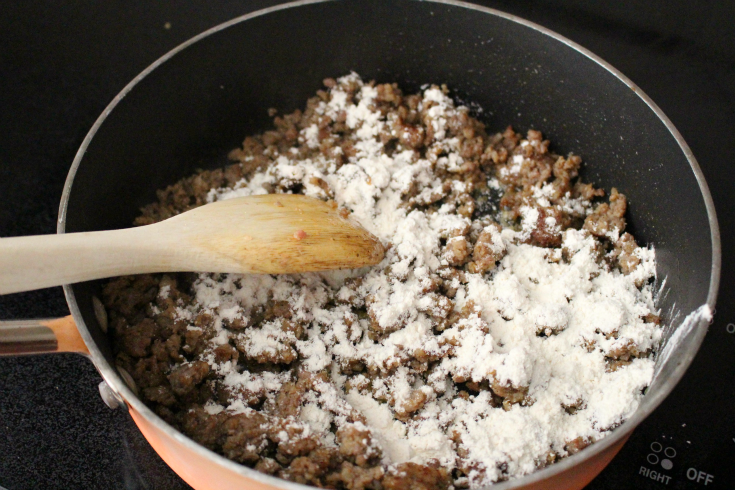 5. Next, add in milk and stir to combine. Stir frequently until mixture comes to a simmer. Reduce heat to low and continue to simmer and stir until gravy has started to thicken, (about 5 mins).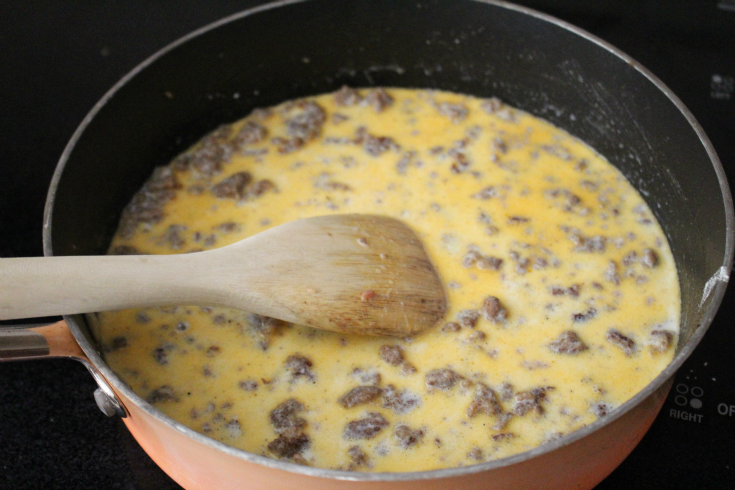 6. Pour gravy over your bottom layer of cooked biscuits. Layer the remaining uncooked, biscuit pieces over the gravy.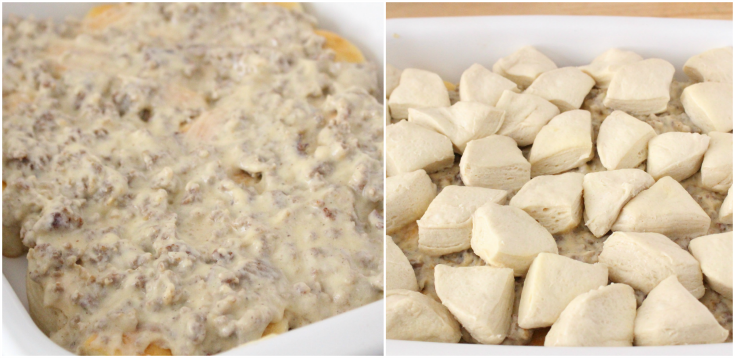 Bake for 15-20 minutes or until biscuits are golden brown. If you would like, brush 1-2 Tablespoons of melted butter over the tops of the biscuits to give them an inviting shine 🙂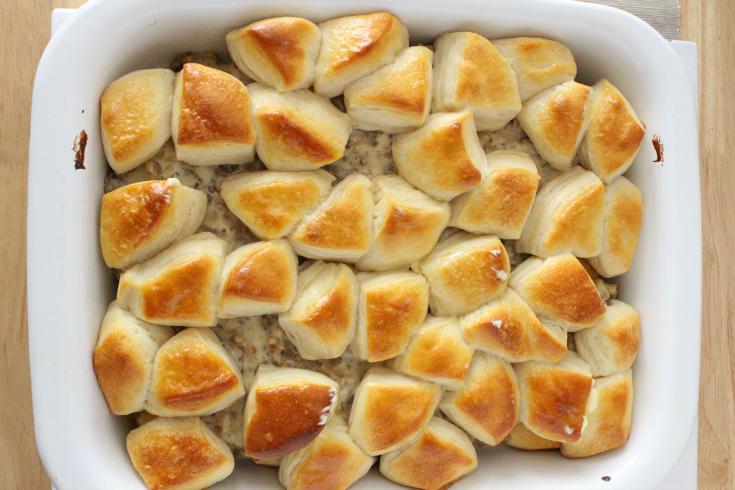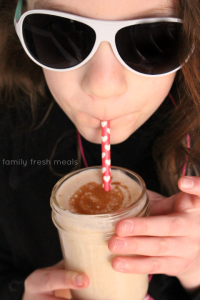 Do you love Family Fresh Meals? Never miss out on FUN new meals or easy lunchbox ideas for the family and SIGN UP to have my posts sent right to your inbox! It's EASY PEASY! Just CLICK HERE and enter your email!
XO
Corey, Darryl, Big D & Little D

Biscuits and Gravy Breakfast Casserole
Looking for more free recipes? Subscribe to my newsletter and follow along on Facebook, Twitter, Pinterest and Instagram for all of the latest updates.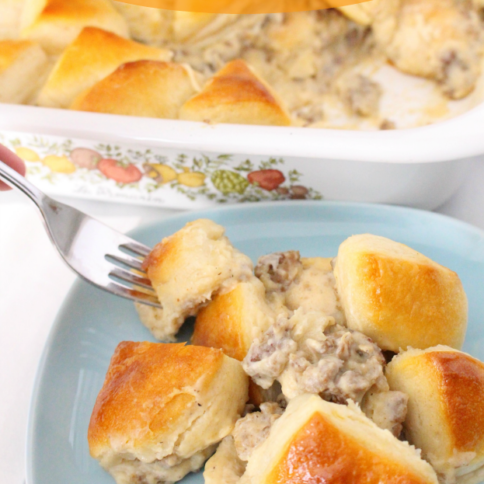 Biscuits and Gravy Breakfast Casserole
My Biscuits and Gravy Breakfast Casserole recipe is a hot breakfast that will really stick to your ribs. It is so easy to make and your family will love it!
Prep Time: 20 minutes
Cook Time: 20 minutes
Total Time: 40 minutes
Serves:8
Hover over "serves" value to reveal recipe scaler
Ingredients
2 cans, 16oz large, flaky biscuits
1 pound ground breakfast sausage
4 Tablespoons flour
½ teaspoon salt
½ teaspoon black pepper
½ teaspoon garlic powder
3 cups milk
2 Tablespoon melted butter, for brushing on top of finished product
Instructions
Preheat oven to 400° F. Open cans of biscuits and cut into quarters. Set aside.

Prepare a casserole dish with cooking spray. Either a 9 x 13 or 10 x 12 is recommended. You can use a smaller dish, but you might have some spillage in the oven. Layer half of the quarters in prepared pan.

Bake for 10 minutes.

Next, brown ground sausage oner a medium/high heat until cook through. Reduce heat to medium.

In a small bowl mix together flour, salt, pepper and garlic powder. Sprinkle the cooked sausage with flour mixture. Stir flour mixture into sausage until completely absorbed.

Next, add in milk and stir to combine. Stir frequently until mixture comes to a simmer. Reduce heat to low and continue to simmer and stir until gravy has started to thicken, (about 5 mins).

Pour gravy over your bottom layer of cooked biscuits. Layer the remaining uncooked, biscuit pieces over the gravy. Bake for 15-20 minutes or until biscuits are golden brown.

If you would like, brush 1-2 Tablespoons of melted butter over the tops of the biscuits to give them an inviting shine
Video
Nutrition Information:
Calories: 449kcalCarbohydrates: 62g (21%)Protein: 18g (36%)Fat: 39g (60%)Saturated Fat: 11g (55%)Cholesterol: 58mg (19%)Sodium: 1638mg (68%)Potassium: 515mg (15%)Fiber: 1g (4%)Sugar: 8gVitamin A: 5.6%Vitamin C: 0.5%Calcium: 16.4%Iron: 25.4%