These Halloween treats only have eyes for you.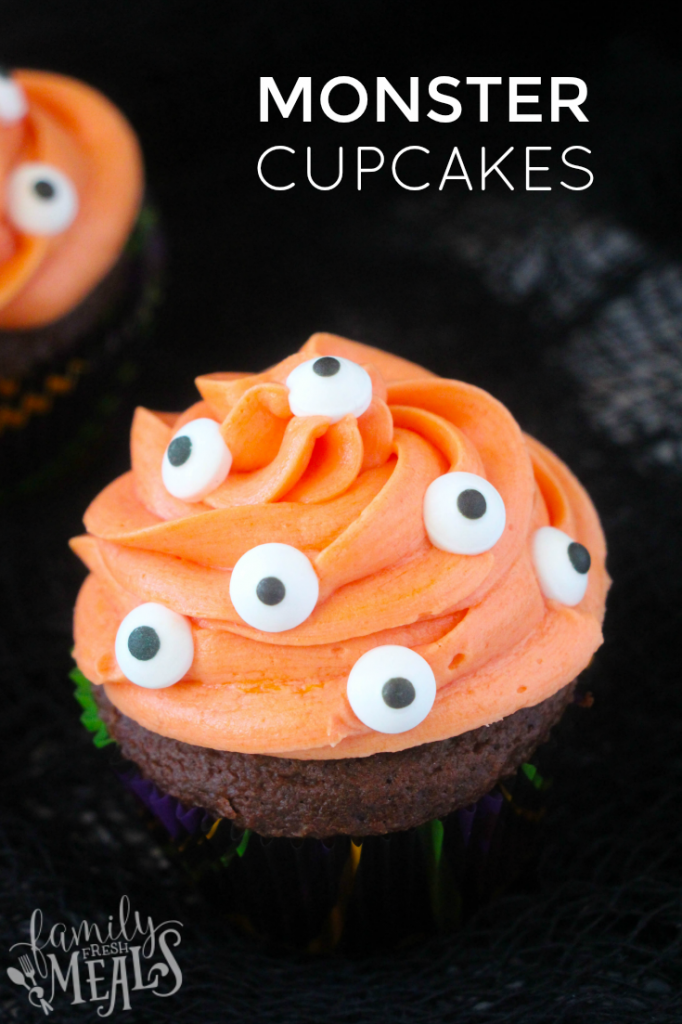 Recently I showed you how to make special ghost cupcakes for Halloween. But what if ghosts aren't your thing? What if your mom made you dress up as a ghost every year, and now you're really sick of it? What if you just think basic white is too blah? Or what if you think ghosts are okay, but what you really love is monsters, and you want a special cupcake to celebrate your monster love?
No problemo! It's super easy to adapt my Halloween Ghost Cupcakes to turn them into Monster Cupcakes. In fact, these are even easier, because you don't need to mess with the marshmallow and the white chocolate drizzle. All you need is the cupcakes, the same basic frosting recipe, and the same candy googly eyes.
NOTE: you can either use your favorite box mix for the cupcakes OR, I have included a from scratch cupcake recipe below!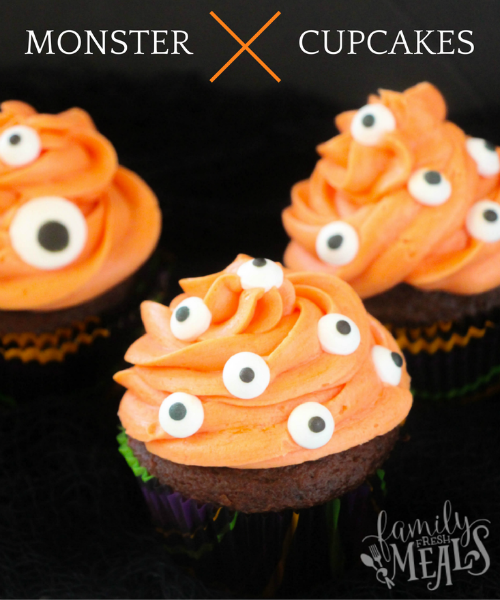 For monster cupcakes, you definitely want to use some food coloring in your frosting, because we all know monsters come in bright colors. I used orange here, but you can go for green, pink, or whatever floats your boat.
Just pipe on the colorful icing, and then dot the cake all over with candy eyes. There's no right or wrong number – they're monsters, so they can have as many eyes as you want. Just sprinkle them on until it looks good to you.
Here's looking at you, kid!

Monster Cupcakes
Ingredients
INGREDIENTS CUPCAKES:
1⅓ cups all-purpose flour
¼ teaspoon baking soda
2 teaspoons baking powder
¾ cup unsweetened cocoa powder
⅛ teaspoon salt
3 tablespoons butter, softened
1½ cups white sugar
2 eggs
¾ teaspoon vanilla extract
1 cup milk




INGREDIENTS FOR BUTTERCREAM:
1 cup butter, softened
3-4 cups icing sugar
2 teaspoons vanilla extract
pinch salt
2-3 tablespoons milk or heavy cream
Orange food dye
Large and small candy eyes
Instructions
Preheat oven to 375 degrees F.
Line a muffin pan with themed cupcake liners.
In a large bowl, sift together the flour, baking powder, baking soda, cocoa and salt. Set aside.
In a large bowl, cream together the butter and sugar until light and fluffy, about 2 minutes.
Add the eggs one at a time, beating well with each addition, then stir in the vanilla.
Add the flour mixture alternately with the milk; beat well. Fill the muffin cups ¾ full.
Bake for 15 to 18 minutes, until a toothpick inserted into the cake comes out clean.


FOR THE FROSTING:
Place softened butter into a bowl and beat in 2 cups of icing sugar. Add 2 Tablespoons heavy cream and vanilla.
Add remaining icing sugar ½ cup at a time until you reach your desired consistency. Add food coloring until desired color is achieved.
Spoon the frosting into a piping bag fitted with a 2D Wilton tip.
Swirl the frosting onto the cooled cupcakes, starting in the center - moving outwards and then back in and up.
Garnish with candy eyes.
Do you love Family Fresh Meals? Never miss out on FUN new meals or easy lunchbox ideas for the family and
SIGN UP
to have my posts sent right to your inbox! It's EASY PEASY! Just
CLICK HERE
and enter your email!
XO
Corey, Darryl, Big D & Little D

Here's what I used for these Monster Cupcakes. Click on images for details! (affiliate links)