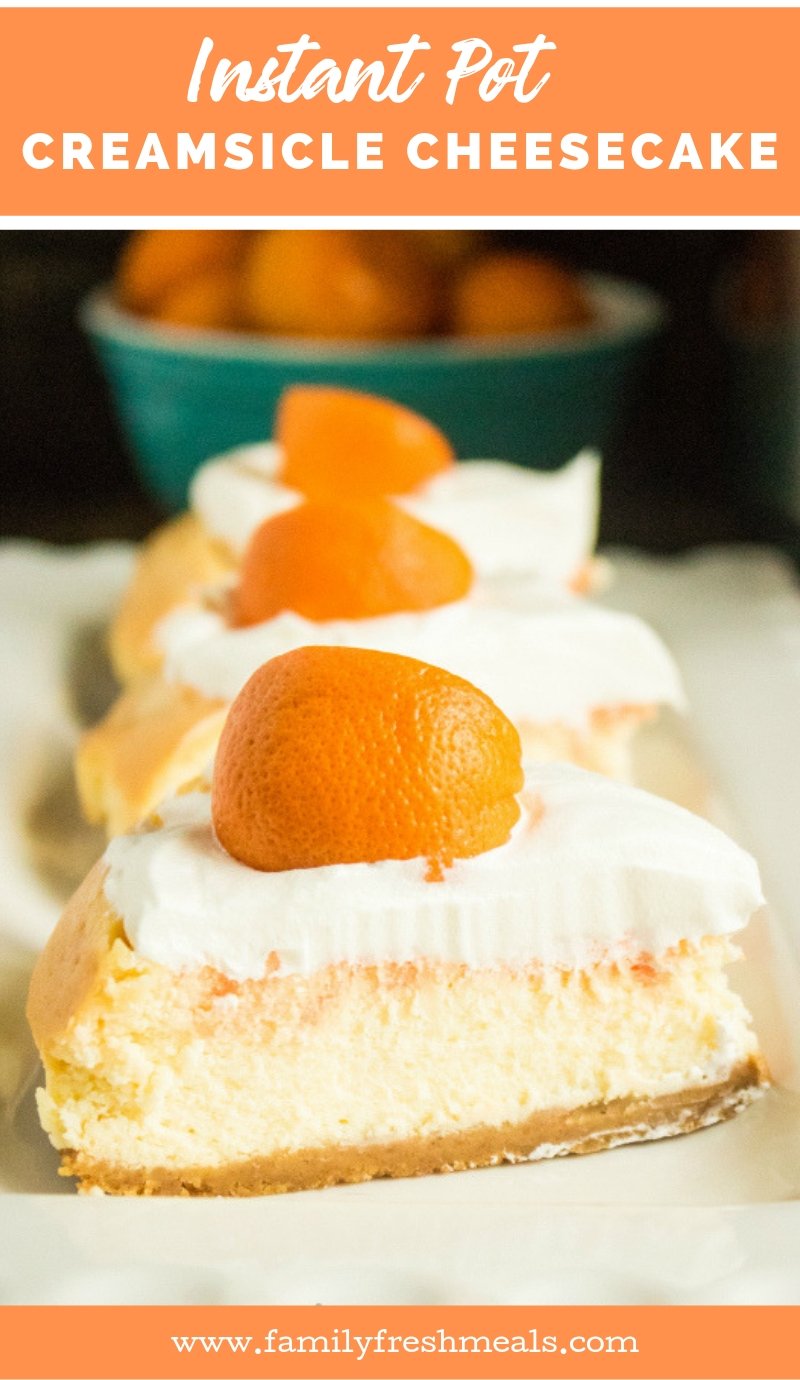 The Instant Pot can even make dessert!

How to make cheesecake in the Instant Pot
Guys, you all know how much I love my Instant Pot. I use it for everything – soups, stews, pasta dishes, whole chicken, stuffed peppers – even steamed artichokes.
But even now, I'm still discovering new things about this handy tool. Until this week, I'd never thought of using the Instant Pot for desserts.
Well, as it turns out, the Instant Pot is pretty much the perfect tool for baking cheesecake. When you make it in the oven, you have to handle it with kid gloves to keep it from drying out – setting it in a pan of water, keeping the heat low, and cooling it slowly with the oven door propped open. But because the Instant Pot uses moist heat, it can turn out a perfectly moist, delicate cheesecake effortlessly.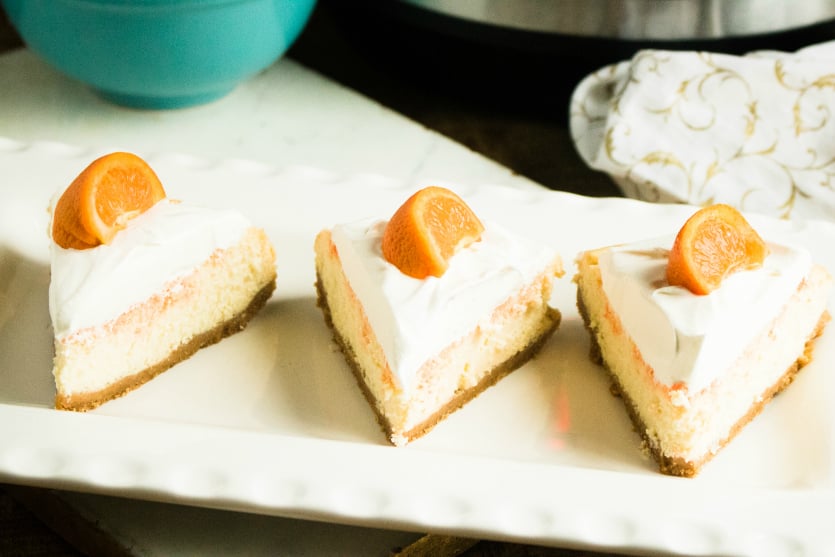 For my first attempt at this technique, I decided on an orange cheesecake. I flavored it with orange extract, then added a touch of orange food coloring on top to give it a Creamsicle-like appearance. I cooked it on high pressure, did a slow release, and chilled it. And sure enough, it came out perfect!
This Instant Pot Orange Creamsicle Cheesecake has opened up whole new worlds to me. I'm already thinking about what my next Instant Pot dessert creation will be. Stay tuned!
Instant Pot Orange Creamsicle Cheesecake
Printable recipe directions and ingredients at bottom of page.
DIRECTIONS:
Combine graham cracker crumbs with sugar and melted butter and pat down on the bottom of a 7-inch springform pan sprayed with non-stick cooking spray.
Cream together the cream cheese and sugar until smooth and then mix in the eggs one at a time. Mix in the vanilla extract and sour cream until smooth.
Pour into springform pan on top of the graham cracker crust. Swirl orange food coloring into the cheesecake batter. Run a fork back and forth through the cheesecake several times to remove air bubbles. Cover with foil.
Pour two cups of water into the inner pot of the Instant Pot. Make a sling out of aluminum foil to lower the pan into the pressure cooker.
Close the lid of the Instant Pot and turn to sealing position.
Set for a manual high-pressure time of 35 minutes. When the time has finished, allow for a natural release for 12 minutes before letting out the rest of the steam.
Cool on the counter for an hour and then put in the refrigerator and cool for an additional 4 hours. Top with optional whipped cream and sliced mandarin oranges.
Looking for more free recipes? Subscribe to my newsletter and follow along on Facebook, Twitter, Pinterest and Instagram for all of the latest updates.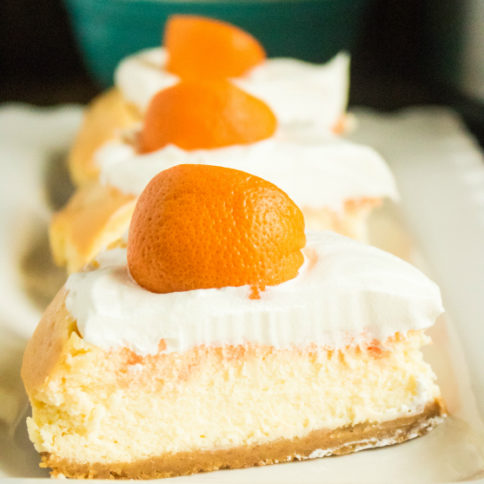 Instant Pot Orange Creamsicle Cheesecake
The Instant Pot is pretty much the perfect tool for baking cheesecake. You will love how easy and delicious this Instant Pot Orange Creamsicle Cheesecake is! 
Prep Time: 20 minutes
cooling: 4 hours
Cook Time: 35 minutes
Total Time: 55 minutes
Serves:6
Hover over "serves" value to reveal recipe scaler
Ingredients
Crust
3/4 cup graham cracker crumbs processed in food processor, crushed
2 tablespoons melted butter
1 tablespoon sugar
Cheesecake
1 pound regular cream cheese softened (2 8-ounce packages)
2/3 cup sugar
2 large eggs
1/2 teaspoon orange extract
1/4 cup sour cream
2-3 drops orange food coloring swirled into cheesecake batter.
Garnish with whipped cream and mandarin oranges.
Instructions
Combine graham cracker crumbs with sugar and melted butter and pat down on the bottom of a 7-inch springform pan sprayed with non-stick cooking spray.

Cream together the cream cheese and sugar until smooth and then mix in the eggs one at a time. Mix in the vanilla extract and sour cream until smooth.Pour into springform pan on top of the graham cracker crust.

Swirl orange food coloring into the cheesecake batter. Run a fork back and forth through the cheesecake several times to remove air bubbles.

Cover with foil.Pour two cups of water into the inner pot of the Instant Pot. Make a sling out of aluminum foil to lower the pan into the pressure cooker.Close the lid of the Instant Pot and turn to sealing position.Set for a manual high-pressure time of 35 minutes. When the time has finished, allow for a natural release for 12 minutes before letting out the rest of the steam.Cool on the counter for an hour and then put in the refrigerator and cool for an additional 4 hours.

Top with optional whipped cream and sliced mandarin oranges
Video
Nutrition Information:
Calories: 464kcal (23%)Carbohydrates: 36g (12%)Protein: 7g (14%)Fat: 33g (51%)Saturated Fat: 18g (90%)Cholesterol: 151mg (50%)Sodium: 373mg (16%)Potassium: 163mg (5%)Sugar: 29g (32%)Vitamin A: 1240IU (25%)Calcium: 104mg (10%)Iron: 1mg (6%)