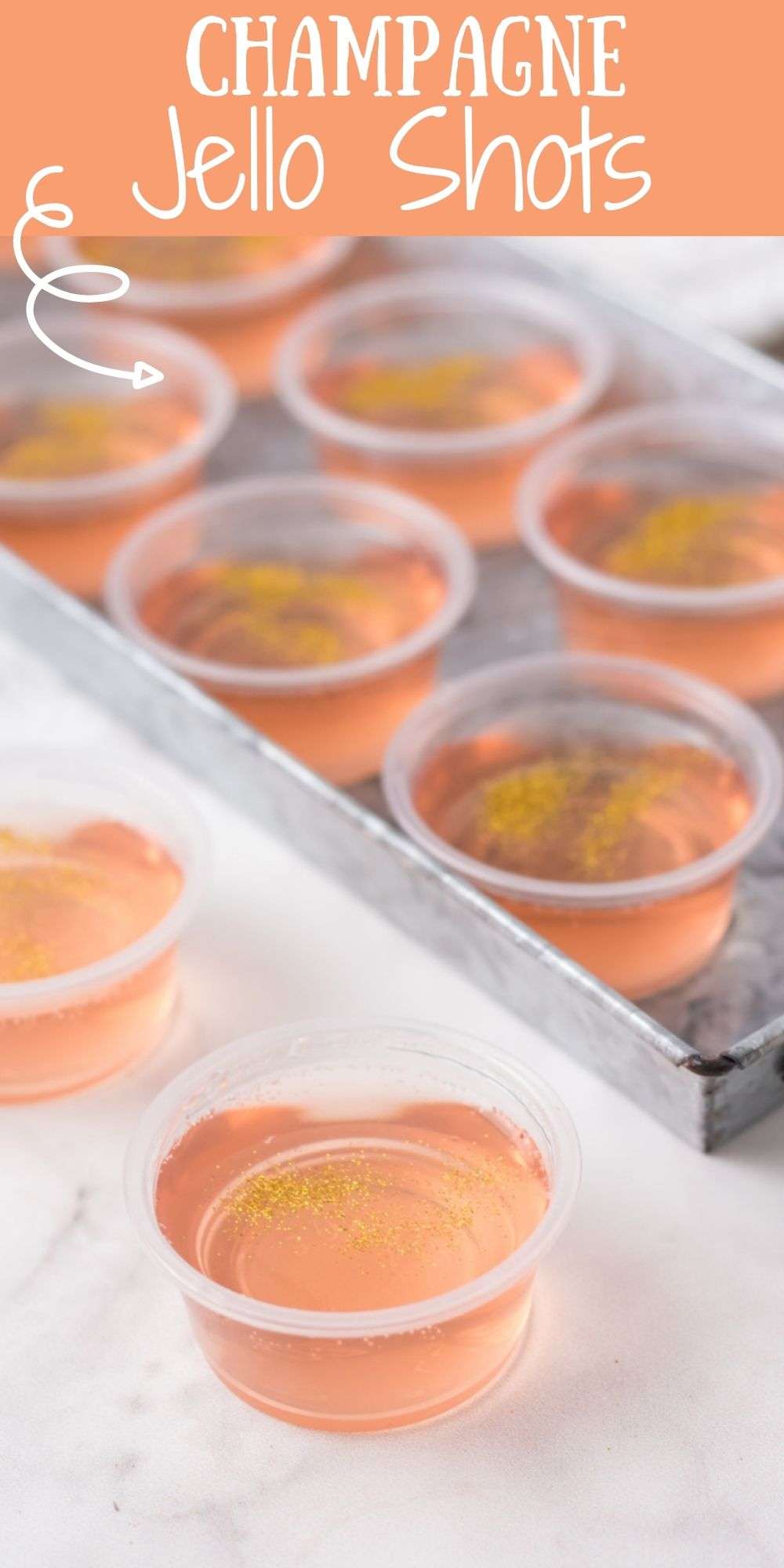 Looking for something cute to add to your drinks table this festive season? These stunning Champagne Jello Shots are a really fun way to incorporate a boozy treat for the holidays.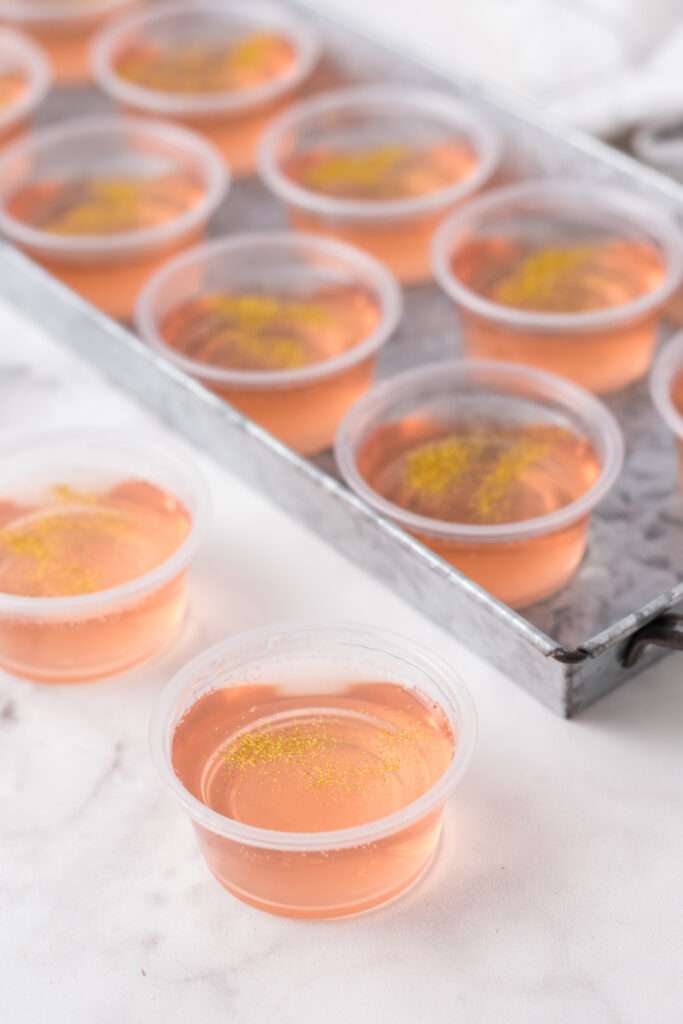 They are perfect for Christmas, New Year's Eve or any special occasion, adding some edible glitter in the mix to make these jello shots really pop!
But don't be fooled by the name – although these delicious shots are called Champagne "Jello" shots, they've actually been made with flavorless and colorless gelatin, allowing the shots to absorb that gorgeous Champagne hue!
If you're wanting to add a touch of sophistication to jello shots then these Champagne Jello Shots will not disappoint!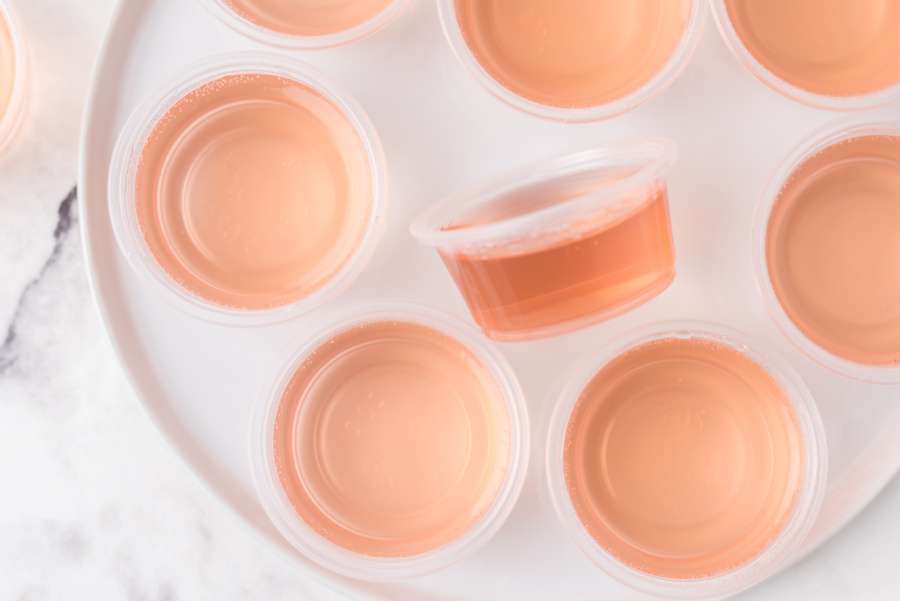 How to Make Champagne Jello Shots
Add 1 cup of champagne to a large saucepan. Add juice and lemon juice. Stir to combine.
Sprinkle with gelatin, allow the gelatin to set on top of liquid mixture for 5 minutes. Add pan to stovetop over medium heat.
Heat until all the gelatin is dissolved. Remove from heat, stir in 1/2 cup of cold champagne.
Pour champagne mixture into souffle/jello shot cups.
Place in refrigerator until jello sets, sprinkle with edible glitter if you are using that option.
IS THERE A HIGH ALCOHOL CONTENT IN THESE CHAMPAGNE JELLO SHOTS?
Lol, if you are asking whether there's any chance of you getting drunk on these Champagne Jello Shots – it's a no!
Boozy jello shots have a much lower ABV (Alcohol By Volume) percentage than the average cocktail, so unless you plan on gulping down quite a lot, you'll be safe.
CAN I MAKE THESE CHAMPAGNE JELLO SHOTS AHEAD OF TIME?
Yes, you can! Jello shots last in the fridge for up to 5 days so they are great for making ahead of a party.
HOW SHOULD I STORE THESE CHAMPAGNE JELLO SHOTS?
Whether you plan on making these jello shots ahead of time or have any leftovers to store, it's always best to cover your shot cups with some plastic wrap. This is merely to ensure that your shots don't absorb any other aromas that you may have from other foods in your fridge.
TIPS FOR MAKING CHAMPAGNE JELLO SHOTS
I specifically used gelatin for these jello shots as it's flavorless and I want the champagne flavor and color to shine through. There's nothing stopping you from ditching the gelatin and using jello instead. You will need to adapt the recipe though as 1 packet of unflavored gelatin contains about 2 ½ teaspoons. To get 2 ½ teaspoons of gelatin from jello, you will need approximately 6 tablespoons of jello and you may then need to increase your recipe liquids.
As this recipe uses colorless gelatin, you could add some food coloring in should you want a splash of color without having to go the route of using jello instead.
I use clear souffle/jello shot cups so that the glitter and beauty of this jello shot can be fully appreciated!
Other Celebratory Jello Recipes You'll Love
Santa Hat Holiday Jello Shots
Jello Firecracker Dessert
Strawberry Jello Parfait
Looking for more free recipes? Subscribe to my newsletter and follow along on Facebook, Twitter, Pinterest and Instagram for all of the latest updates.
Champagne Jello Shots
These stunning Champagne Jello Shots are a really fun way to incorporate a boozy treat for the holidays. This jello shots are pretty and yummy!
Prep Time: 5 minutes
Chilling Time: 2 hours
Cook Time: 5 minutes
Serves:12 jello shots
Hover over "serves" value to reveal recipe scaler
Ingredients
1 ½ cups Champagne or sparkling wine (use a sweeter champagne if you want a sweet jello shot, I used a dryer champagne)
2 oz unflavored gelatin
½ cup simple syrup or ½ cup white cranberry strawberry juice or ½ cup water
1 teaspoon lemon juice
Edible glitter for garnish
Instructions
Line platter with 12 souffle cups

Add 1 cup of champagne to a large saucepan. Add juice and lemon juice. Stir to combine.

Sprinkle with gelatin, allow the gelatin to set on top of liquid mixture for 5 minutes

Add pan to stovetop over medium heat.

Heat until all the gelatin is dissolved.

Remove from heat, stir in 1/2 cup of cold champagne.

Pour champagne mixture into prepared souffle cups

Place in refrigerator until jello sets, sprinkle with edible glitter
Nutrition Information:
Calories: 68kcal (3%)Carbohydrates: 11g (4%)Protein: 4g (8%)Fat: 1g (2%)Saturated Fat: 1g (5%)Polyunsaturated Fat: 1gMonounsaturated Fat: 1gSodium: 19mg (1%)Potassium: 36mg (1%)Fiber: 1g (4%)Sugar: 11g (12%)Vitamin A: 1IUVitamin C: 1mg (1%)Calcium: 7mg (1%)Iron: 1mg (6%)