This is not your AVERAGE pot pie.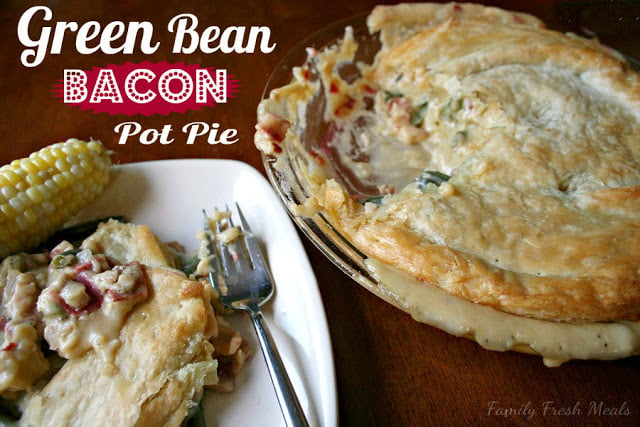 This fun twist on an old holiday favorite reminded me of pumped up green bean casserole, which is a favorite at our house. Words cannot describe how GOOD this was. All I can say, is that Darryl has requested that I make this pot pie once a week. LEFTOVERS?
Ha!This recipe never produces leftovers (keep in mind this serves 6-8 people and we only have 4…2 being kids)
The casserole was simple to make vegetarian, substituting veggie bacon for the bacon. An AMAZING meal that I urge all of you to add to your holiday menu. Hope you enjoy!
Cheesy Green Bean & Bacon Pot Pie
Preheat oven to 350 degrees F. Cook bacon in medium dutch oven over medium heat until browned and crisped. Transfer bacon to a paper towel lined plate then discard all but 2 Tablespoons of bacon drippings. For veggie bacon, cook in microwave according to directions, then crumble and set aside.
Saute onions in remaining bacon drippings. Or if you used veggie bacon, saute onions in 1-2 TBSP of olive oil. Saute until softened, about 5 minutes, stir in garlic and cook for a minute. Reduce heat to low.
Add beans to onions and garlic along with the crisped bacon. Cook on low until green beans are heated through.
Now it's time to make the sauce. To make sauce melt butter in a medium saucepan over medium heat.
Whisk in flour, salt and pepper until well combined.
Whisk in chicken broth until thick and creamy, for about 3-4 minutes.
Once hot and creamy stir in shredded cheese until melted.
Pour cheese sauce over beans and carefully mix.
Transfer to a 9 inch pie plate.
Trim square puff pastry edges to more of a round (does not have to be perfect). Lay puff pastry over beans, folding edges under. Cut 4-5 slits to allow for steam to escape.
Bake for 35-40 minutes or until puff pastry is nice and golden. Let cool for 15 minutes before slicing into.( ps…. I am literally drooling right now)
Like I said, this meal was a HUGE hit with the whole family. I really hope you all give this one a try!
Cheesy Green Bean & Bacon Pot Pie (with vegetarian option)
Ingredients
- ½ lb bacon sliced into ½ inch pieces (or ½ box of Morning Star veggie Bacon for veggie version)
- 1 medium onion, finely chopped
- 1 Tablespoon fresh minced garlic
- 12 oz bag of frozen green beans
- 1 stick butter
- ½ Cup all purpose flour
- ½ teaspoon kosher salt
- ¼ teaspoon fresh cracked pepper
- 1.5 Cups chicken or veg broth
- 1.25 Cups shredded cheddar cheese
- 1 sheet puff pastry thawed
Instructions
Preheat oven to 350 degrees F. Cook bacon in medium dutch oven over medium heat until browned and crisped. Transfer bacon to a paper towel lined plate then discard all but 2 Tablespoons of bacon drippings. For veggie bacon, cook in microwave according to directions, then crumble and set aside.
Saute onions in remaining bacon drippings. Or if you used veggie bacon, saute onions in 1-2 TBSP of olive oil. Saute until softened, about 5 minutes, stir in garlic and cook for a minute. Reduce heat to low.
Add beans to onions and garlic along with the crisped bacon. Cook on low until green beans are heated through.
Now it's time to make the sauce. To make sauce melt butter in a medium saucepan over medium heat.
Whisk in flour, salt and pepper until well combined.
Whisk in chicken broth until thick and creamy, for about 3-4 minutes.
Once hot and creamy stir in shredded cheese until melted.
Pour cheese sauce over beans and carefully mix.
Transfer to a 9 inch pie plate.
Trim square puff pastry edges to more of a round (does not have to be perfect). Lay puff pastry over beans, folding edges under. Cut 4-5 slits to allow for steam to escape.
Bake for 35-40 minutes or until puff pastry is nice and golden. Let cool for 15 minutes before slicing into.( ps.... I am literally drooling right now)