Bento Love: The Cheese Stands Alone Lunchbox
A mouse made from Laughing Cow Cheese with pepperoni ears, tail and nose, sits on a stack of veggie crackers. Next to the mouse are some cheese, apples and grapes.
This was a super fun bento. My Little D loves cheese and all animals in general.
As soon as I laid out the bentos for the girls, Big D started digging in, but Little D spent a good 5 minutes feeding the mouse some cheese (as seen in picture).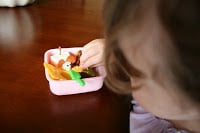 I couldn't stop giggling! I love bento moments like this!