When's the last time YOU had cupcakes for dinner?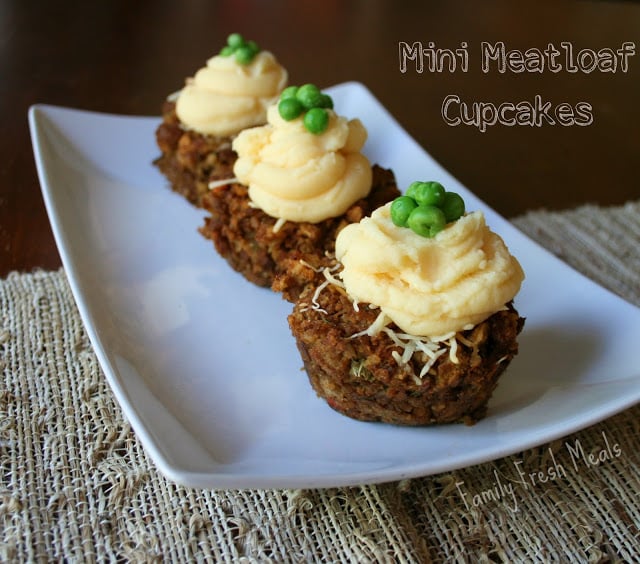 My wonderful neighbor Megan was telling me about these little meatloaf cupcakes she would have as a kid. As soon as she told me the story about them, I knew what I was making for dinner that night.
The original idea came from a Kraft recipe I got a while back, but I had to switch things up a bit to make a vegetarian friendly version for my hubby. That being said, the pictures are of the vegetarian version using MorningStar Farms® Meal Starters® Grillers® Recipe Crumbles, but I give directions for both meat and meatless versions.
So yes, your meat will look different. For you "real meat" folks out there….you do use raw ground beef. Feel free to use your favorite meatloaf recipe….this is just a quick and easy version you can whip up in no time!
NOTE: Here is an updated post of this recipe
Mini Meatloaf Cupcakes
Preheat oven to 375 degrees. Season beef to taste with salt and pepper. Mix beef (or veggie crumble), stuffing mix, egg, garlic powder, 1/4 cup of bbq sauce, and water in a large bowl.
Spray muffin tin with non-stick cooking spray. Divide mixture into 12 muffin tin cups and use your finger to make an indentation in each muffin.
Fill the indents evenly with the remaining 1/4 cup of bbq sauce.
Bake for about 25-30 minutes (or for vegetarian version, for 20 minutes.) Top each evenly with shredded cheese and bake for 5 more minutes.
Let cool for 5 minutes. This step is for those who are doing the optional mashed potato topping. I used a ziplock bag with a cut off tip to "frost" the meatloaves. Simply fill bag with mashed potatoes, cut off corner of the bag and frost
Top with peas and serve right away!
Ingredients
1 lb. extra-lean ground beef (or vegetarian crumble as pictured)
1 package of stuffing mix
1 egg
½ cup of bbq sauce (divided)
½ cheddar cheese or cheese blend
1 tsp garlic powder
1 cup of water
salt and pepper
For optional mashed potato topping
3 cups of prepared mashed potatoes and ¼ cup of frozen peas.
Instructions
Preheat oven to 375 degrees. Season beef to taste with salt and pepper. Mix beef (or veggie crumble), stuffing mix, egg, garlic powder, ¼ cup of bbq sauce, and water in a large bowl.
Spray muffin tin with non-stick cooking spray. Divide mixture into 12 muffin tin cups and use your finger to make an indentation in each muffin.
Fill the indents evenly with the remaining ¼ cup of bbq sauce.
Bake for about 25-30 minutes (or for vegetarian version, 20 minutes.) Top each evenly with shredded cheese and bake for 5 more minutes.
Let cool for 5 minutes. This step is for those who are doing the optional mashed potato topping. I used a ziplock bag with a cut off tip to "frost" the meatloaves. Simply fill bag with mashed potatoes, cut off corner of the bag and frost