X marks the spot!
Bento Love: Talk Like a Pirate Day
In this Easy Lunchbox bento, you will find a mini cheese pizza, topped with facial decorations of cherry tomatoes, pepperoni, cheese, black olives, candy rope and eye.
In the Easy Lunchbox Mini Dipper "Treasure Chest", you will find treasures of coins & fruit snacks. The treasure map is on a zucchini cupcake with decorative sprinkles.
I saw the idea for this pizza on Little Food Junction last year and have had it bookmarked for this very day! Talk Like A Pirate Day!
Big D & Little D had WAY to much fun with this lunch. I'm sure the pirate talking will go on around here for MORE than one day 🙂
In honor of this day, my Bento Blog Friends and I have decided to do a blog hop! With a GIVEAWAY at the end!

Every blog in the hop has a piece of the map to the bento booty treasure – a giveaway! As you go through the hop, collect the pieces and put them in the right order (by # on piece) to find out where to enter!
You'll probably need something to write with, because there are 39 blogs to visit, so 39 pieces to collect! 37 pieces will spell the URL, and 2 bonus pieces with words on them will get you 2 entries to win!
Here is my piece of the map! 
Write down this puzzle piece & map scrap number and head on over to Mamabelly's Lunches With Love . CLICK HERE (or on the cute little button) to see the next lunch and puzzle piece!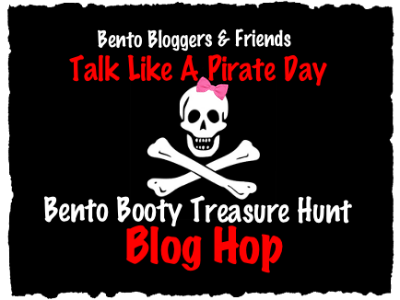 Here is what I used for this Pirate Lunch!