Chocolate makes everything better.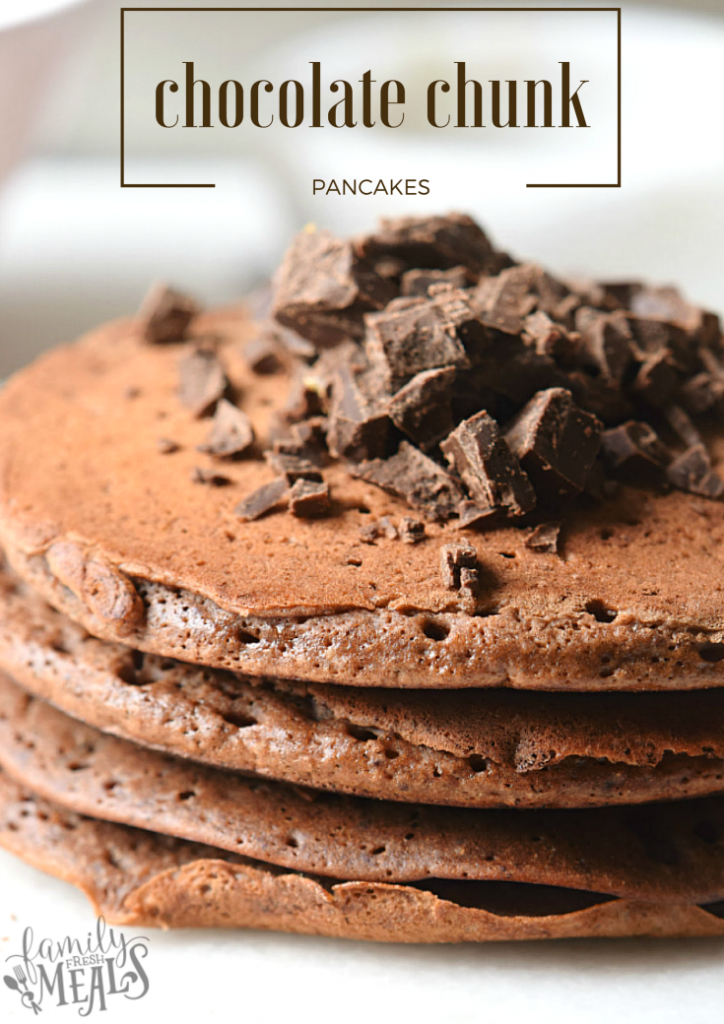 I think chocolate is one of those ingredients that make everything better, desserts, breakfasts, snacks, everything get's instantly better if you add chocolate to it. Really just think about it for a second. Cookies? Cakes? Pancakes? Pretzels? I mean even potato chips can taste better with chocolate! So how about taking that magic ingredient and making some pancakes with it? MAGICAL! I'm not even kidding, the double chocolate chunk pancakes are beyond good.
You know when you taste something so delicious you become quite obsessed with it and want to make it for every meal? Well, that's what happens after you try these double chocolate chunk pancakes. They are delicious for a weekend breakfast and they are even better for one of those dinners where everyone is craving easy to make comfort food.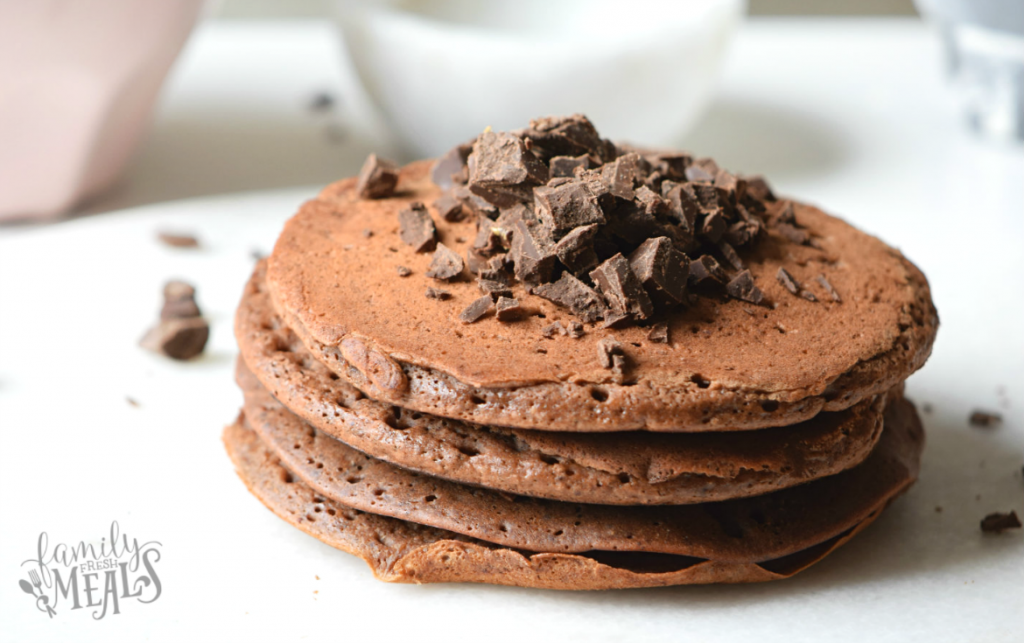 Best of all they are really easy to make. You don't actually need a lot of ingredients and you can get them done in 20 minutes. And yes, they are super customizable to fit everyone. For example, you could add some peanut butter to your toppings for a peanut butter cup pancake or some banana to include some fruit (and because bananas and chocolate are a delicious combo).
You can also add some strawberries for a decadent dessert, or just make it a chocolate lovers heaven by adding some Nutella and chocolate syrup.
Double Chocolate Chunk Pancakes
Printable recipe at bottom of post.
Ingredients:
1 cup flour
¼ cup sugar
2 teaspoons baking powder
1 ½ cup milk
1 large egg
½ cup chocolate chips
½ cup cocoa powder
3 Tablespoons oil
1 teaspoon vanilla extract
Chocolate Chunks (topping)
Directions:
1. Whisk in the egg, milk, oil, and vanilla extract together. Add the rest of the ingredients and mix until everything is well incorporated and there are no flour or cocoa powder pockets left.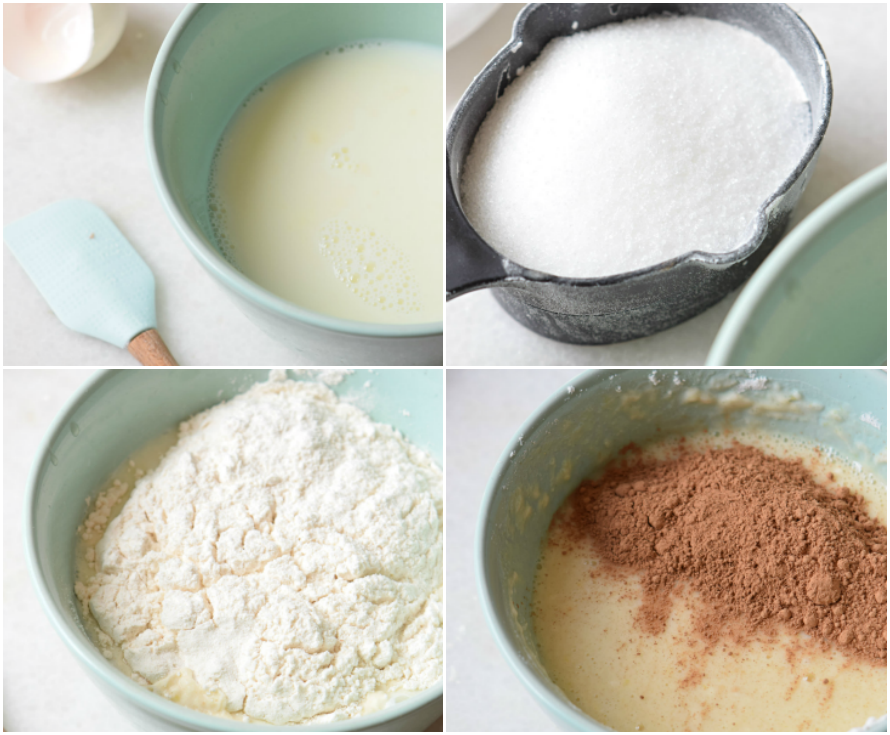 2. To prevent sticking, I like to brush a nonstick pan with butter. Pour 1/4 cup batter onto a skillet over medium heat and cook until small bubbles form on top. Flip and cook until golden brown. Repeat the process with the rest of the batter. Serve warm and enjoy.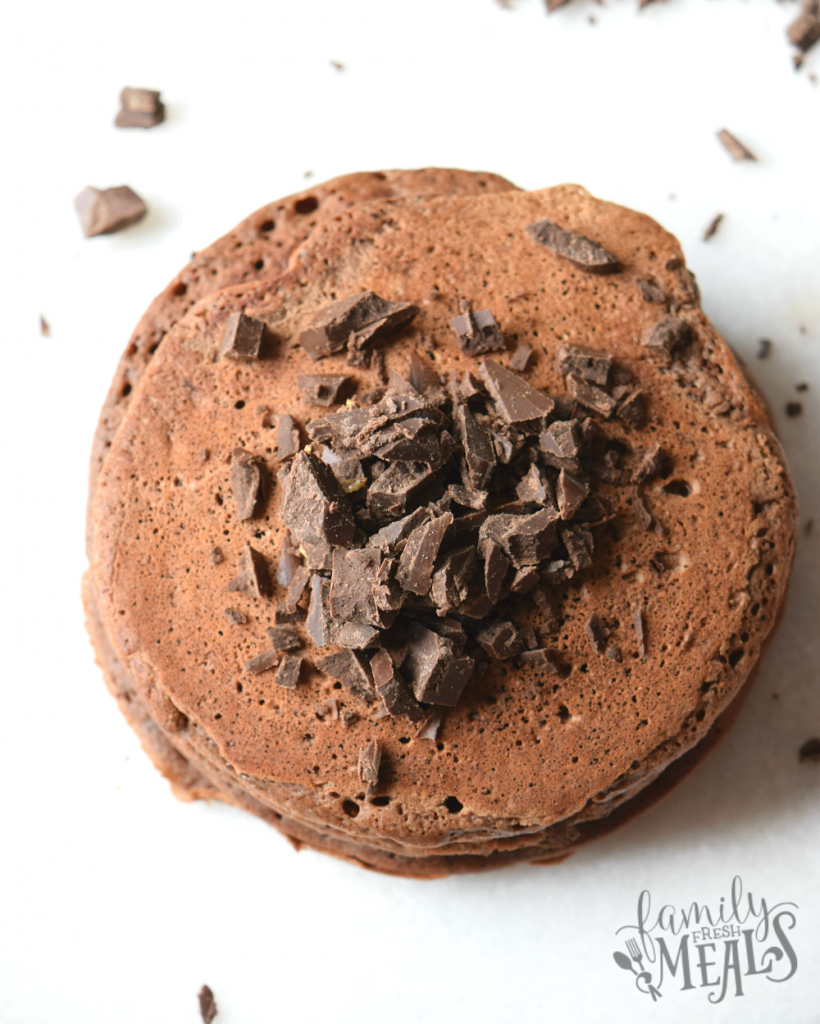 Do you love Family Fresh Meals? Never miss out on FUN new meals or easy lunchbox ideas for the family and SIGN UP to have my posts sent right to your inbox! It's EASY PEASY! Just CLICK HERE and enter your email!
XO
Corey, Darryl, Big D & Little D

Double Chocolate Chunk Pancakes
Corey: Corey Valley
Serves: 4
Ingredients
1 cup flour
¼ cup sugar
2 teaspoons baking powder
1 ½ cup milk
1 large egg
½ cup chocolate chips
½ cup cocoa powder
3 Tablespoons oil
1 teaspoon vanilla extract
Chocolate Chunks (topping)
Instructions
Whisk in the egg, milk, oil, and vanilla extract together.
Add the rest of the ingredients and mix until everything is well incorporated and there are no flour or cocoa powder pockets left.
To prevent sticking, I like to brush a nonstick pan with butter.
Pour ¼ cup batter onto a skillet over medium heat and cook until small bubbles form on top. Flip and cook until golden brown.
Take out of the heat and repeat the process with the rest of the batter. Serve warm and enjoy