Fresh flavor that lasts all year long.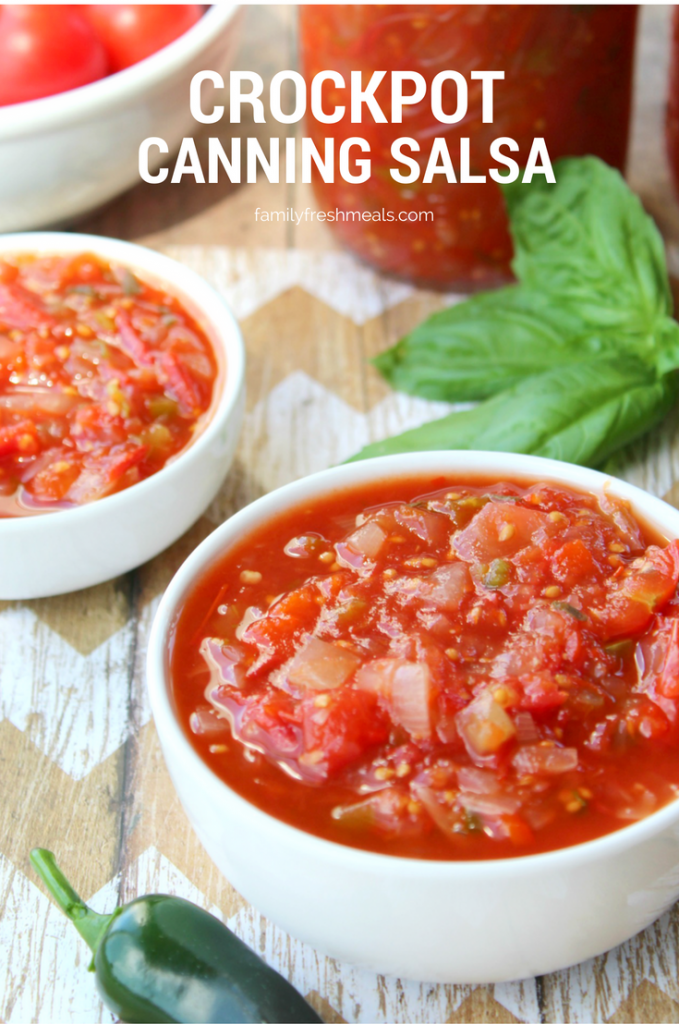 If there's one vegetable gardeners love more than any other, it's tomatoes. They're not that hard to grow, and they taste sooooooo much better when they're fresh off the vine. Some people even call them a "gateway vegetable," because so many people start out growing just tomatoes before they move on to a full-scale garden.
The only sad thing about tomatoes is that they don't last. A beautiful, ripe tomato will keep for a week at most before it goes bad. So when the frost comes and kills the plants, that's the end of garden-fresh tomatoes until next year.
But fortunately, there's a loophole. If you preserve your tomatoes while they're fresh, you can keep that homegrown tomato flavor going all winter long.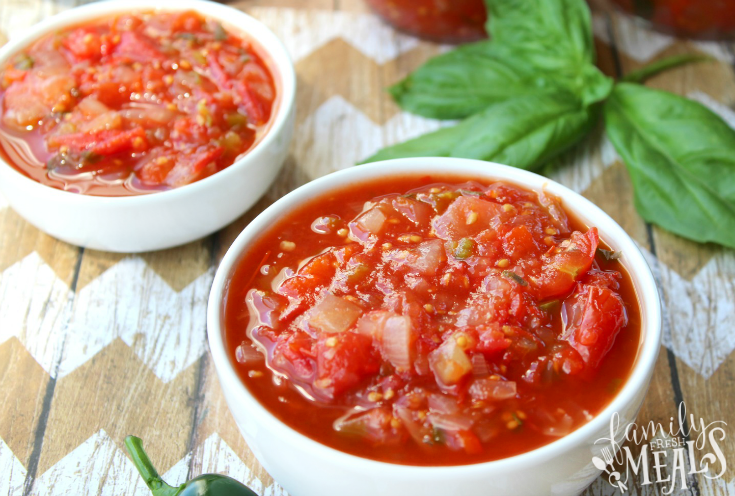 Here's one of my favorite recipes for that: Crockpot Canning Salsa. It preserves all the tastes of a summer garden in one container: tomatoes, onions, cilantro, and three kinds of peppers. And it makes a nice big batch, so you can cook up a whole winter's supply in one go.
When the salsa is done, you can just take the easy route and store it in the freezer. But if you have the time and the equipment, canning it works even better. It's more work, for sure. But when you open up a jar on a cold, gray January day and that tomato aroma comes rolling out just like the smell of summertime, you'll be so glad you made the effort.
Oh, and jars of home-canned salsa make great gifts, too. Just sayin'.
Crockpot Canning Salsa
Printable recipe at bottom of post
INGREDIENTS:
7 cups red tomatoes, chopped – I had a ton of cherry tomatoes and they worked perfect!
2 large onions,
1 green bell pepper
1 red bell pepper
3 cloves garlic, minced
4 jalapeno peppers, chopped (seeds can be left in for more heat)
2 tablespoons white vinegar
2 teaspoons cumin
2 teaspoons sugar
3 tablespoons fresh, chopped cilantro
2 teaspoons salt (to taste)
DIRECTIONS:
1. Place onions, peppers, tomatoes, apple cider vinegar, sugar and cumin into your crockpot.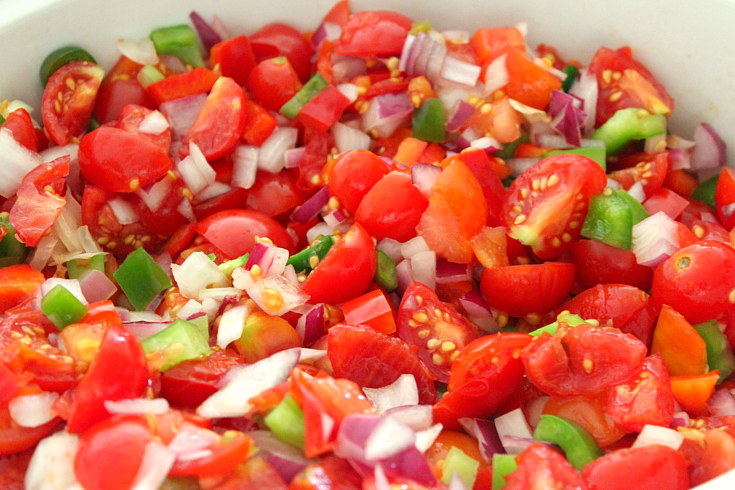 2. Cook on low for 4-5 hours or high for 3-4.
3. Right before salsa is done cooking, add in the cilantro. Allow to slightly cool for a couple of minutes.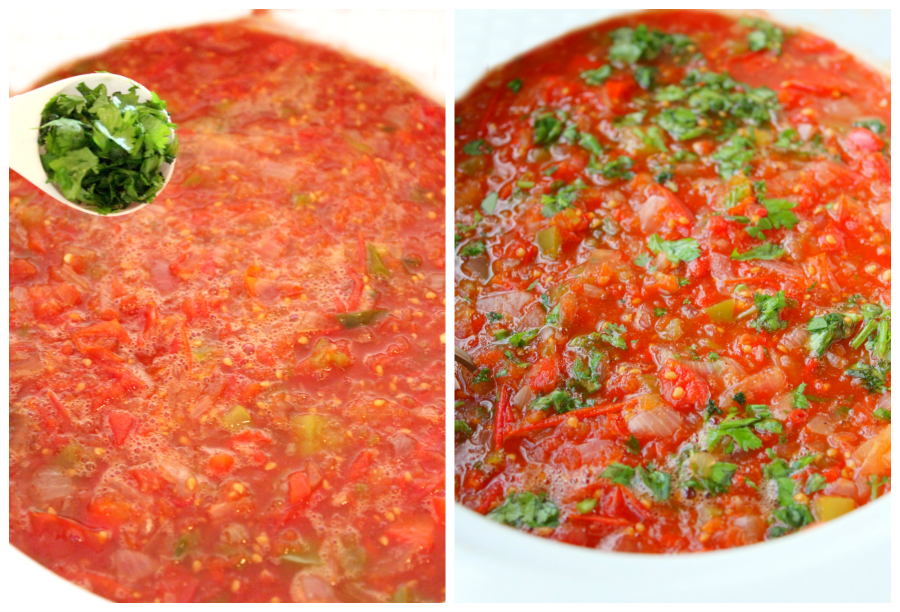 4. Spoon the salsa in to a blender or food processor. Pulse until it is the desired thickness. Add in salt to taste.
This salsa can be frozen or you can can it for future use.
CANNING INSTRUCTIONS:
I used a Ball Fresh Tech Automatic Canner and it is so worth the splurge if you do a lot of canning.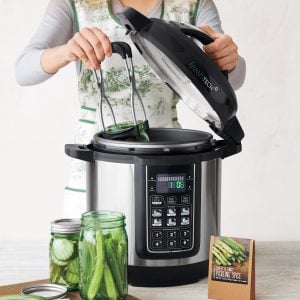 1. If you are using a water bath method in a large pot bring water to a boil, start by sanitize your canning jars by submerging them for about 5 minutes.
2. Use your canning tongs to remove the jars. Spoon salsa into canning jars leaving about ½ inch of space at the top. Wipe the rim and place the lids and rings onto the can.
3. Using the canning tongs place the jars back into the water bath for about 45 minutes. Remove from heat and allow the jars to cool ensuring a secure seal. This will keep for about 1 year.
Do you love Family Fresh Meals? Never miss out on FUN new meals or easy lunchbox ideas for the family and SIGN UP to have my posts sent right to your inbox! It's EASY PEASY! Just CLICK HERE and enter your email!
XO
Corey, Darryl, Big D & Little D


Crockpot Canning Salsa
Corey: Corey Valley
Serves: 20
Ingredients
INGREDIENTS:
7 cups red tomatoes, chopped – I had a ton of cherry tomatoes and they worked perfect!
2 large onions,
1 green bell pepper
1 red bell pepper
3 cloves garlic, minced
4 jalapeno peppers, chopped (seeds can be left in for more heat)
2 tablespoons white vinegar
2 teaspoons cumin
2 teaspoons sugar
3 tablespoons fresh, chopped cilantro
2 teaspoons salt (to taste)
Instructions
DIRECTIONS:
Place onions, peppers, tomatoes, apple cider vinegar, and cumin into your crockpot.
Cook on low for 4-5 hours or high for 3-4.
Right before salsa is done cooking, add in the cilantro.. Allow to slightly cool for a couple of minutes.
Spoon the salsa in to a blender or food processor. Pulse until it is the desired thickness. Add in salt to taste.
This salsa can be frozen or you can can it for future use.
CANNING INSTRUCTIONS:
I used a Ball Fresh Tech Automatic Canner and it is so worth the splurge if you do a lot of canning.
If you are using a water bath method in a large pot bring water to a boil, start by sanitize your canning jars by submerging them for about 5 minutes.
Use your canning tongs to remove the jars. Spoon salsa into canning jars leaving about ½ inch of space at the top. Wipe the rim and place the lids and rings onto the can.
Using the canning tongs place the jars back into the water bath for about 45 minutes. Remove from heat and allow the jars to cool ensuring a secure seal. This will keep for about 1 year
Here is what I used for my Crockpot Canning Salsa! Click on image for more info.
(contains affiliate links)