The perfect way to start off your fall morning!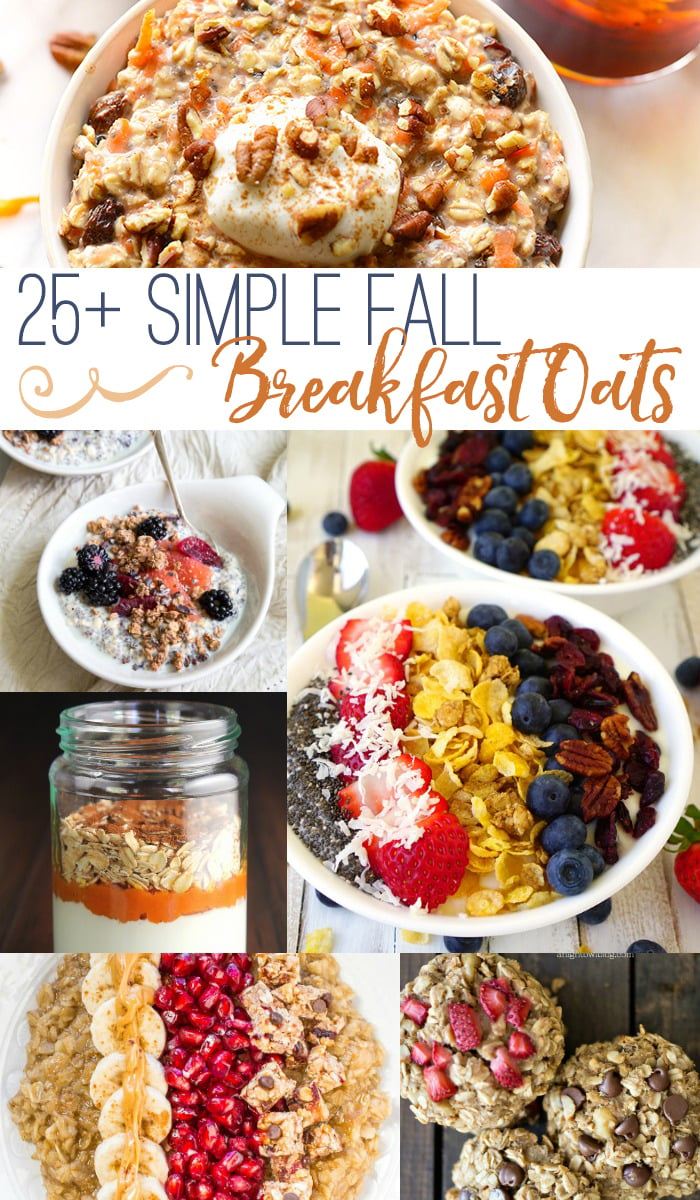 Oatmeal Breakfast Bites – A Night Owl
Great for a quick breakfast or after school snack, these oatmeal bites are mixed with chocolate, cinnamon and honey.
Pumpkin Pie Protein Overnight Oats – Amy's Healthy Baking
With rich pumpkin flavors, get some protein with this pumpkin pie overnight oats. It can also last a few days if stored in an airtight container.
Loaded Oatmeal Breakfast Bowl – Averie Cooks
Filled with rich textures from banana to peanut butter, this breakfast bowl is a great way to kickstart your morning.
Chia Oatmeal Breakfast Bowl – The Little Epicurean
Use chia seeds to absorb liquid for a variety of textures. Top with some fruit for extra nutrients and flavor.
Honey Oats and Berries Breakfast Bowl – Happiness is Homemade
Fresh berries mix with nuts and Honey Oats cereal for a fun, textured breakfast mix great for all ages! You can also make it in under five minutes.
Carrot Cake Overnight Oats – Fit Foodie Finds
Instead of fruit, try mixing a full serving of veggies with breakfast and warm spices.
Vanilla Overnight Oats – 24 Carrot Life
Throw six simple ingredients in a jar overnight, and enjoy in the morning! This simple, gluten-free recipe is plain, making it easy to customize with your favorite fruit or yogurt.
Slow Cooker Gingerbread Oats – Coffee Cups and Crayons
For a cozy breakfast on a lazy weekend morning, make gingerbread oats with a slow cooker. It's filled with a variety of warm spices from cinnamon to nutmeg.
Coconut Banana Steel Cut Oatmeal – Tastes Lovely
Vegan and gluten free, this coconut banana oatmeal mixes summer and fall into a delicious bowl of oatmeal.
Apple Pie Overnight Oats – Seasonal Cravings
Try this gluten-free overnight oats, filled with protein-rich chia seeds. Throw all the ingredients into a jar and put it in the fridge overnight. Sprinkle it with cinnamon for some extra fall flavor.
Almond Joy Overnight Oats – Rabbit Food for My Bunny Teeth
This sweet oats mixture with is sprinkled with chocolate chips, coconut, and flaxseed for flavors and texture. It's also simple to make, and better than a bowl of cereal.
Strawberry Granola Overnight Oats – Crumb Kitchen
From large oats to fresh strawberries, this delicious mix is simple to make, and low cost, with the total cost being around less than $3.
Maple Blueberry Overnight Oats – Penny Pinchin Mom
Enjoy fresh blueberries combined with maple syrup for this simple, warm fall combination.
Blueberry Muffin Overnight Oats – Simple Hacks Living
Make these overnight oats in a slow cooker, and enjoy the next morning. Ingredients are simple, and it only takes a few minutes to throw together.
Overnight Oats with Figs and Pistachios – Kitchen Sanctuary
Prep the night before for this grab-and-go breakfast of figs and pistachios. You can add a variety of toppings for extra flavor.
Berry Peachy Overnight Oats – The Glowing Fridge
Mix a variety of fruits together for a delicious mix of overnight oats! Since you can mix the fruits however you want, this treat is easy to throw together before bed.
Overnight Slow Cooker Apple Pie Steel Cut Oatmeal – Five Heart Home
Prepare for fall with this warm slow cooker apple pie oatmeal recipe. This recipe alsoincludes a secret trick for no burnt edges on the side!
Maple Peach Pecan Overnight Oats – Hot for Food Blog
Enjoy the warm tastes of fall with this simple maple peach pecan oats mixture.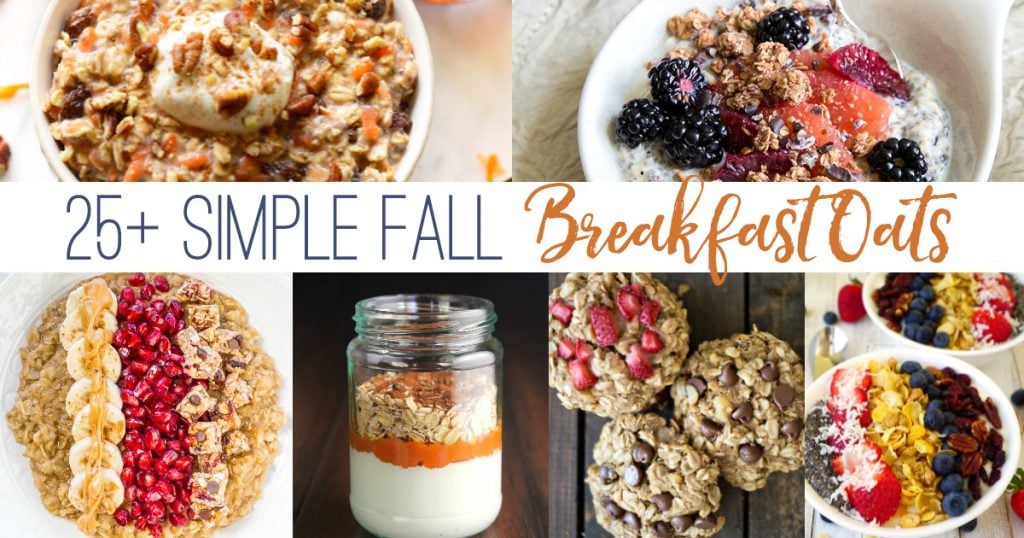 Banana Bread Overnight Oats – Be Whole + Be You
Slice bananas with this overnight oats, and add some pecan and cinnamon for a cozy breakfast.
Caramel Apple Pie Overnight Oats – Tornadough Alli
Add some caramel into overnight oats recipe with only six ingredients. Apple pie filling is used to get the apple taste, and the caramel makes it taste like dessert!
S'mores Overnight Oats – Quaker Oats
No oven required, try this s'mores overnight oats. It's simple to make, and is ready in the morning!
Pumpkin Spice Latte Overnight Oats – Cupcakes and Kale Chips
Enjoy pumpkin spice oats reminiscent of coffee. Milk and yogurt are used for an extra level of creaminess, and mini chocolate chips are added for a bit of extra flavor!
Cinnamon Apple Overnight Oats – Tastes Better From Scratch
Layer with oats, cinnamon, apple sauce and more, this cinnamon apple blend is great served warm or cold! Combined with its fall flavors, it's great for breakfast or a late evening snack!
Mocha Overnight Oats – House of Yumm
Coffee and chocolate mix together for this morning treat. Mix a few ingredients together, and it's ready to go in the morning!
Pumpkin Pecan Overnight Oats – Premeditated Leftovers
This pumpkin puree overnight oats is sweetened with natural maple syrup for fall flavors. Almonds bring an extra crunch to it.
Cookie Dough Overnight Oats – Food Faith Fitness
Layered with peanut butter and yogurt, this cookie dough for breakfast finds the perfect balance between healthy and chocolate, and has a bit of coconut sugar sprinkled into it.
Do you love Family Fresh Meals? Never miss out on FUN new meals or easy lunchbox ideas for the family and SIGN UP to have my posts sent right to your inbox! It's EASY PEASY! Just CLICK HERE and enter your email!
XO
Corey, Darryl, Big D & Little D