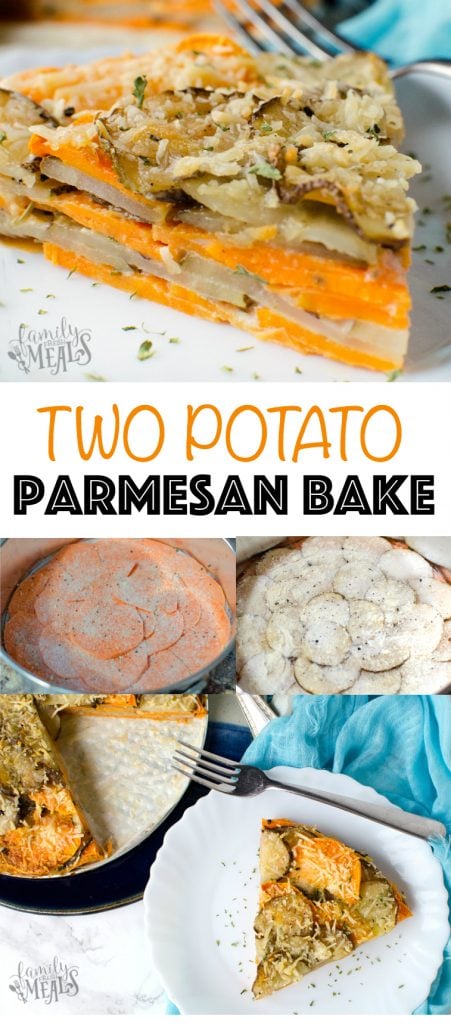 White potatoes or sweet potatoes? I'll take both!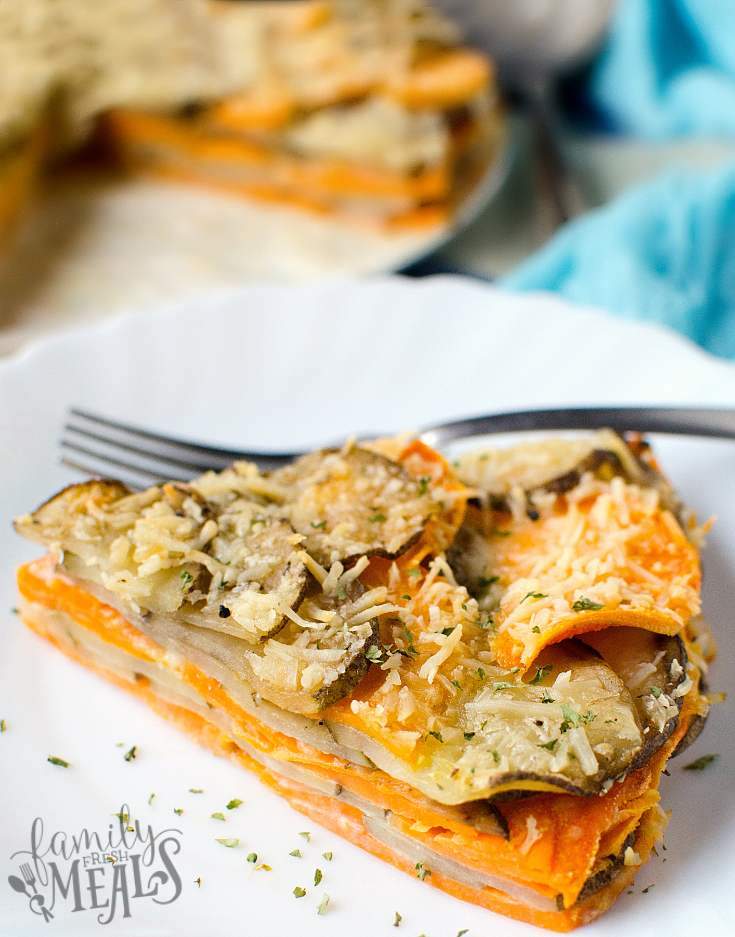 Sweet potatoes are a classic part of the holiday meal. Some families like them baked, some glazed, some in a casserole topped with marshmallows. But every family can agree that there have to be sweet potatoes on the table…right?
Well, not really. Because some families like white potatoes instead. And when a person with a sweet-potato tradition marries into a family with a mashed-potatoes-and-gravy tradition, things can get ugly. Because both people want the kind of potato they grew up with, and if it's not there, it's just not the holidays.
So how do you get around this? Well, you could serve two potato dishes. Or, you could serve just one…with both kinds of potatoes in it.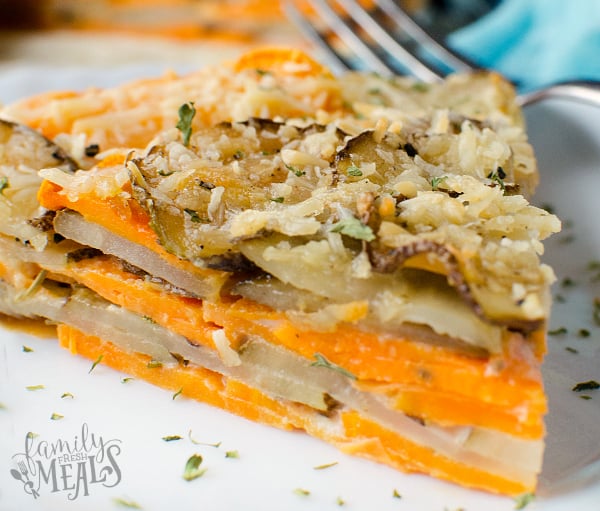 My Two-Potato Parmesan Bake is the perfect compromise. It has both white potatoes and sweet potatoes, sliced thin and layered in a pan like a lasagna…together with a rich, creamy, cheesy sauce with a hint of rosemary. So the two types of potato fuse together into a harmonious whole that's more than the sum of the parts.
So instead of fighting over which is the top potato, sweet potatoes and white potatoes can work together to create something new and wonderful. And isn't that what the holidays are all about?
NOTE: This does not need to be made in a spring form pan, I just find it makes for easy cutting when serving. You can use any baking dish you wish that's similar in size. If you use a smaller baking dish (8 x 8 for instance, please adjust cooking times as there may be more layers.
TWO POTATO PARMESAN BAKE
Preheat oven to 350 degree F. With a mandolin, slice all the potatoes. Set aside. In a spring form pan (SEE NOTE ABOVE) spray or line the bottom with parchment paper. Begin to line the bottom with the sweet potato slices. It's ok if the slices aren't perfect, as long as you have good coverage.
Sprinkle that layer with a tablespoon of parmesan cheese, a sprinkle of rosemary, salt and pepper. Take one tablespoon of cream and drizzle it lightly over the top of the potatoes and cheese.
Layer the regular potato slices over top the sweet potato layer. Again, just enough to cover the bottom. (1 layer). Repeat step 3 and 4 on top of the regular potato slices.
Repeat the layers alternately until you are finished with the potatoes. If you run out of slices to do one complete layer, it's ok to mix the top layer, and just lay them alternately or lay them in any pattern you wish. Layer this top layer with remaining cheese, salt and pepper, and the drizzle of cream.
Bake for 45 – 50 minutes or until a fork inserted goes easily.
Remove the dish from the oven and allow to sit for 10 minutes before serving. Cut in pie shapes for serving and garnish with sour cream if you wish.
Looking for more free recipes? Subscribe to my newsletter and follow along on Facebook, Twitter, Pinterest and Instagram for all of the latest updates.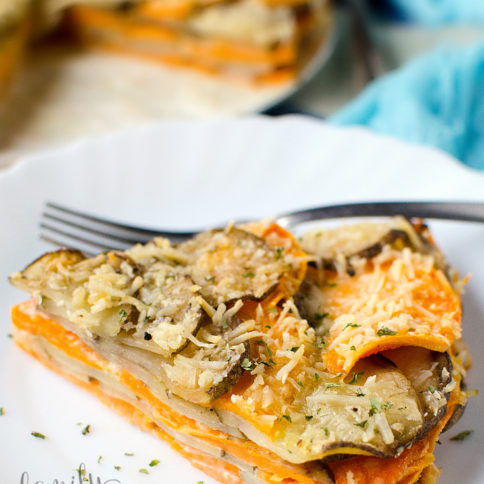 Two Potato Parmesan Bake
My Two Potato Parmesan Bake is the perfect side dish combo. I has both white potatoes and sweet potatoes, sliced thin and layered in a pan like a lasagna.
Prep Time: 15 minutes
Cook Time: 50 minutes
Total Time: 1 hour 5 minutes
Serves:8
Hover over "serves" value to reveal recipe scaler
Ingredients
2 medium sweet potatoes peeled
3 potatoes medium, unpeeled (optional: you can choose to peel the potatoes is you wish)
1/3 cup parmesan cheese shredded or grated
1/4 cup heavy whipping cream
2 teaspoons rosemary dried
1/4 teaspoon salt
1/4 teaspoon pepper
Instructions
Preheat oven to 350 degree F. With a mandolin, slice all the potatoes. Set aside. In a spring form pan (SEE NOTE ABOVE) spray or line the bottom with parchment paper. Begin to line the bottom with the sweet potato slices. It's ok if the slices aren't perfect, as long as you have good coverage.

Sprinkle that layer with a tablespoon of parmesan cheese, a sprinkle of rosemary, salt and pepper. Take one tablespoon of cream and drizzle it lightly over the top of the potatoes and cheese.

Layer the regular potato slices over top the sweet potato layer. Again, just enough to cover the bottom. (1 layer). Repeat step 3 and 4 on top of the regular potato slices.

Repeat the layers alternately until you are finished with the potatoes. If you run out of slices to do one complete layer, it's ok to mix the top layer, and just lay them alternately or lay them in any pattern you wish. Layer this top layer with remaining cheese,salt and pepper, and the drizzle of cream.

Bake for 45 – 50 minutes or until a fork inserted goes easily.

Remove the dish from the oven and allow to sit for 10 minutes before serving. Cut in pie shapes for serving and garnish with sour cream if you wis
Video
Nutrition Information:
Calories: 177kcal (9%)Carbohydrates: 31g (10%)Protein: 5g (10%)Fat: 4g (6%)Saturated Fat: 2g (10%)Cholesterol: 13mg (4%)Sodium: 194mg (8%)Potassium: 633mg (18%)Fiber: 4g (16%)Sugar: 4g (4%)Vitamin A: 12204IU (244%)Vitamin C: 18mg (22%)Calcium: 90mg (9%)Iron: 1mg (6%)