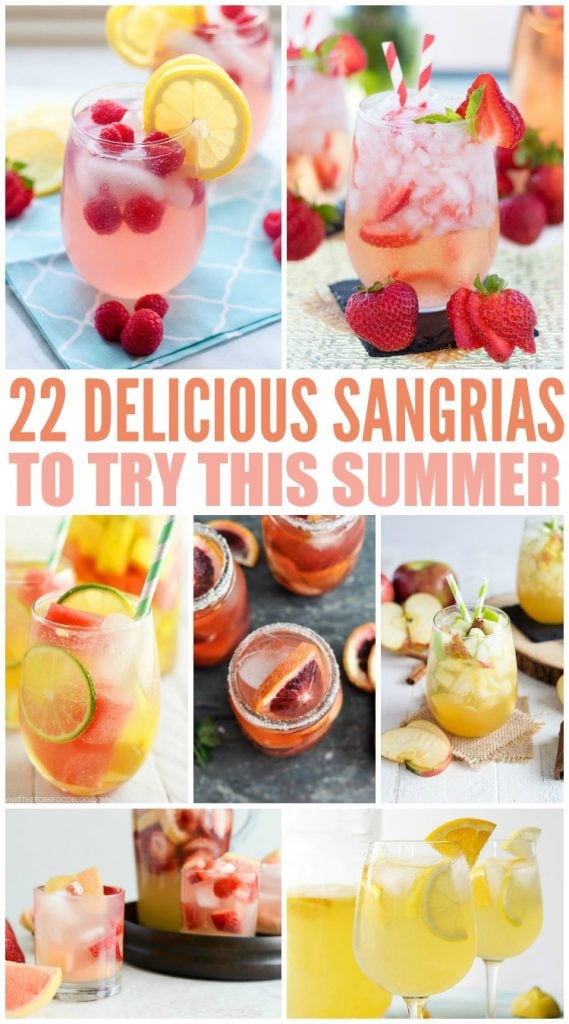 For me, summer is the best time to get together with friends. I enjoy back yard barbecues and late night out on the porch, laughing with friends. My summer drink of choice is Sangria. I love how light and fresh they can be made with the addition of my favorite fruits. However, I often struggle with what to mix with what.
The following 22 Sangria Recipes are tried and true, from some of my favorite bloggers. Now I can just pick one, make it and sip and enjoy with friends. Little to no thought needed.
22 Summer Sangria Recipes to Try Now!
Strawberry Rose Sangria is quick and simple, made with fresh strawberries, rosé wine, and kicked up with some vodka.
Watermelon & Pineapple Sangria is about as summertime as you can get
Pretend you are in the tropics while you sip this Pineapple Sangria.
Rose Sangria features subtle hints of fruit, with a vodka kick.
You can have your pie and drink it too with Apple Pie Sangria.
Red Sangria is a classic, that can't be beat.
Blood oranges can be tough to find, but if you can find them then you have to make this Blood Orange Sangria.
Raspberry Lemonade Sangria is made with frozen lemonade.
If you want to keep things simple, then try this White Sangria.
If you love grapefruit, you will love this Grapefruit Sangria.
This Peach & Basil Sangria is best sipped on the porch on a summer afternoon.
Raspberry Rose Sangria is a perfectly fruity raspberry sangria that's easy to whip up for a party.

You'll only need 5 ingredients to make this Mango & Citrus Sangria.
Chill the apples first, they will keep this Red Wine Sangria cold.
Try this white wine Grilled Pineapple Strawberry Sangria at your next outdoor party!


This sparkling Citrus Sangria will change the way you spend your evenings home.

If you love whiskey sours but want to make them more crowd-friendly, this Whiskey Sour Sangria will definitely do the trick!

Do you love Family Fresh Meals? Never miss out on FUN new meals or Easy Lunchbox Ideas for the Family and SIGN UP to have my posts sent right to your inbox! It's EASY PEASY! Just CLICK HERE and enter your email!

XO
Corey, Darryl, Big D & Little D
22 Summer Sangria Recipes
Corey: Corey Valley
Serves: 6-8
Ingredients
1 bottle Riesling wine, 750ml
12 - 15 mint leaves + extra for garnish
2 tablespoons simple syrup *recipe below
2 ripe grapefruits
2 ripe oranges
2 limes
Club soda
Instructions
Simple syrup: ½ cup sugar + ½ cup water
To prepare the simple syrup, add the water and sugar to a small pot, bring to a full boil, stir well, and remove from the heat. Let this cool while you work on the fruit. Coupons
To prepare the fruit, cut in into chunks or slices that will easily fit the carafe or pitcher you're using. You want to be sure you can easily get it out when pouring the cocktail into your glasses.
Add a few pieces of grapefruit to the carafe, followed by a few pieces of orange, and a few mint leaves. To bring out the flavor of the mint, you can muddle it a little first.
Repeat the layering until the carafe is about ½ full of fruit.
Add two tablespoons of simple syrup, and pour the Riesling over the fruit until it's almost to the top. Leave some room for stirring. Place in the refrigerator for 2-3 hours or until well chilled. I like to give it a stir every 30 minutes or so. Before serving, taste and add more simple syrup to suit your tastes.
Pour into individual glasses, top off with a splash of club soda, and garnish with a few small pieces of mint!