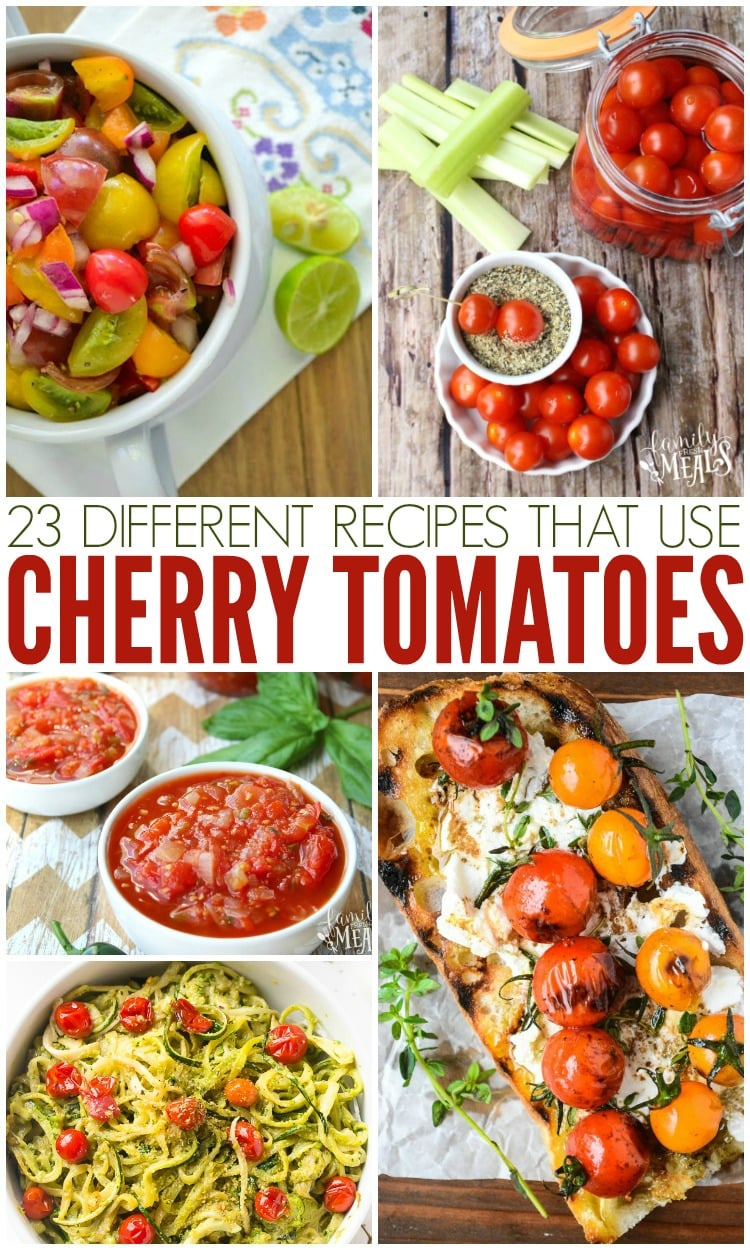 With summer in full swing at my house our eating habits have changed. No more frozen or canned veggies, we are fresh all the way. Stores have rock bottom prices on the freshest produce, my garden is growing rapidly and there are fruit and vegetable stands popping up all over the place.
Summer is the very best time to cook with tomatoes, cherry tomatoes to be exact. There is so much flavor packed into those little babies that they really can make the flavor of even the simplest recipe explode with flavor. My garden is usually overflowing with them, and I am always struggling with recipes ideas to keep up with the bounty.  If you are having the same problem, you are going to want to check out all these Recipes for Cherry Tomatoes .
Recipes for Cherry Tomatoes
1- Crockpot Canning Salsa will allow you to enjoy your cherry tomatoes all year long.
2- Chunky Cherry Tomato Salsa is great with chips or on top of your favorite salad.
3- These simple and tasty Roasted Cherry Tomatoes are a great way to use up fresh garden tomatoes.
4- This super versatile, Homemade Cherry Tomato Jam will let you preserve your tomatoes and add tangy, sweet flavor to any dish!
5- With my Boozy Bloody Mary Tomatoes, you don't put tomato juice in your cocktail, put your cocktail in the tomato.
6- Pesto Zucchini Noodles with Burst Cherry Tomatoes have ALL the crave-worthy flavor of pasta with no guilt or carbs.
7- Tomato Butter Roasted Salmon with Cherry Tomatoes comes together in under 30 minutes!
8- This Tomato Tart has all the appeal of pizza, but in a dressier form.
9- Whitefish With Burst Cherry Tomatoes and Basil is may just be the simplest summer meal on the planet.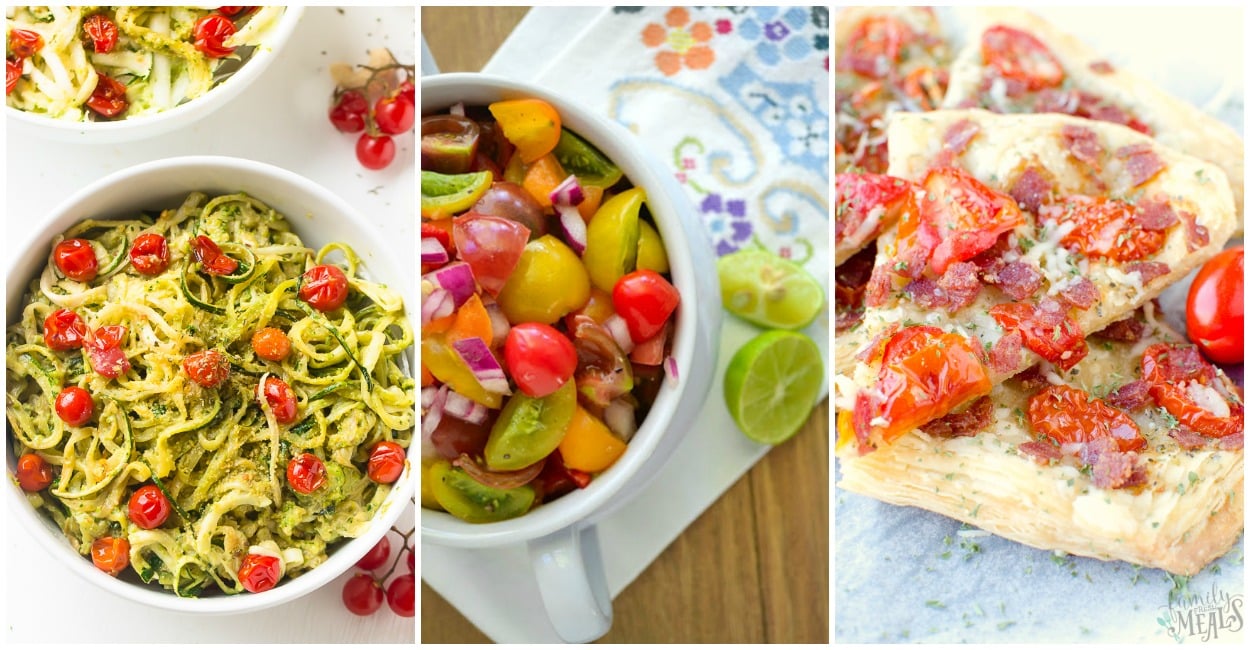 10- This Kale Pesto Pasta only takes 15 minutes to cook. That's my kinda meal.
11- Don't heat up your kitchen. Grilled Cherry Tomato Bruschetta can be made right on your grill.
12- This recipe for Thai Style Pickled Cherry Tomatoes only takes 10 minutes to prepare!
13- Searching for a healthy snack? Try Dried Cherry Tomatoes.
14- Having a backyard party? Caprese Salad Skewers are a great appetizer that don't require a plate.
15- This Tomato & Basil Bake is the perfect side dish. Leftovers make the perfect day after lunch too.
16- A few simple ingredients give this Gnocchi with Cherry Tomatoes recipe big flavor.
17- These Oven Roasted Tomatoes are best served right out of the oven while they are still warm.
18- You can serve this healthy Tomato & Green Bean Salad as a side dish or main dish with an added protein.
19- Craving something light and flavorful? Try Balsamic & Honey Skillet-Glazed Cherry Tomatoes.
20- Need a gluten free dish? Try Sun Dried Tomato & Garlic Chicken.
21- Cherry Tomato Penne Pasta is super easy to make and you only need a few ingredients.
22- This Oven Roasted Cherry Tomato Sauce is freezer friendly.
23- When avocados and cherry tomatoes combine, you get Tomato Avocado Salad and it sure looks yummy.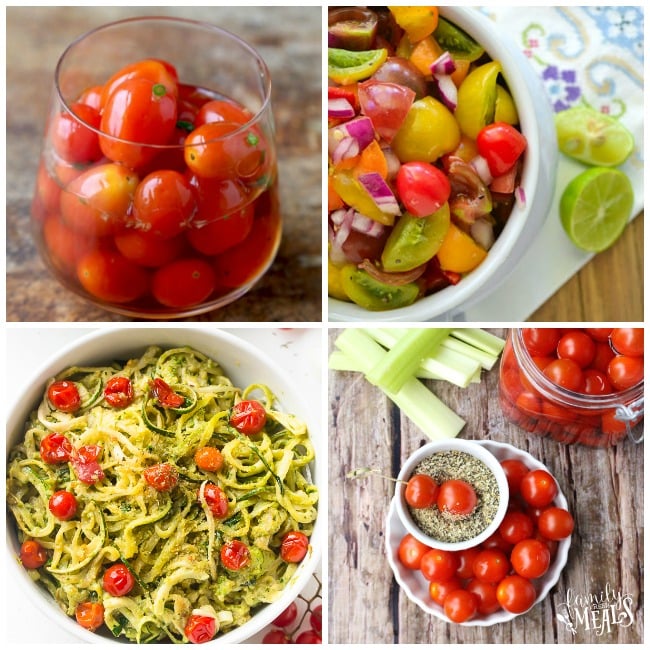 Do you love Family Fresh Meals? Never miss out on  FUN new meals or Easy Lunchbox Ideas for the Family and SIGN UP to have my posts sent right to your inbox! It's EASY PEASY! Just CLICK HERE and enter your email!
XO
Corey, Darryl, Big D & Little D

Recipes for Cherry Tomatoes
Ingredients
1 sheet Puff pastry
6-8 pieces Gypsy Salami
6-8 Cherry tomatoes
1 tsp Italian seasoning
3 tbsp Parmesan cheese
Instructions
Preheat oven to 375 degrees F. Flour the counter and roll out the sheet of pastry to approximately ⅛" thick. Place pastry sheet on to a baking sheet lined with parchment paper.
Sprinkle the Italian seasoning over the top.
Dice the salami into small pieces and sprinkle over the top of the dough. Slice the cherry tomatoes lengthwise in 3-4 slices (thin) and place on top of the dough. Sprinkle with the parmesan cheese
Bake in the oven for about 18-20 minutes, but check at 15 to check it's progress.

Notes:
You can use whole roma tomatoes if you prefer (you would need only 1)
Feel free to vary the amount of the ingredients. This is all to preference. If you prefer more salami or more cheese, indulge!