On, celery! On, peanut butter! On, pretzels! On, candies!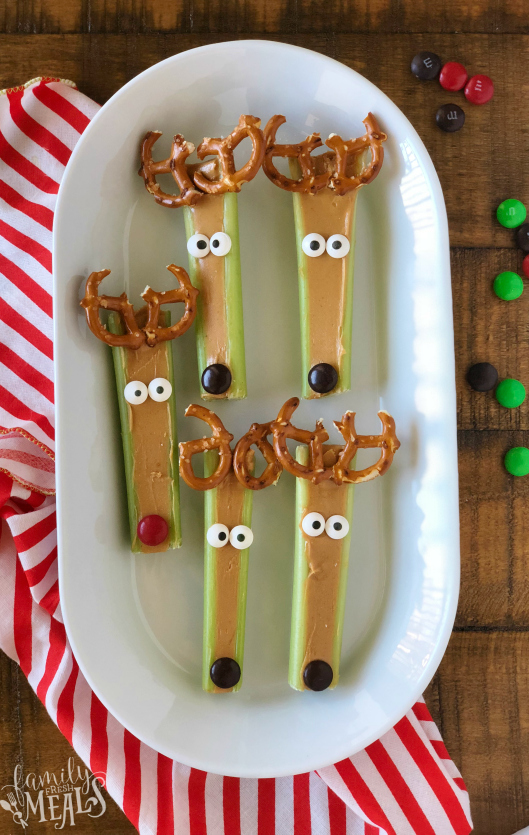 The holidays are a great time for delicious snacks, like Holiday Muddy Buddies Chex Mix and Andes Chocolate Toffee Bark. Unfortunately, most of these tasty treats just aren't that healthy. They're great for dessert, but they're not exactly what you want your kids – or you – to be munching on all the time.
The problem is, with all those delicious holiday treats sitting around, how are you supposed to get your kids to eat healthy snacks – like fresh veggies? How can you possibly tempt them with celery sticks when they know there are cookies waiting?
The answer: you turn those celery sticks into reindeer!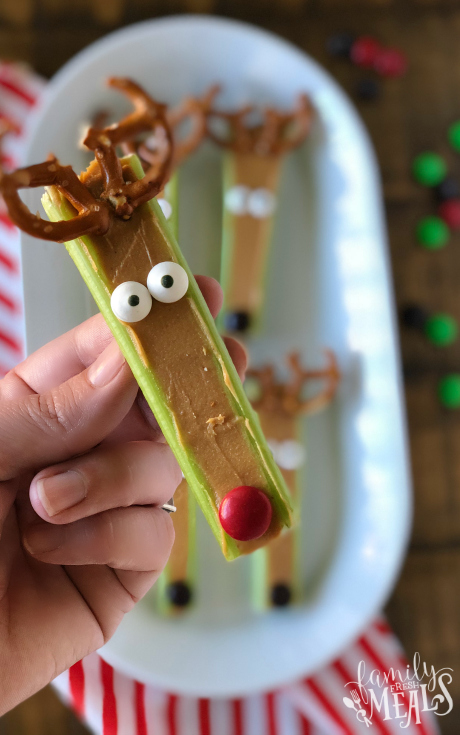 These Reindeer Snacks are a variant of good old Ants on a Log – that classic threesome of celery, peanut butter, and raisins – but instead of the raisins, you add pretzel "antlers" and candy eyes and noses. So this snack has just a little bit of indulgence, along with a healthy dose of fresh veggies and protein-filled peanut butter.
These little reindeer are so cute, no kid can resist them. They'll happily gobble them up, and you can save your Christmas cookies for dessert.
NOTE: If you cannot find candy eyes (affiliate link), you can just use extra m&ms for eye.
Reindeer Snacks
Ingredients:
celery sticks
peanut butter
candies eyes
m&ms
pretzels
Directions:
1. Spread peanut butter on celery and arrange candy eyes, pretzels and m&ms on celery sticks to make reindeers 🙂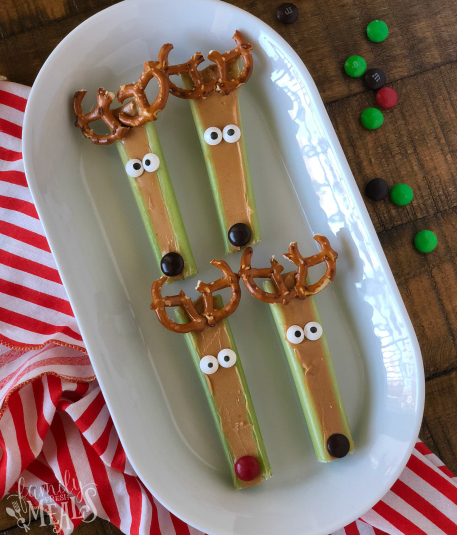 Do you love Family Fresh Meals? Never miss out on FUN new meals or Easy Lunchbox Ideas for the Family and SIGN UP to have my posts sent right to your inbox! It's EASY PEASY! Just CLICK HERE and enter your email!
XO
Corey, Darryl, Big D & Little D

Reindeer Snacks
Corey: Corey Valley
Serves: 10
Ingredients
celery sticks
peanut butter
candies eyes
m&ms
pretzels
Instructions
Spread peanut butter on celery and arrange candy eyes, pretzels and m&ms on celery sticks to make reindeers 🙂