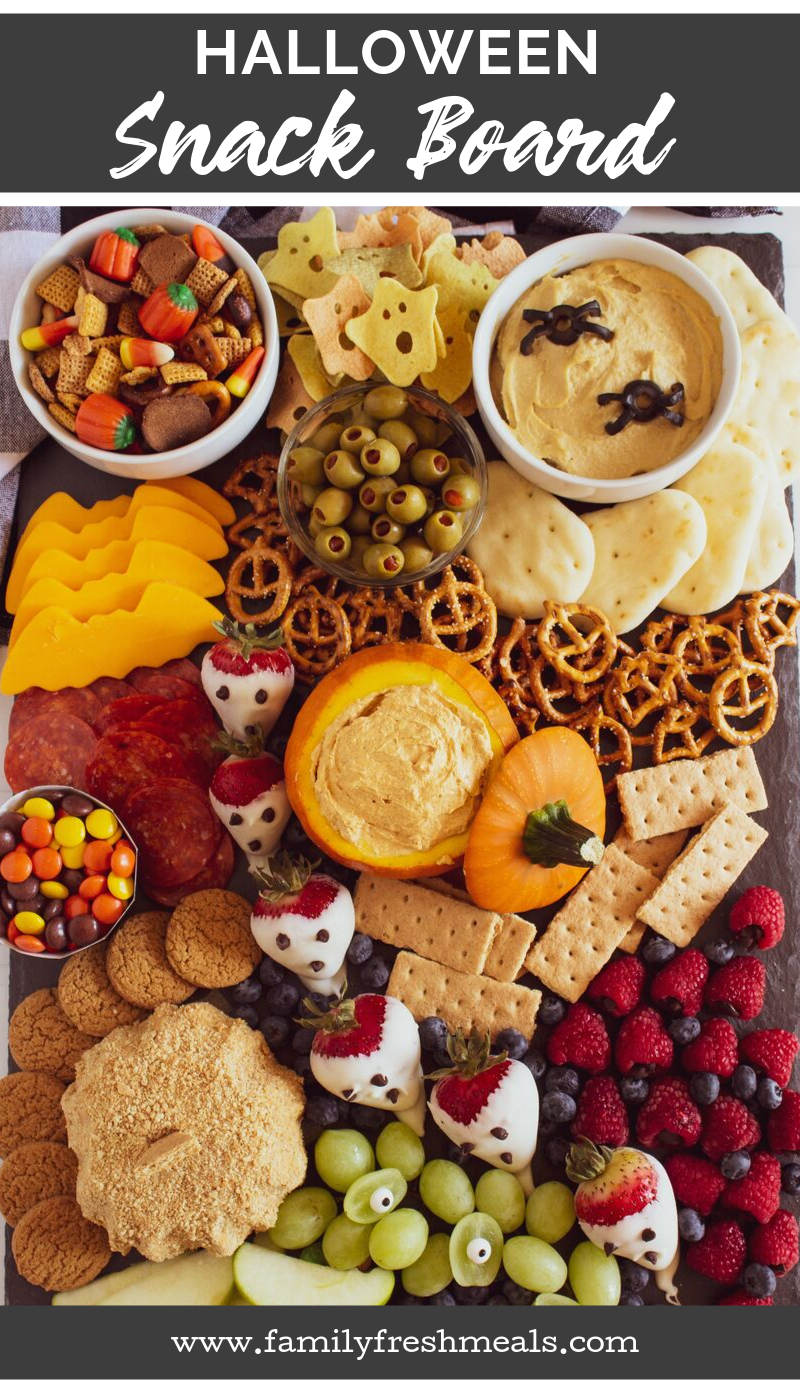 Your favorite party treats, served up spooky style.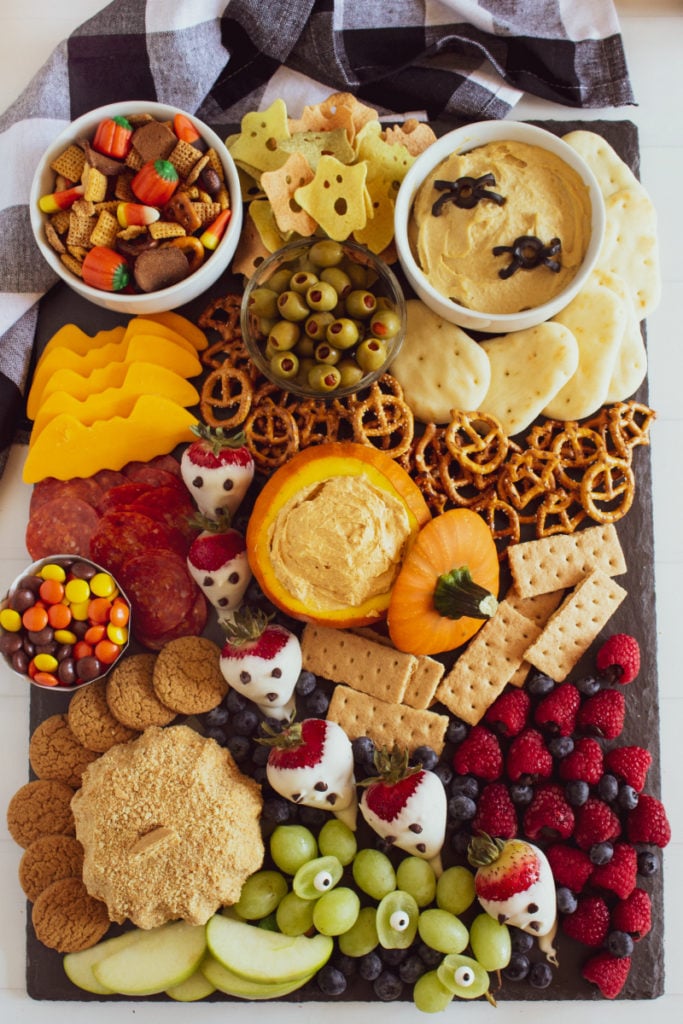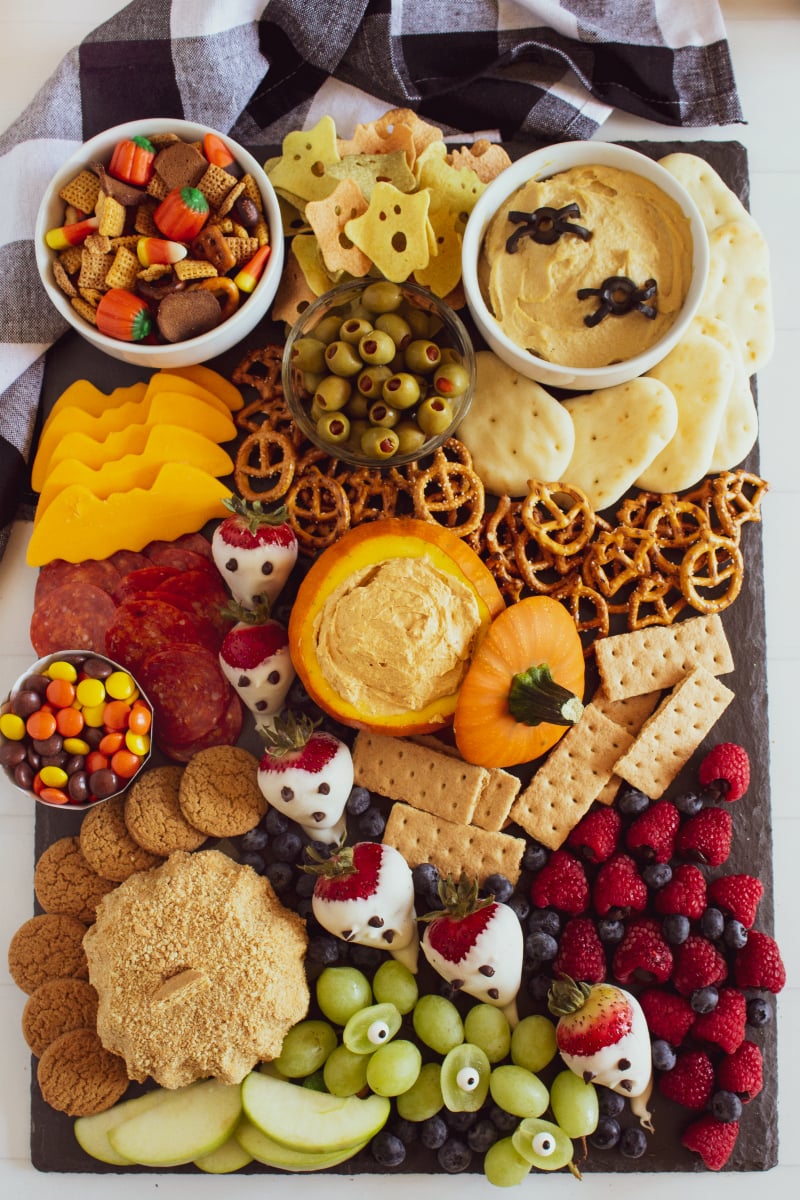 If there's one thing I love more than dressing up for Halloween, it's dressing up my food for Halloween. And when I throw a Halloween party, I love to pull out all the stops with a full assortment of holiday-themed appetizers.
Fortunately, this doesn't have to be hard to do. You can put together a fantastic Halloween Appetizer Snack Board with three kinds of foods:
Store-bought Halloween treats like candy, ghostly Halloween veggie chips, and smiling Jack-o-lantern pretzels.
Regular party fare dressed up for the holiday. You can toss candy corn and candy pumpkins into your Chex mix, use a Halloween cookie cutter on your cheese slices, and deck out a bowl of hummus with a couple of black olive "spiders."
Just a few special Halloween treats that you can make ahead of time. Like a sweet mini version of my pumpkin-shaped Fall Cheese Ball, some white-chocolate-dipped strawberry "ghosts," and a small batch of my Pumpkin Cheesecake Dip served up in a mini pumpkin.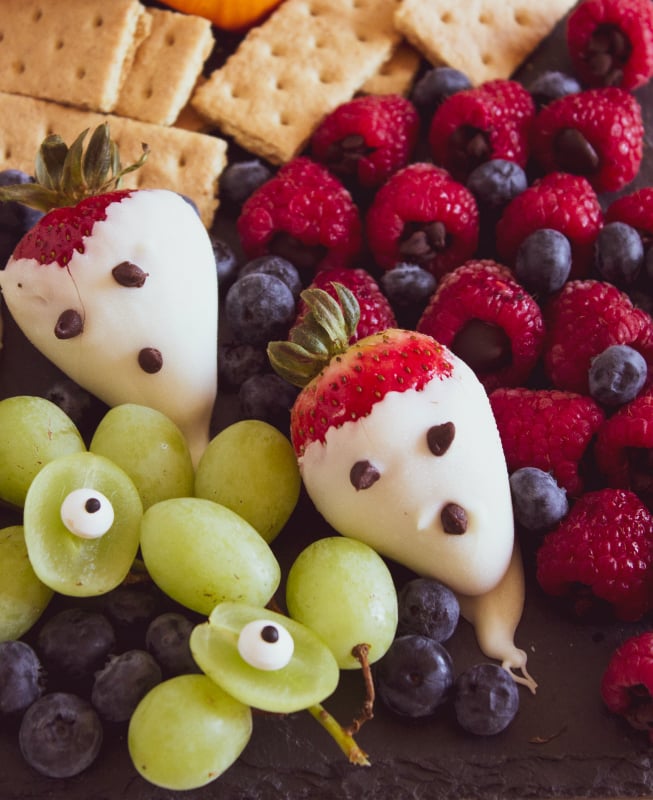 Strategically lay out these ghostly goodies on a big cutting board or cookie sheet, then fill in the gaps with more basic finger foods like fruit, olives, pepperoni slices, cookies, crackers, and pita wedges. In 20 minutes or less, you can assemble a spooky appetizer assortment that will totally wow your guests.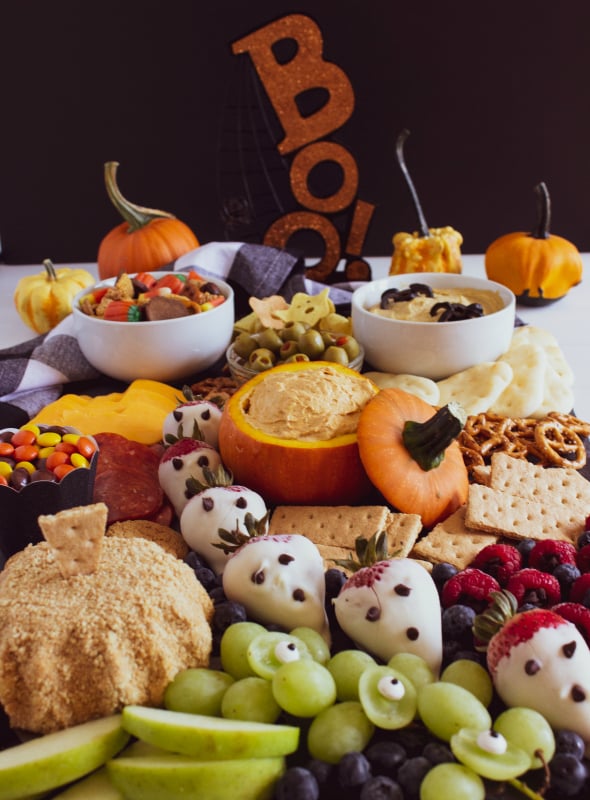 ITEMS USED TO MAKE THIS HALLOWEEN APPETIZER SNACK BOARD
Spooky Potato Chips: This cute little ghosts add a nice crunch to your appetizer board.
Candy Eyes: This candy eyes will give any food a spooky look!
Candy Melts: All you have to do is microwave these melts, and dip your strawberries to make some yummy ghosts.
Cookie Cutters: These cookie cutters will help you make some fun Halloween cheese shapes!
Looking for more free recipes? Subscribe to my newsletter and follow along on Facebook, Twitter, Pinterest and Instagram for all of the latest updates.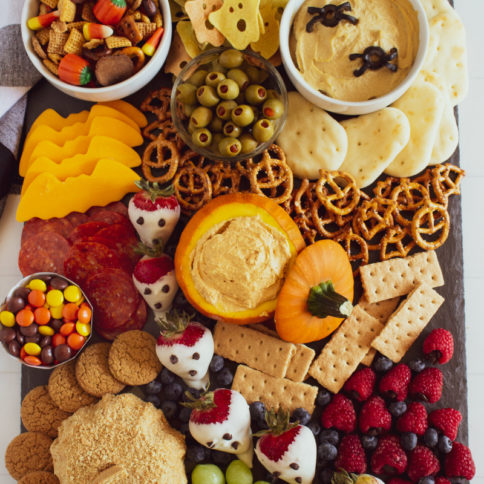 Halloween Appetizer Snack Board Idea
When I throw a Halloween party, I love to make some some fun themed appetizers. You can assemble this fun Halloween Appetizer Snack Board in no time!
Prep Time: 20 minutes
Cook Time: 0 minutes
Serves:12
Hover over "serves" value to reveal recipe scaler
Ingredients
Starting from the top
A bowl of Chex mix (about a cup and a halmixed with candy corn and candy pumpkin mix
1-2 cups of Halloween veggie chips
A 10 ounce container of classic hummus with "spiders" made from sliced olives
A 2 pound block of cheese cut lengthwise into 3 slices each slice could cut two bats from the Halloween cookie cutter
1-2 cups of Halloween pretzels
1/2 jar of green olives
triangular pita bread
pepperoni slices
white chocolate dipped strawberries with mini milk chocolate chips
A small pumpkin hollowed out, filled with 1/4 of the pumpkin whip dip. Keep the top for decoration
Graham crackers
A 4 ounce box of Reese Pieces filled in a cupcake liner
Ginger snap cookies
Mini pumpkin pie cheese ball
green apple slices
A vine of grapes with several slices lengthwise topped with a candy eye
blueberries
raspberries stuffed with mini milk chocolate chips
Instructions
Serving size will depend on how high you want to pile your chips, pretzels, ext and how big your board is. My board is 14"x20" board