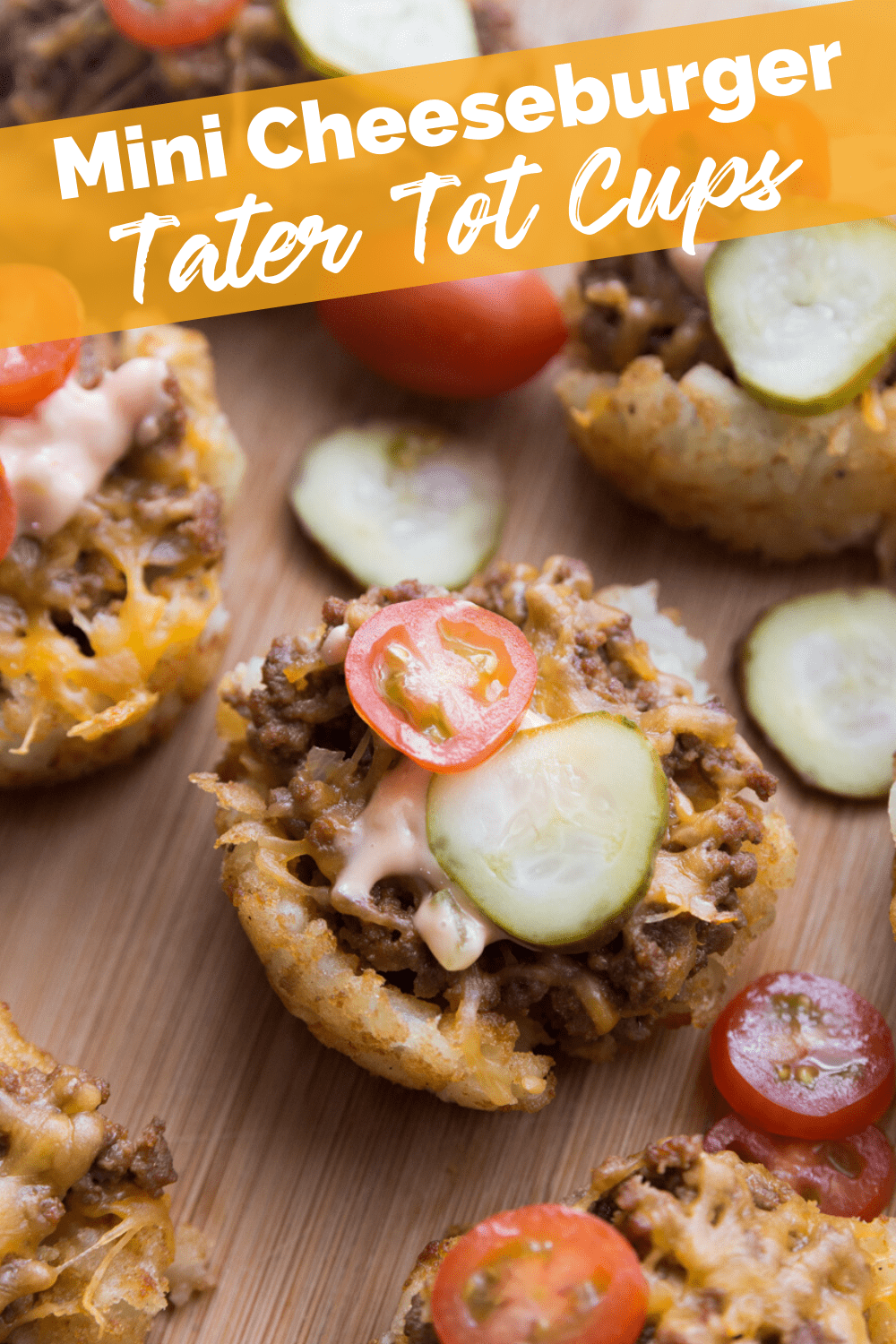 Like the world's best cheeseburger and fries – in one.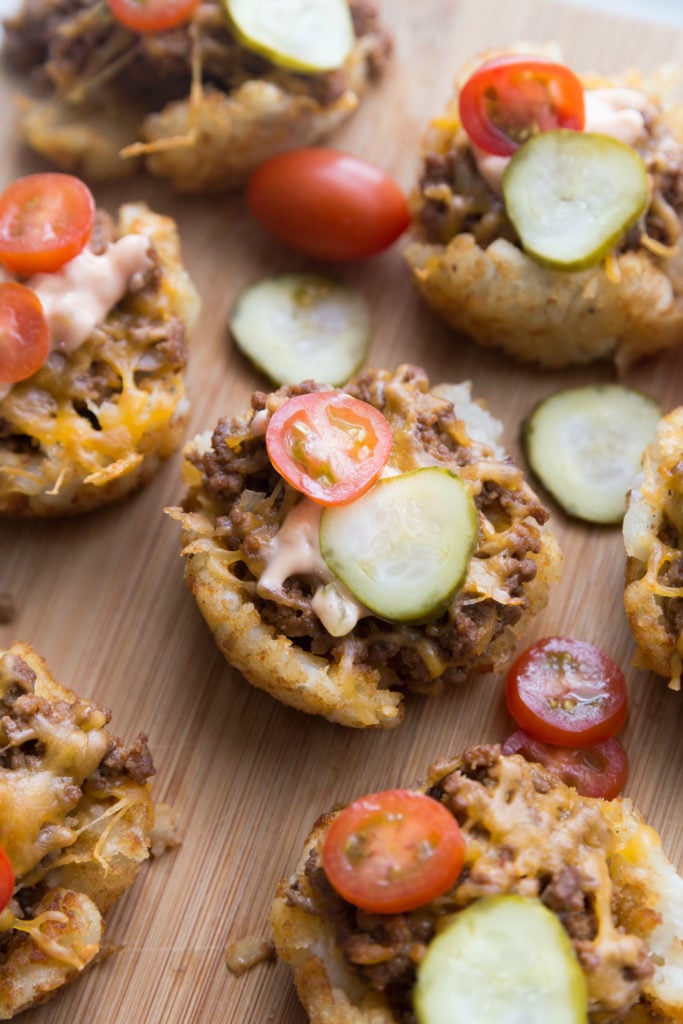 Mini Cheeseburger Tater Tot Cups
Folks, I just want to talk for a minute about the magic of Tater Tots. They're just little blobs of fried potato – yet somehow they taste better than potatoes in any other form.
I don't know how they do it, but I sure know how to put that magic to work for me. I've used the crunchy perfection of tater tots in nachos, a Buffalo-spiced appetizer, a breakfast casserole, and even a dip. But with my latest Tater Tot creation, I think I may have just taken these magical morsels to a whole new level. Friends, I want you to meet…Mini Cheeseburger Tater Tot Cups.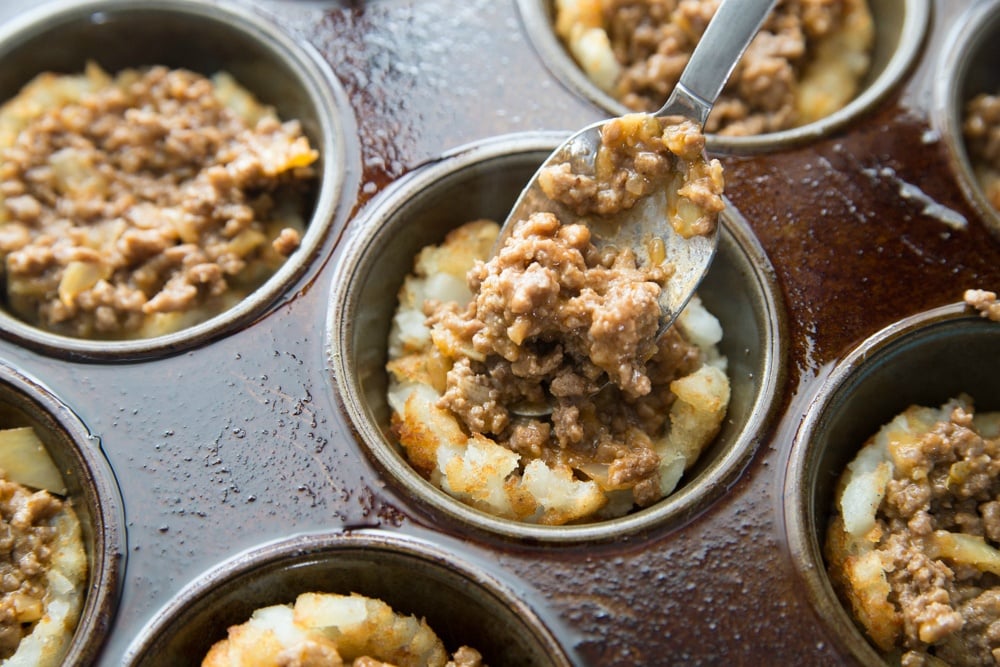 These are like the best cheeseburger and fries you ever had, in one. Lean ground beef, spiced up with seasoned salt, pepper, garlic, and golden fried onions. All your favorite toppings – ketchup, mayo, mustard, and A1 sauce – stirred right into the meat. Melted cheddar cheese on top. And instead of a bun, it's all served up in a little cup of golden, crunchy Tater Tots.
All these need to make them truly perfect is a slice of tomato, a slice of pickle, and a drizzle of my extra-special Come Back Sauce. You'll think you've died and gone to cheeseburger heaven.
How to Make Mini Cheeseburger Tater Tot Cups
Preheat oven to 425°F. Place ground beef in a skillet over a medium high heat. While cooking, season with garlic powder, seasoning salt, salt and pepper. Once browned drain off excess grease and add onions into the beef. Reduce heat to medium and continue to cook onions are softened, about 2 more mins. Add mayo, mustard, ketchup and A1 Sauce to the ground beef and stir to combine. Set aside.
Spray mini muffin pan with non stick spray. Place three tater tots in each baking cup. Bake for 10 minutes.
After 10 minutes remove the muffin pan from the oven and use a shot glass or small cup to press the tater tots down into each baking cup, forming tater tot cups.
Fill the tater tot cups evenly with the ground beef mixture and top evenly with cheddar cheese.
Place back in the oven for another 15 minutes. One done cooking, remove from the oven and let cool for 5-7 minutes before removing them from the muffin pan.
Before serving, drizzle with Come Back Burger Sauce, and top with mini dill pickle slices and cherry tomato slices.
(As an Amazon Associate I earn from qualifying purchases.)
TOOLS USED FOR THIS MINI CHEESEBURGER TATER TOT CUP RECIPE
Looking for more free recipes? Subscribe to my newsletter and follow along on Facebook, Twitter, Pinterest and Instagram for all of the latest updates.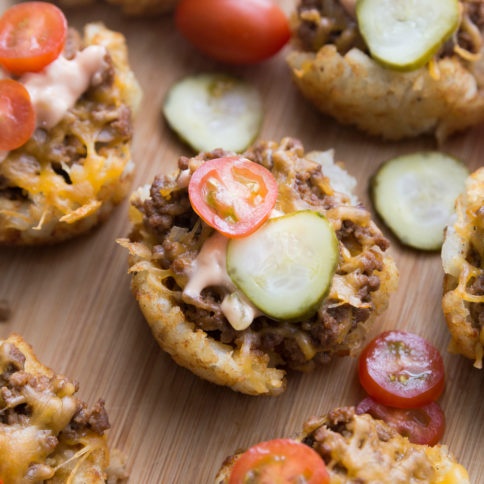 Mini Cheeseburger Tater Tot Cups
These Mini Cheeseburger Tater Tot Cups are like the best cheeseburger and fries you ever had, in one. A family fun recipe everyone will love.
Cook Time: 25 minutes
Serves:8
Hover over "serves" value to reveal recipe scaler
Ingredients
1 lb ground beef lean
1/2 tsp garlic powder
1/2 tsp Lawry's Seasoning salt
1/2 tsp sea salt
Pepper to taste
1/3 cup onionn finely diced
2 Tbsp Mayo
2 Tbsp Yellow mustard
3 Tbsp Ketchup
2 Tbsp A1 Sauce or your fav steak sauce
48 frozen tater tots
sea salt to season tater tots
1 cup cheddar cheese shredded
Mini Pickles and cherry tomatoes sliced for garnish
Come Back Sauce for topping optional. Recipe HERE
Instructions
Preheat oven to 425°F.

Place ground beef in a skillet over a medium high heat. While cooking, season with garlic powder, seasoning salt, salt and pepper. Once browned drain off excess grease and add onions into the beef. Reduce heat to medium and continue to cook onions are softened, about 2 more mins.

Add mayo, mustard, ketchup and A1 Sauce to the ground beef and stir to combine. Set aside.

Spray mini muffin pan with non stick spray. Place three tater tots in each baking cup. Bake for 10 minutes.

After 10 minutes remove the muffin pan from the oven and use a shot glass or small cup to press the tater tots down into each baking cup, forming tater tot cups.

Fill the tater tot cups evenly with the ground beef mixture and top evenly with cheddar cheese.

Place back in the oven for another 15 minutes.

One done cooking, remove from the oven and let cool for 5-7 minutes before removing them from the muffin pan.

Before serving, drizzle with Come Back Burger Sauce, and top with mini dill pickle slices and cherry tomato slices
Video
Nutrition Information:
Calories: 287kcal (14%)Carbohydrates: 17g (6%)Protein: 15g (30%)Fat: 18g (28%)Saturated Fat: 6g (30%)Cholesterol: 44mg (15%)Sodium: 837mg (35%)Potassium: 344mg (10%)Fiber: 1g (4%)Sugar: 2g (2%)Vitamin A: 73IU (1%)Vitamin C: 5mg (6%)Calcium: 78mg (8%)Iron: 2mg (11%)