Easy, cheesy, big-crowd-pleasey!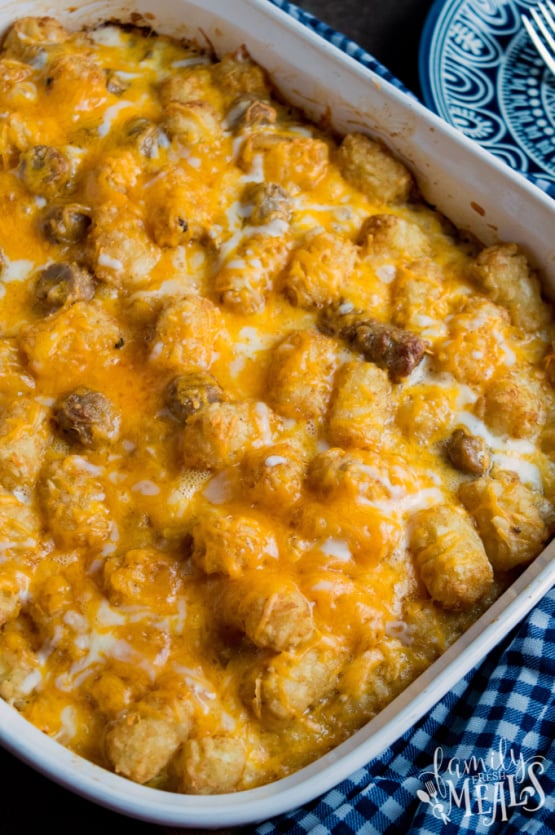 When you have to feed breakfast to a big group of people, breakfast casseroles are a great way to do it. Instead of standing there over the stove, flipping pancake after pancake, all you have to do is fill one big casserole dish, pop it in the oven, and pull out a hot, delicious breakfast for the whole crowd.
All breakfast casseroles are based on the same basic idea: combine some sort of protein (meat, eggs, cheese, or all three) with some sort of starch (biscuits, rolls, or even tortillas) and bake it all in one pan. I've made tons of different breakfast casseroles over the years: Biscuits & Gravy Breakfast Casserole, Cheesy Egg Crescent Casserole, and Breakfast Enchilada Overnight Bake, to name a few.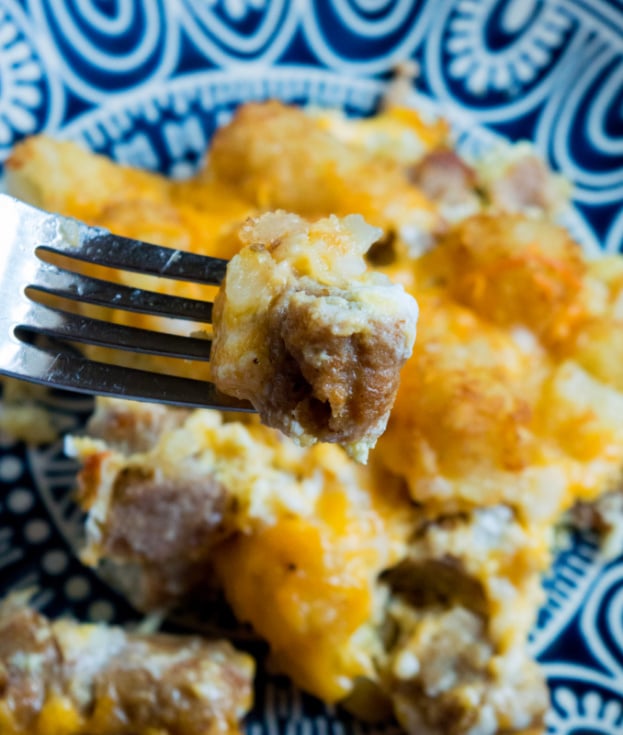 But just recently, I realized I'd never actually made a breakfast casserole with one of my favorite ingredients ever – Tater Tots. Can you believe it?
Well, of course that had to be fixed, and it was easy to do. I just whipped up a casserole custard with loads of eggs, sausage, and two kinds of cheese, and then layered the Tots right on top. Baked for 40 minutes, they formed a crunchy, golden crust on top of the rich, eggy base. And to top it off, I sprinkled more cheese on top and popped the dish back in the oven just long enough to melt it.
This Cheesy Tater Tot Breakfast Casserole is a super hearty breakfast that will satisfy a big crowd in every way. It'll fill their tummies, and bring smiles to their faces – and leave you plenty of time to spend with your guests.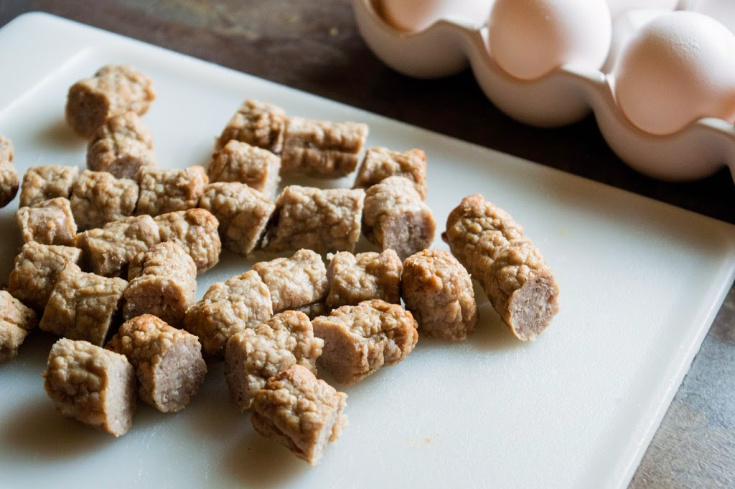 Cheesy Tater Tot Breakfast Casserole
INGREDIENTS:
8 eggs
1/2 cup half and half
1/2 teaspoon salt
1/4 teaspoon pepper
1/2 teaspoon onion powder
1/2 teaspoon garlic powder
12 Fully Cooked Breakfast Sausage links
2 cups shredded cheddar cheese
1/2 cup shredded mozzarella
32 oz package frozen tater tots
DIRECTIONS:
1. Preheat oven to 350 degrees and lightly grease a 9X13-inch baking pan.
2. In a medium bowl, whisk together eggs, half and half, salt, pepper, and garlic and onion powder.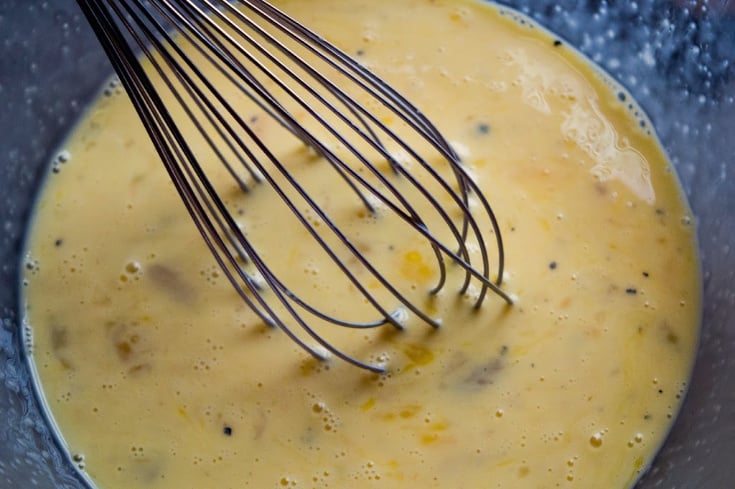 3. Slice sausage into 1/2-inch slices. Add to egg mixture. Season lightly with salt and pepper.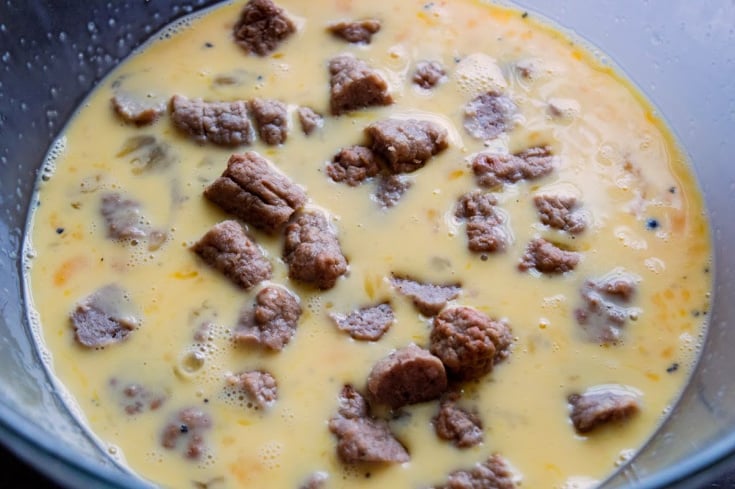 4. In a separate bowl, mix together cheddar and mozzarella cheese.
5. Stir 1/2 of cheese into egg mixture and pour egg mixture into baking pan. Place tater tots evenly on top or egg mixture.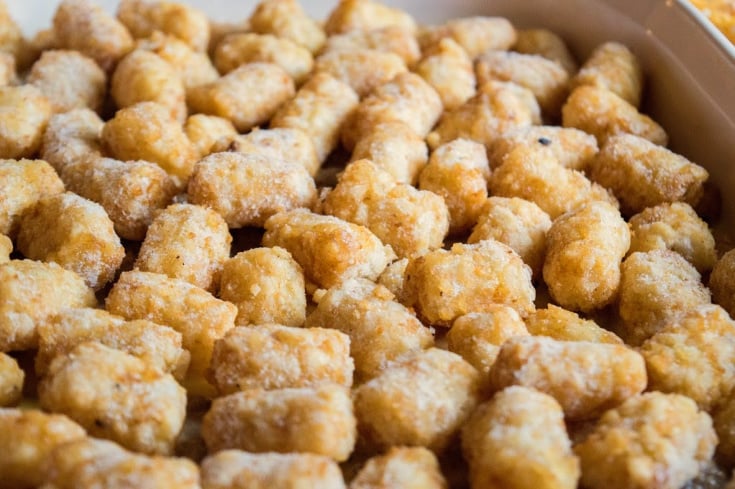 6. Place in oven and bake for 35-40 minutes. Sprinkle remaining cheese on top. Place back in oven for 5 minutes until cheese has melted.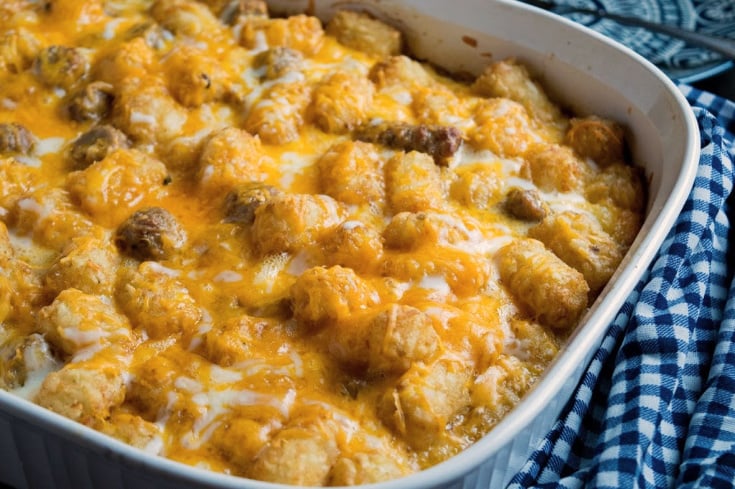 Looking for more free recipes? Subscribe to my newsletter and follow along on Facebook, Twitter, Pinterest and Instagram for all of the latest updates.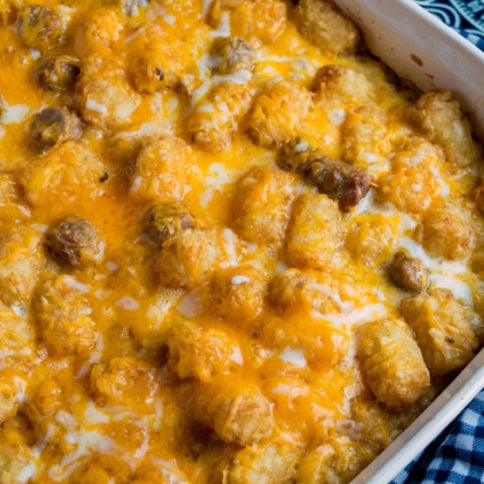 Cheesy Tater Tot Breakfast Casserole
This Cheesy Tater Tot Breakfast Casserole recipe is a super hearty breakfast that will satisfy a big crowd It'll fill their tummies, and make them smile!
Prep Time: 10 minutes
Cook Time: 35 minutes
Total Time: 45 minutes
Serves:8
Hover over "serves" value to reveal recipe scaler
Ingredients
8 eggs
1/2 cup half and half
1/2 teaspoon salt
1/4 teaspoon pepper
1/2 teaspoon onion powder
1/2 teaspoon garlic powder
2 packages Fully Cooked Breakfast Sausage
2 cups shredded cheddar cheese
1/2 cup shredded mozzarella
1 28-32 package frozen tater tots
Instructions
Preheat oven to 350 degrees and lightly grease a 9X13-inch baking pan.

In a medium bowl, whisk together eggs, half and half, salt, pepper, and garlic and onion powder.

Slice sausage into 1/2-inch slices. Add to egg mixture. Season lightly with salt and pepper.

In a separate bowl, mix together cheddar and mozzarella cheese.

Stir 1/2 of cheese into egg mixture and pour egg mixture into baking pan. Place tater tots evenly on top or egg mixture.

Place in oven and bake for 35-40 minutes. Sprinkle remaining cheese on top. Place back in oven for 5 minutes until cheese has melted
Nutrition Information:
Calories: 380kcalCarbohydrates: 27g (9%)Protein: 18g (36%)Fat: 28g (43%)Saturated Fat: 11g (55%)Cholesterol: 232mg (77%)Sodium: 902mg (38%)Potassium: 395mg (11%)Fiber: 1g (4%)Sugar: 1gVitamin A: 12.9%Vitamin C: 9.2%Calcium: 29.3%Iron: 7.9%